Ways to combat the global food crisis will be among the main topics taken up for discussion during the SAARC summit, a Foreign Ministry official said.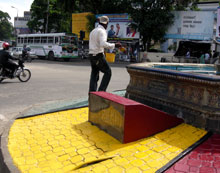 Roads being beautified for the summit
"A key issue today is the food crisis. We, as a region have to work out some solutions to address this problem. For example we would look at how food distribution will work in a calamity," he said.
Energy security will be another key issue on the agenda. Ways and means of reducing the dependency on fossil fuels and hydro carbons as well as alternative methods of energy such as solar power will be looked into by the SAARC countries.
Among other issues that will be discussed are enhanced co-operation among member states in combating terrorism, climate change, and poverty alleviation, the official said.
Representatives from the US, EU, China, Japan, South Korea, Mauritius and Iran will be present as observers.
A Programming Committee Meeting between senior Foreign Ministry officials of member states and a Planning Committee meeting at Foreign Secretaries level will take place before the Foreign Ministers meeting on July 31 and the summit onAugust 1 to 3.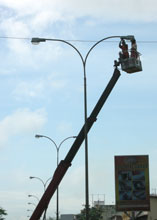 Street lamps being repaired for the summit
During the Summit retreat on August 2, bilateral talks will be held between member countries.
A range of cultural events will be held from July 25 and these will include a film festival, a food festival, a fashion show, a trade exhibition and a youth camp.
The People's SAARC, an open forum where people from the region will air their perspective and discuss a range of issues weeks before the summit.
Media co-ordinator of People's SAARC, Keerthi Tennekoon said, issues such as national security, human rights, refugees, displaced persons, terrorism, a nuclear free South Asia and trade were to be discussed.
The People's SAARC declaration is due to be handed over to the relevant heads of states and governments today.
SAARC money before House on Tuesday
Parliament will debate the supplementary estimate of Rs 2.8 billion presented by the Ministry of Foreign Affairs as funding for the upcoming SAARC summit when it meets on Tuesday. JVP Parliamentary Group Leader Anura Dissanayaka said his party will vote for the estimate as it is meant for a national event while the UNP is still undecided on whether to support it.
On Wednesday Parliament will take up the security situation in the country during an adjournment debate.