The Colombo Municipal Council (CMC) has asked everyone who happens to own a property along roads to be used by the SAARC guests to give their boundary walls a lick of whitewash or paint in time for the big event, which starts on July 27.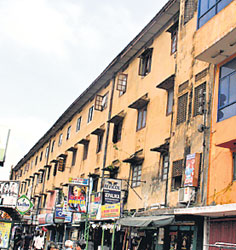 Who will paint this CMC flat on Armour Street? Pic by Berty Mendis
The mandatory cosmetic exercise applies to private residents, government departments and commercial operations (state and private). The SAARC VVIP route encompasses the Colombo-Katunayake stretch, and in the capital roads leading to the BMICH and Parliament, as well as in Grand Pass, Panchikawatta, and the Fort, the vicinity of the Indian High Commissioner's residence, etc.
We are told that the CMC letter was sent on the request of the Ministry of Urban Development. The problem for all concerned is that neither the CMC nor the Ministry is prepared to foot the bill for the whitewash or paint job.
The scary bit is that the letter has a "Whitewash-or-Else" element: it reminds citizens of an old municipal law that dictates that every house in Colombo should be whitewashed at least once a year. And apparently the CMC has every intention of checking whether the law has been respected, at least in respect of the buildings on the above-mentioned streets.
This rush to give the city façade a quick facelift to impress VIPs on a short visit recalls a story, possibly apocryphal, that goes back more than 200 years to the glory days of Imperial Russia. The famous minister Grigori Potemkin wanted to impress the empress, Catherine the Great, during her visit to Crimea, which Russia had recently annexed after a victorious military campaign led by Potemkin.
The minister ordered the building of fake house fronts to suggest newly built villages along the banks of the Dnieper River, the route to be taken by the empress and her party. Potemkin's plan was to impress the monarch with what he had supposedly achieved with Russia's latest conquest.
In more recent times, the term "Potemkin Village" came to be used to describe any official effort by the Soviet Government to delude foreign visitors.
While we don't want to suggest that Colombo could be deemed a kind of Potemkin Village, or that we want to delude anyone, or that it is a bad idea to have your house painted or whitewashed once a year, especially with important guests in town, we do wonder whether the state shouldn't be footing at least part of the bill.
We would like to think that a minister of Potemkin's stature would have insisted on putting all Potemkin Village expenses on the state's account.