Initial investigations on the skeletal remains of at least 21 persons found in a mass grave in the Batticaloa district earlier this week suggest the persons had been shot to death and buried about five years ago.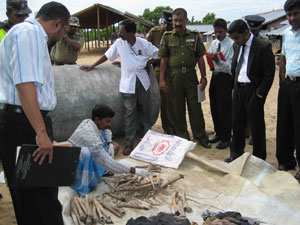 Officials look on as burial site remains are removed for forensic examinaton.
The discovery was made when displaced persons were digging a fresh-water well close to a refugee centre in Palameenmadu, six kilometres north of Batticaloa town.
Investigators told The Sunday Times that the identities of the victims, male and female, would be known only after further forensic tests were carried out in Colombo.
Police investigators said it was too early to say who was responsible for the killings.
They did say, however, that the grave appeared to have been in existence before the emergence of the Karuna Group, when the area came fully under LTTE control.
Items of clothing and several rounds of spent shells fired from automatic weapons were found in the mass grave.