The stalemate over the appointment of Sri Lanka's new cricket manager Hashan Tillekaratne is moving towards a political ending. Mr. Tillekaratne, the United National Party's organiser for Avissawella, was selected for the post of Sri Lanka's national cricket team manager by SLC's Interim Committee Chairman Arjuna Ranatunga last week. However, the appointment did not go down well with sections of the ruling alliance with Sports Minister Gamini Lokuge making a statement to the effect that Mr. Tillekaratne should select either the UNP post or the cricket manager post.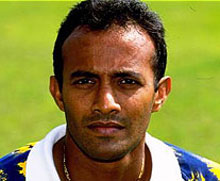 Hashan Tillekaratne
Meanwhile Mr. Tillekaratne is carrying on with his duties as the Sri Lanka Cricket Manager and is also using a vehicle provided by the SLC. Sports Minister Lokuge told The Sunday Times, "My position is very clear on this matter. I have absolutely nothing against the appointment of Mr. Tillekaratne to this position. But, if he wants to continue as the manager of the cricket team, he will have to give up his UNP post.
"I even explained this situation to the SLC Chairman Arjuna Ranatunga when he contacted me over the phone in this regard. However so far I have not received any document seeking approval. "Traditionally the team list and names of the officials are sent for my approval before any match and I have written to the SLC to send the names of the national team and its officials once the team is selected. At that time I would consider the situation and make my decision he said."
Meanwhile the new manager-select Tillekaratne also explained his position to The Sunday Times. He said "No one has informed me of anything. I am continuing my day-to-day duties as manager of the team. Arjuna told me that I have been appointed manager and I am continuing my work", he said.
He said that he is also continuing his work as UNP organizer of Avissawella.
When asked if he would step down from either position as the Minister has demanded, Mr. Tillekaratne said that no one has approached him personally over the matter.