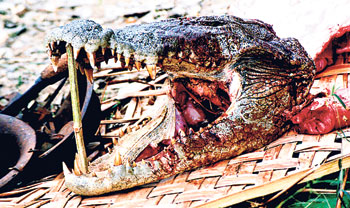 A makeshift crocodile meat stall was raided on Friday by Puttalam police but the man identified as the main suspect involved in the business had escaped.
The suspect escaped just before police raided the place in Central Aththavilluwa in Puttalam, on a tip-off. The flesh of a 12 ft crocodile slaughtered and ready to be sold was discovered at the site. The crocodile's head, a weighing scale, two knives and an axe were among other items recovered.
According to police, the crocodile, after it was slaughtered, had been skinned while hung on a tree.
However, the crocodile's skin was not found at the site and police suspect that the skin would already have been sold.