---
Tube miracle
Sri Lanka's first test-tube baby is born
By Roshan Peiris
The birth of a baby and the first welcome cry seem like a miracle. And on Wednesday morning at 10.15 the yell of Baby Sivarajah was a double miracle. For this history-making baby boy has not only brought hope to thousands of childless couples, but also the revolutionary "test-tube" method to Sri Lanka. And for many, the yearning and longing would be over as also the stigma of being "barren".
Fair baby Sivarajah, the first test tube baby in Sri Lanka, weighed six pounds and had a full head of black hair. He cried on and off as the nurses cleaned him up.
This epoch-making young master has not been named yet, for his parents have to consult his horoscope.

Mr. P. Sivarajah, sporting a blue checked shirt removed his spectacles and wept as his wife, the fair and dainty Santhini went into the operating theatre for a Caesarean delivery.
Before the delivery, 33-year-old Santhini told us she had been wanting to conceive for the last seven years. Mr. Sivarajah (40), an Economics lecturer at the Batticaloa University, chimed in with, "We thought of trying this technique when no other methods worked. The cost has been reduced by over 30 percent."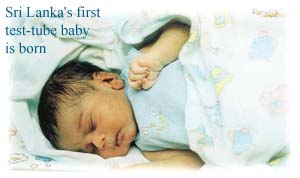 It was an exciting morning at the New Lanka Hospital (Pvt) Ltd. Colombo 4, when journalists from both the print and electronic media gathered there to record the making of history. But Baby Sivarajah couldn't have cared less as he clenched his tiny fists and protested loudly, face turning bright red, at being kept on a mackintosh first and then on the weighing scale. November 10 had been chosen since it was an auspicious day, said Mr. Sivarajah.
The doctors did not want to take any chances and decided on a Caesar. According to hospital sources the cost of this method is around Rs. 250,000, 30% less than what it would cost if the couple gets it done abroad, as has been happening until now.
The trail-blazing team of doctors:
1. Dr. V. Arulanandarajah (MRCOG).
2. Dr. J. Mehta.
3. Dr. Sathanandan.
4. Dr. (Mrs) I. Seneviratna (Anaesthetist).
5. Dr. C. Pathiraja.
6. Dr. (Mrs) Vajna Rafeek.
7. Dr. Hiswan.
8. Dr. (Miss) Shihani Shihabdeen.
---
What is IVF?
Under natural conditions a female egg and male sperm meet and fertilize in the mother's fallopian tubes. This natural process can be affected by a number of adverse factors in the female (tubes, ovum, cervix etc) or male (low sperm counts, abnormal sperm). These could cause infertility.
With in-vitro fertilization (IVF) these obstacles are bypassed by keeping the female eggs and sperm in a special glass tube or even a dish for them to fertilize outside the mother's womb. The human egg can be fertilized and grow outside the female reproductive tract 'in vitro' in a special enviornment.
In normal fertilization, sperm quality is very important. Dr. V. Arulanandarajah, Managing Director of the hospital explained the necessity of using the intra cytoplasmic sperm injection (ICSI) which is considered the most sophisticated method of Assisted Reproductive Techiques (ART). He said ICSI is a recent breakthrough in the field of male infertility. In this procedure one sperm is injected into the egg.
The manipulation of the egg is done under a special microscope in a hi-tech laboratory. So the ICSI Lanka Fertility Centre at the New Lanka Hospital was established to meet the long awaited requirements of infertile couples in Sri Lanka.
---
Hitting 19 million
By Ayesha R. Rafiq
Somewhere in the coun- try a newborn breathes its first, lets out its first cry, a tiny pair of eyes blinks and Sri Lanka's 19 millionth baby opens its eyes to its first day on earth.
And if this little miracle hasn't already taken place, we're still not more than a few months away from our population hitting the 19 million mark.
If you thought our streets were crowded these days, wait till you hear this. In July this year our population count stood at 18.968 million and is estimated to reach 19.177 million on July 1, 2000. With an estimated annual addition of over 300,000 to the population, it would be safe to assume that about the time the world was celebrating its six billionth child, Sri Lanka could have been celebrating its 19 millionth.
Interestingly enough, contrary to the popular belief that after Sri Lanka started importing televisions in the late 1970s the birth rate declined sharply, Director Population Services Division of the Health Ministry Dr. A. Abeykoon said that the country's highest birth rate on record is for 1981 when 423, 793 babies were born.
The country's birth rate however has been decreasing steadily over the years, standing at 1.2% in 1998 according to the 1998 Central Bank report and is expected to grow by 1% annually for the next five years, with couples having an estimated maximum of just two children, a long shot from the average10-12 member families of the last generation.