---
Cheryl Halaj, our cover girl this week
displays outfits created by Sonali White
for the Haddai label. Cheryl posed for
Mirror Magazine at the Lighthouse
Hotel, Galle. Cheryl and Romesh
from Ramani Fernando Salons handled
her hair and makeup. She was photographed
by Mettasena.
---
Anti-AIDS Ambassador
by Tharuka Dissanaike
"When I walked in, my roommate told me, 'I think you should know that I am HIV positive' and I was like 'Oh, Ok' and from then we were firm friends."
"You were not shocked? Upset?" I ask, incredulously. "No," Nimali replies with all the aplomb of a 16-year-old. Then hastened to amend her statement. "Well, when she first announced being HIV positive, as soon as I walked into the hotel room, I was rather taken aback. But I had no qualms about sharing accommodation with an HIV positive person. For the next five days we were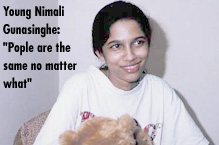 inseparable. We were shopping, dining out even sharing the same straw and cup."
Of course she was bound to meet HIV positive people at the conference. For Nimali, the International Conference of AIDS in Asia and the Pacific (ICAAP) hosted by Malaysia, was a rare experience. She was the youngest participant among 3100 delegates, and also the youngest speaker at the youth symposium held concurrently.
Nimali's 19-year-old roommate from Singapore was also a speaker at the youth symposium. During the five days of her Malaysian stay, Nimali shared her room, bathroom, food and drink, ideas and dreams with this new found friend (whose name she protectively declined to reveal) from another country and a different world. Their bond was their youth and enthusiasm for life and the similar problems they all appeared to face with adults in their very different worlds.
"I honestly did not feel any different. I mean, I knew how AIDS is contracted so I was not scared to live in the same room with her. She was just another human being, with feelings and emotions and rights. We really had a good time together."
Nimali's confidence and attitude possibly stems from the fact that she has already had exposure to HIV positive people in Sri Lanka. Her mother, Mallika Ganasinghe is in the forefront of AIDS prevention campaigns among high-risk groups.
"I used to tag along with Ammi to workshops and seminars from the time I was about 12 years old. I used to feel bored to death until one day, when I was like 14; suddenly I got interested in the work.
Now we have a youth group in the AIDS Coalition of about 15 girls and boys trying to initiate some youth education programmes," Nimali says.
And what did her own friends have to say about sharing a room with an HIV positive person?
A peal of laughter escapes her. "Some of my school friends were really shocked. They would not believe it and thought I was really mad. But my good friends know that I do all kinds of mad mischievous things, so they were not too surprised."
Nimali got the opportunity to participate in the ICAAP conference by answering an advertisement on the Internet. She was one of five speakers from the region to make a presentation at the youth symposium. Nimali's speech centred on the project that the youth group is trying to implement and her experiences in organising support and funding for the venture.
"We are trying to do a survey in schools and youth organizations as to the level of awareness in AIDS and related sexual issues.
To do this we drafted a questionnaire covering knowledge, attitude and practice among teenagers and it has been scrutinised by adults at all levels- and finally approved. We have now started sending it out to schools."
"We presented the project to UNICEF and Dr. Hiranthi Wijemanne agreed to fund it." Nimali and the youth group are also thinking of organising a Youth Symposium in Sri Lanka next year. Ambitiou plans especially from a group of youngsters who are cramming for exams and juggling their normal school curriculum and activities in the meanwhile.
"But we really wish that adults would give us a chance," she says. "I think we have proven ourselves to be responsible and capable of handling the project on our own. But instead we find that most of the important work is being taken away from our grasp."
Nimali says that the youth group would have loved to have gone to schools to introduce the questionnaire, along with the adults.
Right now they feel rather demoralised that the project has been swept from under their feet by the adult organisers.
Peer education and guidance was one of the aspects of Nimali's speech in Malaysia. The use of youth counsellors and educators is considered to be a successful way of reaching the young masses with awareness messages.
"Young people will pay more attention when the person talking to them is their own age. They will ask more questions.
Adults always talk down to children and kids don't like to ask questions from adults- especially not about AIDS and such matters," Nimali says.
She and the other youngsters had also disagreed on the exclusion of certain questions from the form. "The National STD/AIDS campaigners feel that it was not right to inquire about family planning from youth. We were shocked. We know that many young people already know about contraceptives and it is their right to know too. Adults still feel that they have to protect us from this information. That is not the correct attitude."
Nimali laments that some of the forms filled and returned reflected at large void in knowledge about the basic reproductive system and AIDS. "And here we are talking about the 'big' schools in Colombo," she says. "All this is because there is no proper sex education and awareness on AIDS or STD imparted to teenagers in schools or their homes. What teenagers learn is through their friends or the media- often it is the wrong message."
At the symposium in Malaysia Nimali had the opportunity of listening to and making friends with other HIV positive people from India, Nepal as well as her roommate. The Nepali participant has got the virus through injecting drugs while the Singaporean girl through unprotected sex, two years ago.
"It was an eye-opener to listen to their experiences and how they integrated into their families and society after infection."
Nimali thinks it is important to reach young people with AIDS messages to also help them temper their attitude towards HIV positive people. "Adult attitudes will not change. But there is time to change youth. HIV positive people will not integrate into society until this stigma and are is not changed."
She says wistfully, "I would really like to see adults giving us a better chance to reach out to our peers.
So many of us are interested in actively doing something."
Nimali smiles. "But first,' she says, hugging a furry brown stuffed bear, "I must study for my O-levels."
Tickets for COUNTRY ROAD IX are available at the Trans Asia Hotel, Torana's (Galle Road, Colpetty), Nastars (Liberty Plaza and Majestic City) and Ceylinco Insurance (Duplication Road). However, on November 20 (the day of the concert), tickets will be available only at the Trans Asia Hotel.