To Lourdes after Toulouse
By Ishika Amerasinghe
From last week's flying high to a spiritual flight:
Originally we were to be taken to Caucassant- an hour's drive from Toulouse. "Come in your walking shoes ladies," we were warned. "There's a lot of walking to be done."
It sounded an exciting place to explore, especially given the exquisite weather. But plans were changed on a request from many of my colleagues who wanted to go to Lourdes. "No one knows about Caucassant," was the argument of some. Well I like to get to know places that are unknown rather than those that are known.
But to most it was the religious significance, so it was off to Lourdes- and I did enjoy myself.
The three -hour drive didn't seem so long. This was not vineyard country but it was cornfields and farmlands. While our enthusiastic guide -Elise I think her name was -gave us the background to the significance of Lourdes- about little Bernadette- a poor miller's daughter and her 18 apparitions of the Virgin Mary and the miracles that have occurred there, I lost myself in the scenic beauty of green fields blending into trees decked in autumn colours, framed against the backdrop of a cloudless blue sky. In the distance was the snow-capped Pyrenees mountain range. On the other side of the mountain range was Spain, said our guide.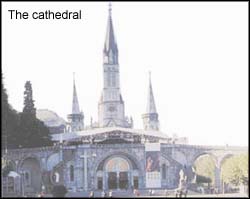 Lourdes probably looks like any other picturesque town south west of France-with its narrow, cobbled streets and houses built of stone walls -their window boxes full of brightly hued flowers. The only difference would be the little souvenir shops that lined the streets all the way upto the cathedral. Souvenir shops stacked with rosaries, candles, sweets made especially in Lourdes, chains, plastic bottles and cans to fill up with water from the eternal spring, and other little trinkets.
Cashing in on a poor little girl's visions of Mary in the 19th century! But somehow the commercialism did not seem to touch the tranquil spirit of the town. So much so, it was hard to imagine that during the pilgrim season this little town sees about five million visitors from about 150 countries.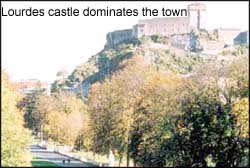 The town is dominated by the Lourdes castle. Once again it was the old complaint of so much to see- so little time.
There was so much to see in the old majestic cathedral itself leave alone the old castle. I opted to skip the cathedral and walked up and up along a narrow street to the castle only to be told it was closed.
So down again to the little dungeon or 'le cachot' in which Bernadette lived with her brothers and sisters together with her parents at the time of the apparitions. This was apparently an abandoned jail. It was a little room, with a fireplace, a single window and a single wooden door. It was all hush, hush. "If only these walls could speak," said one of my colleagues.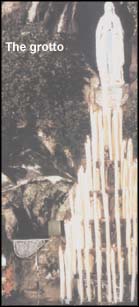 The grotto, a simple hole in a cave close to the cathedral is where Mary had appeared to little Bernadette while she was out tending her sheep.
Although it wasn't the pilgrim season many old people had gathered here to contemplate in silent prayer gazing at the statue of Mary within the cave. I felt bad to be clicking away as I felt I was intruding on their privacy. But wrapped in their own world of meditation they seemed undisturbed by the happenings around them.
The spring at the back of the grotto is said to have been discovered by Bernadette on February 25, 1858. This water is piped to a row of taps. The idea of opening these little taps, chucking the bottles under them and filling them with the "holy" water somehow took away the whole mystery behind the legend of Bernadette. But I suppose one has to get practical in this day and age, or shouldn't one?
Walking along the driveway to the cathedral I spotted a little statue of Bernadette beneath the shade of trees. Some tokens of flowers had been strewn beside the statue.
A final gaze at the resplendent cathedral and it was the familiar, "time to go, hop into the bus." And here I was the very one who started the day with, 'I wish I was going to Caucassant and not Lourdes since I'm not the religious type', yearning for more hours to explore this charming town.
Wining and dining
Still on the realm of 'spirits' but of a different kind. Now I know that in France eating and drinking is an art in itself. But when one's schedule is tight, to waste precious time tasting the delicacies of French food and wine when one would rather be feasting one's eyes on all there's to see, sometimes seems a crime. Three hours for a meal in a restaurant while the sun is out beckoning you to step outside, is a shame, wouldn't you agree?
Well if I am complaining it is only a minor complaint. After all green salad, chicken avocado, French dressing flavoured with sherry vinegar, steamed sea cod fish fillet, roasted Guinea fowl, pear in a pancake with ice-cream and chocolate sauce, not forgetting the white wines, red wines and champagne, do sound tempting don't they? Have I got your taste buds tingling? But I have to admit the wide assortment of cheeses always got me down and after four days of munching into salads, I was dreaming of a good pol sambol and a spicy dried fish.
With all the French wines doing their tricks, once in away I got Dutch courage to venture out and say, "Je parle un peau Francais,"(I speak a little French) and tempered my English with a few merci's, tres biens and au revoir's, "You speak good French," said one Frenchman in good English, while another said "you should have a French boyfriend to improve your French! Now that was quite an exciting proposition, wouldn't you agree?