A unique art exhibition "The Reject" highlighted the creative fighting spirit of a group of young artists
Put down, but not out!
By Udena R. Attygalle
If you passed by the National Art Gallery on October 16 or 17 you would have been surprised to find art on the pavement. The Reject art exhibition was by a group of modern young artists whose work had been rejected by the "National Art and Sculpture Competition."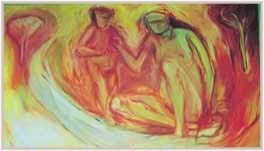 Susil Rohana, a member of the group says, "Although you can judge art and give away prizes, nobody can say some art should be shown and some should not be. We believed in our art and showed it to the people."
The collection by this group of nine friends from the Institute of Aesthetic Studies at the Kelaniya University included both modern and post modern art.
The pavement had been chosen because of financial reasons and also to be opposite the Art Gallery as a sign of protest. The days had been chosen to coincide with the exhibition at the gallery.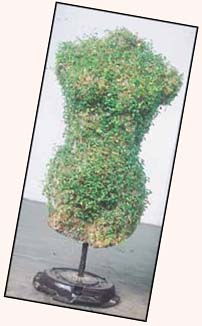 Most striking among the sculptures were a group of female busts. One sculpture was covered in ivy and another had a mosquito coil effect.
The exhibition itself had been unique and had drawn a lot of attention. Premanath Kottege, another artist, recalled that many vehicles on the road also slowed down to look at their art. "Some even got out and came to take a closer look."
The friends spent the night with their work and the show went on the next day as well. "Some passers-by were so impressed by the work they had actually gone to the gallery as well, to compare the ones that were accepted and those that had been rejected," Rohana said.