Are some NGOs exploiting children?
By Feizal Samath
Some of Sri Lanka's non-governmental or-ganizations (NGOs) work in child-related fields only because it is fashionable and attracts funds from foreign sources, not out of concern for the plight of children, a top child rights activist said last week.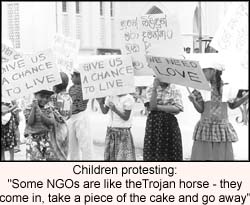 "Some NGOs are like the Trojan horse - they come in, take a piece of the cake and go away," Professor Harendra de Silva, Chairman of the National Child Protection Authority (NCPA) said.
Prof. de Silva, known for his aversion to NGOs bent on making money, said there were fields of activity that drew a lot of funds from foreign donors and there were quite a few NGOs involved in this kind of work. "Foreign donors gave a lot of money in the area of foreign paedophiles. NGOs enter this field purely for this purpose though the problem of local paedophiles is much, much greater and a largely ignored factor," he said.
"Most of the children abused by foreign paedophiles have already been abused by locals and tour guides but their problem is highlighted only when foreign paedophiles enter the picture," he argued.
Sri Lanka has been portrayed in some international tourism and gay magazines as a haven for boy prostitutes. In recent times however, the authorities have nabbed several foreign paedophiles, posing off as tourists, and either jailed them here or deported them.
Prof. de Silva and other government officials along with UNICEF's Deputy Representative in Colombo, Yameen Mazumder were briefing the media last Tuesday on the 10th anniversary of the UN Convention on the Rights of the Child, which falls on November 20 and plans to mark the event in Sri Lanka.
A spokesman for the Ministry of Justice and Constitutional Affairs, T. Dharmakulasingham, said several events were being planned for November 21. The ministry is in charge of the Sri Lankan celebrations.
He said the events, including a peace procession by 2,000 children and the release of 2,000 balloons carrying a message of peace, were aimed at creating public awareness on the rights of the child. "The best thing we can do for children is to work towards peace," he said.
The war raging in Sri Lanka for 16 years has orphaned tens of thousands of children, and turned many into child-soldiers in the LTTE.
In May 1998, UN Special Representative Olara Ottunu, met top rebels and obtained assurances that children under 18 years would not be enlisted, but conscription was still a problem, according to child rights activists.
Thousands have been displaced by the latest fighting in the Wanni region including women and children but government and UNICEF officials, present at the briefing, said they had no information on the plight of children.
Prof. de Silva, a respected paediatrician and researcher on children's issues, said one of the biggest problems among children in Sri Lanka is that they are not heard or given a chance to be heard. "We do not recognize the rights of children and that is unfortunate," he said, adding that physical abuse and corporal punishment were other problems.
A child survey carried out by the Professor four years ago in the south found that 20 per cent boys and 10 per cent girls in a sample of 1,600 children had been sexually abused by family members including a father or older brother, relatives, including an uncle or friends.
"This is a serious issue, but unfortunately child abuse does not get the attention of the authorities like murder or terrorism," he said.
Prof. de Silva said the NCPA set up under an Act of Parliament earlier this year, has not begun work due to procedural problems but is now in the process of recruiting staff.
They hoped to advise the government on policy issues, one of which was the pronouncement on November 20 of a policy declaration on children. It would study how laws could be made more effective to ensure that child abuse cases are dealt with fast.
"It is easy to have charters and laws but implementation has always been a problem. We must also see whether children actually benefit from these policy declarations and charters," he added.
The NCPA is planning to start child rights committees in schools in which children, teachers and parents would be members. Any disciplinary action against children by the school would also have to be cleared by this committee.
Recently, a child who was expelled from a school for possessing a mobile telephone was readmitted after the NCPA stepped in." A child also has rights. There has to be an inquiry into these things," said the Professor who has personally intervened in many issues despite the NCPA not functioning yet.
Probation and Child Care Commissioner S. Rannuge then came to the defence of NGOs in general, saying it was unfair to tarnish all NGOs with the same brush. "There may be some bad ones but the NGOs we have worked with are doing excellent work particularly in the field of child care," he said.
Referring to the plight of children in the north and the east, Mr. Rannuge said many NGOs were working towards providing care for children in areas not controlled by the government. "NGOs are doing a wonderful job in the field of care and protection of children in areas where government agencies are unable to function."
He said that Sri Lanka had made vast strides in the past few years since Colombo ratified the UN Convention on the Rights of the Child in 1990 and formulated a local children's charter in 1992. Laws had been tightened and stiffer punishment imposed on those who committed crimes against children. The Evidence Ordinance had also been amended to permit video-taped evidence by children to minimise harassment to and embarrassment of children in open court.
Thirty-two special women's and children's desks have been opened in police stations across the island, while labour laws are being amended to bar any child below 14 years from being employed, from a current age of 12 years, he said.
There are nearly 900,000 children employed in the country, preliminary data gathered from an islandwide child activity survey carried out by the Department of Census and Statistics this year show.
Officials said the year-long survey, to find out what type of activity children are involved in at home or work, has just been completed and the data are being processed.
The survey which was also meant to gather statistics on the number of children employed in households found that the bulk of Sri Lanka's children is employed in agriculture and farmlands.