Contents
---
'Club Royale'- first computerised night club
For the first time in Sri Lanka, an exclusive computerised night club, 'Club Royale' has been launched. The night club, located at the Berjaya Mount Royale Hotel, Mount Lavinia caters to the need for an informal, relaxed night club on an exotic location by the Beach, where night birds can hang around and enjoy the high quality music.
Club Royale is the product of the recently formed, Young Asian's Media Club, which is committed towards the development and promotion of music, dance and entertainment in Sri Lanka. The Young Asian's Media Club is a unique body that is geared to identify and support the professional development of entertainers and artistes such as DJs, singers, musicians, dancers, models and dress designers. The Young Asian's Media Club is assisted by MTV, USA.
'The Club which has just got underway has as its pioneering project, launched, Club Royale - a distinctive venue for nightlife. While filling the void for an informal night club in the outskirts of Colombo, Club Royale, will serve as a base for the activities of the Young Asian's Media Club.
An exciting line up of events, including talent search competitions have been planned for the festive season and throughout the millennium. Artists who are brought to the spotlight by the Young Asians Media Club will be supported and promoted in their career development at an international level by MTV USA. Club Royale which opens on November 6, features a fully computerised modern music system. The usual DJ consoles are conspicuous by their absence.
The latest lighting system is also installed at Club Royale.
Music for a wide variety of tastes is available. Music videos and giant monitors are to be introduced shortly together with video jockey.
Club. Royale is also geared to cater to special functions ranging from product launches, fashion show, corporate get-to-gethers and private parties. Young Asian's media Club will assist those organizing special parties and functions to arrange spectacular events to suit their needs. A competitive pricing policy to suit the average purse is adopted, while maintaining the highest quality in entertainment.
For its first phase of operation, Club Royale will swing into action on Saturday nights only. So check in the mood at Club Royale for a refreshing change in night life and entertainment.
---
His face has been touched up
By Kumaradasa Wagista
The untimely and unexpected death of film, teledrama actor cum singer music director Granville Rodrigo several months back has created a vacuum hard to be filled. He succumbed to injuries caused in a road accident while going with a few other artistes to attend a Daham Pasal function at Piliyandala. Samjaya Leelaratna, K. D. Siripala, and K. P. Piyakaru were the other artistes who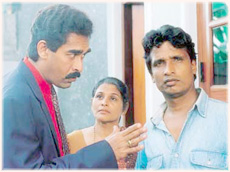 travelled in the vehicle who were also injured.
Film and teledrama actor Sanjaya Leelaratna was another who was seriously wounded. He also received head and face injuries and was treated at Kalubowila Hospital. "I made an effort not to sleep as I had received injuries that led to internal bleeding. Sleeping is detrimental when one is suffering from internal bleeding" he added.
"After the mishap I walked for a long distance and fortunately got into a jeep that was passing and got myself admitted to Kalubowila Hospital " Sanjaya Leelaratna said.
Sanjaya acts in 'Kinihiriye Donkaraya' which is now on Swarnavahini. He has earlier appeared in many teledramas and films.
Although his face was operated thrice at Colombo National Hospital he was not satisfied. Sanjaya took to acting as a hobby first and fortunately the demand for him as an actor gradually increased. As a result he signed more and more films and teledrama acting contracts. His face was gradually getting accustomed to film and teledrama viewers when this unfortunate incident occurred.
Face is of utmost value to any film actor or actress. If the face goes out of shape one cannot be in the acting profession, like a discarded coin going out of circulation. We often hear of Asian film stars going to the US for plastic surgery because the profession needs such treatment., he said. Although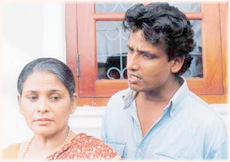 Sanjaya too thought of getting plastic surgery treatment, he was helpless due to lack of funds.
"Presidential Media Advisor Sanath Gunatileka was the only man who saw the difference in my face in the film perspective after I recovered. As a film actor Mr Gunatileka advised me to get my face attended by a plastic surgeon in India" Sanjaya reninisced.
Without any film assignments because of the accident Sanjaya could not dream of going to India for a facial make-up. He was fully aware that even collecting money from close associates was an impossible task.
Sanjaya was surprised when one fine day Sanath Gunatileka suddenly informed Sanjaya to get ready with the necessary papers to visit Apollo Hospital in Chennai for the operation.
" Even without my knowledge Mr Gunatileka had worked out to get me Rs 75,000/- from the Presidential Fund, and made arrangements with a surgeon at the hospital to get my face done,. for which I am grateful to him and the President" he said.
He was also thankful to Professor Balakrishna of Apollo Hospital who performed the operation and Indian film producer Prem Kallart.
Sanjaya was in Chennai for two weeks and returned home recently.
"Now I am back with my real face ready to face camera as original Sanjaya Leelaratna" he concluded.
---
Nishan: 'Young Restaurateur'
Small is mighty is no small wonder, for that's what Nishan Silva is! When he joined Hilton Colombo as a Management Trainee a few years ago, here was one ambitious young lad with an abundance of enthusiasm waiting to impart his dedication and commitment from the word "go!"
Through his strenuous period of training, as is customary with Hilton Management Trainee programmes, he was put through every test in the various areas, resulting with Nishan wanting to join the Food & Beverage Department.
Nishan Silva, the Manager of the Emperor's Wok of Colombo Hilton has been named 'Young Restaurateur of the world by 'International Hotel and Restaurant Association (IH &RA).
This 28 year old Sri Lankan studied at the International Hotel Management Institute in Lucerne, Switzerland, with training periods at the Basele Hilton and the Hotel Royal, Lucerne. With a marketing qualification from the Sri Lanka Institute of Marketing under his belt, he joined the Hilton Colombo in 1994 as a Management Trainee.
After the intensive 18 month management programme and positions in several of the hotel's food outlets, he was chosen to head the team in charge of the opening of the hotel's prestigious Emperor's Wok restaurant. This being the eighth specialty restaurant in the hotel, he was given the opportunity of following special training courses at the Hilton Beijing and in Hong Kong to learn the operation of a fine dining Chinese restaurant.
Therefore, it is no wonder that Nishan had the honour of being named one of the two selected "Young Restaurateurs of the World" 1999 by the International Hotel & Restaurant Association under the present leadership of Dr. Osmane Aidi - President, IH &RA. The other recepient was Claire Menik of Hotel Mayfair, in Wisonsin, Canada.
During the Annual Congress held in Durban, South Africa on October 18, 1999 he received this prestigious Award.
This designation is an extension of the Young Hoteliers of the World Award, created with the IH & RA's official journal HOTELS magazine in 1992 to recognise the outstanding achievements among hospitality professionals under the age of 30.
The International Hotel & Restaurant Association (IH &RA) is a global network representing over 750,000 hospitality operators, associations and suppliers in more than 150 countries. Its mission is to protect, promote and inform the hospitality industry, which it estimates to comprise over 300,000 hotels and 8 million restaurants world-wide, employs 60 million people and contribute US $950 billion to the global economy.