FINAL COUNTDOWN FOR COUNTRY ROAD
When COUNTRY ROAD IX comes alive at the Kings Court of the Trans Asia Hotel next Saturday (November 20), it would be sans one man who helped make it happen 12 years ago.
Asoka Ratnapala, bass guitarist of the Cosmic Rays band who died of a heart attack a few weeks ago, will be deeply missed.
Ratnapala, 36 years and a gentle soul, was very much part of the Country Road bandwagon when it was launched at the same hotel in 1988. Since then, this respected charity concert has gone from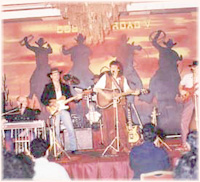 strength to strength raising funds for children and channelling this money through UNICEF.
'The ninth show in the COUNTRY ROAD series will be without Asoka who was an enormous source of help and encouragement from the first show itself. It is very unfortunate that he won't be with us this time," said a spokesman for the Country Music Foundation (CMF).
If COUNTRY ROAD VIII in 1998 was a dedication show to US country/folk singer John Denver who died in a plane crash, this year's concert will be in remembrance for Ratnapala's contribution to the CMF's needy children's project.
Like Ratnapala, there are many people and institutions who have contributed to the success of the COUNTRY ROAD concerts over the years. There is Anton Gunatillake (playing with his band Familiar Faces this time) who performed at the first COUNTRY ROAD in 1998 and then went abroad. He returned two years ago and made his comeback at last year's concert.
Tyronne and Rovil (like the late Asoka) of the Cosmic Rays were among the founding musicians of COUNTRY ROAD and play on. So is Mariazelle of Kandy Lamissie fame whose hidden talents as a country singer came to the fore in 1988.
There are many others like Flame, Suresh, Husni & DK and Thilan among a host of performers, local and foreign, who have contributed immensely to COUNTRY ROAD. From the private sector, the Ceylinco Insurance Co has been with the CMF in this venture for several years along with the Sunday Times and Trans Asia (both from the inaugural concerts). SriLankan Airlines (formerly Air Lanka) has responded for the third time in providing complimentary air tickets to foreign performers.
The proceeds of this year's show will be utilized through UNICEF for projects for needy children.
Taking centre-stage with the local bands would be musicians from the United States, Germany and Australia. The foreign input would be provided by the Daniel T. Coates band along with solo artiste Dirk Maverick from Germany and Kerrigan La-Brooy, an Australian performer of Sri Lankan origin who has clinched many awards in the country music scene Down Under. Coates, an American musician performing on the European circuit, has been in Sri Lanka before, along with Maverick for previous Country Road concerts.
The Coates band comprises Daniel T. Coates (guitar, vocals), Jodie Albright (guitar, accordion, harmony), Wolfgang Barthmann (banjo, acoustic guitar), Dietmar Waechtlar (pedal steel, lap steel and dobro), Hannes Danna (drums), Hans Schoemer (bass) and Dirk Maverick (guitar,vocals).
This seven-piece band comprises some of the finest musicians in Germany with driving banjo, steady bass and solid drums. Their music moves from the traditional "electric bluegrass" sounds to modern country rock created by the outlaws of country music like Willie Nelson, Kenny Rogers or Johnny Cash.
Australian singer Kerrigan La-Brooy, who says he is looking forward to performing for the first time in the land of his birth, has received rare recognition in the country music scene there. He will be backed by the Cosmic Rays. Since 1988, the CMF - a non-profit group - has raised nearly a million rupees for needy children mostly in the north and the east of Sri Lanka with the proceeds being channelled through UNICEF for projects that have included simple but crucial community needs like drinking water facilities and pre-school buildings.
Folks it's another Country Road concert you should not miss.
---
Exciting world between the covers of a book
Ruhanie Perera and Laila Nasry step into the wonderful world of fantasy and fiction to find out.
We all know that reading maketh a full person. We have heard that about a million times. Practically everyone we know, parents, teachers and grandparents have told us over and over again how vital the habit of reading is, not only when it comes to education but also when it comes to our own growth. Reading can improve your general knowledge, your vocabulary - in short it can do wonders for you (and how many times have you thought 'big deal' when someone was telling you this.)
But there is good reason why you need to read and all of us have stumbled upon that reason at some point in our lives. Reading is an adventure. We can go to so many places and see so many wonderful things that don't exist on earth. The number of friends we make and things we can do is unbelievable. A book becomes a friend and guide in the wonderful world of our imagination. You can be a mighty prince slaying a dragon, or a damsel in distress, you can be part of a team that's solving a mystery, or a lone traveller in some foreign land. Anything is possible in the land of 'make-believe' that a book transports us to.
At the beginning it was the Ladybird (the lovable little bug on most of our beginner books) that guided us as we took our first halting steps into the world of the Three Little Pigs, little Red Riding Hood, Jack and the Beanstalk and Thumbelina. Not only did the large print in these books help us master reading, but the pictures on the pages captivated us for hours as we imagined ourselves on those pages. We also learned to be careful of 'big bad wolves', not accept things from strangers and that no matter what we looked like people will love us for the type of person we are. This fairyland that the Grimmes Brothers and Hans Christian Anderson created was our first home in "book land".
Then we moved on, guided by the gentle hand of Enid Blyton. No child could have passed through childhood without spending a good many hours in the realm of Enid Blyton. If it was visiting Toyland then it was in the company of Noddy and Mr. Big Ears but it was not " all play" in Toyland. Mr. Plods, the policeman, was always at hand to remind us of the rules. When it comes to adventure what more could you ask for, than a wishing chair with little red wings to carry you to the place you wish for. But nobody has better adventures than the Famous Five or the Secret Seven. Leave alone adventures, they have the most scrumptious picnics and leave you feeling extremely hungry.
Teenage years and it's time for romance and adventure with the Hardy Boys or Nancy Drew. But teenage years donít see you stuck with a particular type of book. It's time to experiment and you'll be surprised with your findings. If it's action packed sci-fi thrillers then we are talking Micheal Crichton here. If the film Jurassic Park got you interested, then read the book and you'll be a Crichton fan for life. Court room drama and John Grisham's our man. Awesome is too simple a word to describe the stuff this man churns out.
The " book list" is endless. The experience you get from reading far exceeds reality. It's a whole new world between the covers of a book. Get into it and there is no turning back. Its fun, fulfilling and leaves you with a smile of total satisfaction on your face and one heck of an imagination. Sorry- folk, we are endorsing it-reading does maketh a full person.
---
Where to get your books...
Taken up with the pleasures of reading? Want to grab a book? Here are a few places you can head to.
The Public Library (Colombo) -You need to fill out an application form, which has to be signed by someone within the Colombo Municipal Council limits. The membership fee is Rs.50/=
The Public Library (Kandy) -The same procedure is followed here. The membership fee for those within Kandy is Rs.156.25 and those out of Kandy is Rs.312.50.
The Public Library (Jaffna)-A form is priced at Rs. 2/=. Once you obtain the form the rest of the procedure is the same. The fee is Rs. 130/=for those residing within the Jaffna town limits and Rs. 150/= for those outside.
British Council- Fill out a form which is Rs. 10 and submit it along with a letter of reference. The membership fee is Rs. 650 per annum.