Making Officers out of Gentlemen
By Wathsala Mendis
How would you like to undertake a wide variety of activities including military training, adventurous training, sporting events, and the odd bit of socializing while studying for a university degree in a salubrious environment? Interested?
Yes, this is exactly what you're in for at the Kotelawala Defence Academy. It attracts like-minded individuals who thrive on challenges, who want to get more out of university than just a degree and ensures a highly enjoyable way of fulfilling a very important civic mission: training Sri Lanka's leaders for tomorrow.
For those brave young Sri Lankans who are of good character and of good standing in the community, who want to pursue a career in the armed forces, KDA provides an excellent stamping-ground, offering degree programmes in Bachelor of Science (Defence Studies), Bachelor of Management and Technical Sciences, Bachelor of Commerce, and Bachelor of Arts (Defence Studies) in the English medium. At KDA, young Sri Lankan citizens full of promise and looking for camaraderie, within the age group of 18-23, are provided the opportunity to grow into responsible and proud adults while beginning the foundation required for an effective career as an officer.
It welcomes applications from those who have passed four subjects in one and the same sitting at the G.C.E. (A/L) and obtained an aggregate of not less than 180 marks along with a credit pass in English at the G.C.E. (O/L). They're expected to conform to the Ministry of Defence medical standards and, yes, be unmarried. No officer cadet is permitted to marry whilst under training and until permitted to do so by Service Regulations.
Joining KDA commits you to two years of studying and training as an officer cadet. While your first priority will be to your university degree, you'll be taught a range of basic infantry skills including field-craft, weapon handling, first aid and map reading as well.
Each cadet is expected to attain a high level of physical fitness and achieve a satisfactory level of sports skills. The physical training programme emphasizes fitness, basic knowledge in a wide variety of sports, and the administration of athletics. Cadets are required to meet fitness standards in stamina, agility, and strength while fostering comradeship. They could take part in a wide range of sporting activities including team games like soccer, cricket, rugger, basketball, volleyball, hockey, as well as individual sports like squash, tennis, badminton, table tennis, and swimming.
As an officer cadet at KDA, your ultimate objective is to be commissioned as an officer in the Sri Lanka Armed Forces. In your third year, you'll be referred to either the Military Academy in Diyatalawa, the Naval and Maritime Academy in Trincomalee, or the Air Force Academy in China Bay to complete your training. Once you obtain your degree, you'll be commissioned in the regular forces as per vacancies.
Officer cadets are entitled to a consolidated salary of Rs. 59,760 per year. In addition, they're provided free board and lodging, free uniforms, batman facilities, recreational facilities, and free medical facilities. On your part, you must demonstrate the capacity, the competence and the courage to command and lead in an operational theatre, and to look after the lives of your personnel. You should be the kind of person who conducts yourself with honour, honesty, and integrity in all of your activities. You should base your decisions on solid moral and ethical values. Truth, duty, valour will become your guiding principles. As an officer cadet you'll demonstrate pride in and loyalty to Sri Lanka and pledge to act ethically and carry out your duties with loyalty, honesty, courage, diligence, fairness, and responsibility.
You're expected to strive to achieve that level of professionalism. A tough enough job, isn't it? But then that professional development and the rigorous training you receive is what prepares you for the diverse responsibilities in the armed forces in performing your command, leadership, or other duties.
KDA, here I come!
---
Quality from Kalaya
By Ruhanie Perera
Ever driven down Duplication Road and noticed a shop with a white wall and the word Kalaya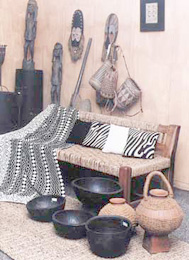 written on it? Ever wondered what you may find if you ventured inside?
What one finds inside is a world of art and colour, creativity and craft. It is not just a shop, it is treasure trove of furniture and fabric, bags and baskets, cushions and candles.
The latest collection at Kalaya is one that identifies with culture and retains the rustic effect, but at the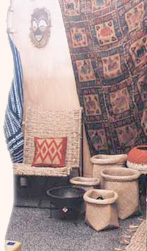 same time is chic enough to fit into the modern world we live in. What is special about the collection at Kalaya is that each item has been thought out, planned and perfected.
So much so that they seem to possess an identity of their own. Most of the items are made in Sri Lanka, but there are some items like the ornaments and fabric, which are brought down from countries like India and Africa. Even the items bought abroad are carefully selected. The aim of this shop is perfection, thus anything that doesn't fit the bill is redone until it's 'just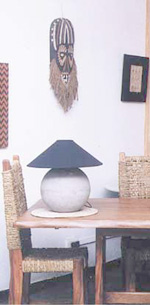 right'. Each piece is inspected carefully. Chairs are tried out and redone until they reach the ultimate in comfort. The proportions of other pieces of furniture is altered until the ultimate in style is achieved.
There is a great deal of quality in even the tiniest item in the collection. Sounds unbelievable? Well, they say 'seeing is believing' - so you can see the latest collection at the Annual Exhibition and Sale by Kalaya on the 20th and 21st of November.
The exhibition will be held at the Girl Guide Headquarters, (No.10 Sir Marcus Fernando Mawatha, Colombo 7).
Each year the exhibition has a theme around which the collection is created. This year's theme is 'Four Corners of the World.' There is a little of what is essentially South African in some of the items. One also finds the distinctly Indian touch and Sri Lankan style.
Quality and style - two good reasons why one should visit the forthcoming exhibition and step into a world of craft by Kalaya.