---
Two little children abandoned by their parents were rescued from the arms of cruelty by the Gampaha Police on the eve of International Children's Day.
By Wathsala Mendis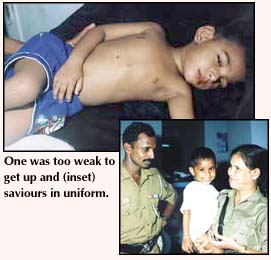 He's just like any other 31/2-year-old: loving, bubbly, grinning from ear to ear, except for the fact that he's severely malnourished, and looks extremely underdeveloped for his age.
To this little bundle of mischief who's never known the warmth of parental love, anybody who throws a smile his way is a mother, a father, an auntie or an uncle. His craving for affection was such the moment he saw OIC Hashim, he jumped into her arms calling her "Amma".
On the eve of International Children's Day, Shyam (not his real name) and his two-year-old brother were rescued from the arms of cruelty by the Gampaha Police. They had been abandoned by their mother who ran away when she heard her husband was having an affair with another woman. The father, working in the Army, handed them over to his mistress who already had two children, and is said to have paid her Rs.2000 a month for their upkeep. God only knows what happened to the money. The children were allegedly at the mercy of a woman who didn't think twice about pulling them by the ear and throwing them out at night when they started crying either of hunger or of sheer agony. Their heart-rending pleas when she beat them up were quite frequently heard in the neighbourhood.
On a complaint made by a kind neighbour who had had enough seeing the cruelty meted out to them, OIC G. N. Hashim of the Women and Children's Unit of the Gampaha Police along with D. S. Athukorala, PC, raided the house. What they saw was something that no mother would have tolerated. The kids had no clothes on, looked starved to death and one was shivering with the flu on the cold, bare floor.
The little one was too weak even to open his eyes. Shyam extended both his arms to Mrs. Hashim. "It was the saddest incident I've ever come across in my career, he looked so helpless. It was as if he was begging me to take him away from that hell-hole," the police officer said overcome with emotion.
They searched the kitchen hoping to find some food or drink for the kids as they were on the brink of collapse, but in vain. They couldn't even find a piece of cloth to wrap the little one who was suffering from high fever.
They were not only bought clothes on the way to the police station but were given food and milk to their heart's content. "It looked as though they hadn't eaten anything for months. The elder one didn't even bother to munch. He just gulped down everything," Mrs. Hashim said.
The kids apparently revelled in the love and warmth showered on them by the police aunties and uncles. What would their real mother have felt had she known that her two sons were calling somebody else "Amma"? Or did she have a heart at all? If she did would she have walked out on them like that?
When The Sunday Times visited the kids at the Gampaha Base Hospital where they're now being treated, their paternal grandmother was attending to them. "She doesn't like anybody coming to see them," we were warned beforehand. It was way past lunch time. But the plate of rice and curry given by the hospital lay on a cupboard, untouched.
Shyam's face lit up the moment he saw us. Any kind of attention was welcome to him who had been denied human affection for so long. The pain must have been too much for his baby brother who still had a temperature. He could barely hold his head up. All he did was to keep asking for some water. It seemed as if he was drained of all strength. Seeing him lying there so weak and helpless on the hospital bed, we couldn't help but wonder, "Has humanity gone to the dogs?"
---
The woman who is alleged to have ill-treated the children was remanded after being produced in the Gampaha Magistrate Court but was later released on bail. The case is still pending. The police have brought charges against her for ill-treating two defenceless kids who had been put under her care. Meanwhile, the two children have been handed over to the "Weerasekera Children's Home" in Dambuwa in the Gampaha district.
This year alone the Police Women and Children's Bureau (Tel:693825), which has been in operation since August last year, has received 78 minor and 24 grave complaints against children. This is in addition to the complaints received through their 24-hour hotline 444444. The public is welcome to give information on any kind of cruelty to children to any one of the Women and Children's Desks set up in 32 police stations throughout the country and help save an innocent's life.