Breaking the shackles
Poverty is predominant in rural areas. Now UNDP projects are helping villagers generate income
By Lisa Hiller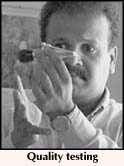 One-fifth of Sri Lanka's population lives below the poverty line. Most of these people are in rural areas where the lack of income opportunities continues to keep them poor.
Mrs. Chandane was satisfied. "There is still much to be done," the young mother said, while seated amongst hundreds of packed and stacked bottles filled with treacle, ready for transport to the supermarkets of Colombo, "but, already we have changed our lives."
This change for Mrs. Chandane began in 1995, when the United Nations Development Programme launched a poverty alleviation programme in the remote and hilly regions of the Kotmale district. This programme has now expanded to the areas of Hanguranketha and Walapone.
Like most UNDP's programmes aimed at attacking poverty, this one helps communities identify what keeps them tied to poverty and then helps them find ways to sever these bonds.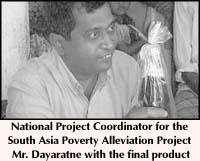 These are the types of initiatives that are changing the lives of people like Mrs. Chandane and the 150 families in her community.
"In this village everyone has a kitul tree," she said. Some people were trying to make ends meet by producing illegal kitul based liquor. The tree can also be used to produce treacle.
"But, everybody in this area makes treacle," Mrs. Chandane said. As a result the local market was saturated and producers had to travel for days to access willing consumers. "With the help of UNDP we realised we could do something if our community got organised," Mrs. Chandane said.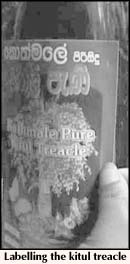 The village formed an organisation. They identified the lack of access to markets and the illegal production of toddy as the major constraints within their community. It was decided to establish a small company that would buy treacle from the locals at a fixed price. A marketing strategy, including labels, distinctive packaging and quality controls was developed. Then, UNDP and the village established links between the community-based business and a major supermarket chain in Colombo. The profits from the sales go directly back to the village organisation to be used for the further development of income generating activities.
According to the National Human Development Report the lack of access to employment and other income generating activities is the major problem facing those who live below the poverty line.
The report reveals that compared with the region, Sri Lanka has made considerable headway on the road to development.
For example, the average Sri Lankan can expect to live 72 years, have access to education and adequate health services. The country's level of social development is higher than its level of per capita income.
"The main factors that continue to promote poverty are the lack of employment and the ongoing conflict," the report claims.
In Sri Lanka poverty is predominantly a rural phenomenon, with roughly 85 percent of poor households located in rural areas. The rural poor also have limited access to social services and basic infrastructure, like roads.
According to UNDP, 56 percent of Sri Lankans are without electricity and 28 percent lack access to a reliable water source.
In the Matale district, where UNDP also works to alleviate poverty, lack of access to water was hindering villagers from pursuing intensive agriculture. Most hired out their labour to local brick factories and mica mines. Wages were low, and, until recently, opportunities to access capital for alternative business ventures were few.
Local activist Mrs. Heenmanike said, with UNDP support, members of village organisations are encouraged to raise their own capital through a savings scheme where each member is asked to contribute weekly.
"Most organisation members are women. They don't have control of the family finances, so many of them found it difficult to save," she said. "Rice is our staple food. We decided to save a handful of rice each day. At the end of the week the rice is collected and bought by one of the organisation members to use for the coming week's meals. The money is then put towards our group savings," she said.
Since starting this unique scheme the village society has helped many of its members to start income generating activities. Many members, including Mrs. Heenmanike, have transformed their rice savings into water pumps, enabling them to pursue intensive agriculture like chili farming and onion cultivation.
According to UNDP attacking poverty at the village level is vital, but if any lasting impacts are to be achieved, we need to combat poverty with the help of government and the private sector at all levels.
Last year UNDP and the government launched a major initiative which, for the first time in Sri Lanka, attempts to work concurrently at the national level, right through, down to the grassroots.
"Through its experience with other poverty alleviation programmes UNDP realised the limitations of trying to effect change by only focusing on the local level, through income generation activities, or only the national level, through institutional strengthening.
The programme first got underway in the Uva province. At the local level in Uva the UNDP/Government team has been applying lessons learned in social mobilisation, empowerment, participatory development and income generation, to encourage locals to develop farming and non-farming income opportunities and eventually improve their standard of living. These activities, initiated under the Sustainable Development Strategy for Uva, range from aqua culture and poultry rearing to human rights training and promotion.
One such project aims to reduce the loss of harvested produce in Uva. Currently between 30 and 60 percent of produce is damaged beyond sale before it reaches the market.
UNDP's objective is to inform 20,000 farmers of simple techniques that could drastically reduce post harvest damage and, in turn, the farmers' financial losses.
Recently 20 trainers completed a workshop aimed at giving them the skills to teach the whole chain of people — from the farmers to the packers and transporters — who contribute to filling market stalls, about good post harvest management. The workshop was the first in a series. Eventually 200 trainers will have completed the workshop and have the potential to reach thousands of farmers.
At the national level a forum composed of key central agencies and ministries has been established. This group will act as a steering committee dedicated to creating a supportive environment at the centre for promoting regional development.
The writer is UNDP's Public Information Officer.