Prof. Savitri Goonesekere, the first woman Vice-Chancellor, shares her views on education and her hopes for the future of the Colombo University
By Roshan Peiris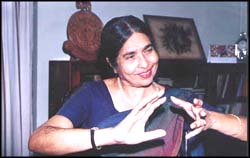 Prof. Savitri Goonesekere has created a solid niche in the educational history of this country by becoming the first woman to occupy the Chair of Vice-Chancellor, earlier held by those of the calibre of Sir Ivor Jennings.
The statuesque, good - looking woman Vice-Chancellor is self- possessed and composed and has, she said, accepted her high profile appointment with humility, responsibility and a sense of dedication.
The new Vice-Chancellor is a law graduate from the University of Peradeniya's faculty of law which was shifted to Colombo only in 1995.
At the University, she specialized in family Law, that is she explained, the relationship between husband and wife, parent and child and the law applying to ethnicity and religion when necessary.
Savitri Goonesekere was the first woman lecturer in the Peradeniya University's Department of Law. After the faculty shifted to Colombo, she continued to be a senior lecturer there.
She has also collected a post-graduate qualification from the prestigious Harvard Law School and had been to London on fellowships and scholarships.
Asked how she felt on hearing of her appointment to this exalted position she said, "I was fortunate that at Ladies' College, we were given ample opportunity to study in an open environment, enjoying learning and extracurricular activities such as drama and music.
"None of us at that time had a special focus on career and this being reinforced by a liberal family environment gave one the opportunity to study what one liked and not get awed by any position one may be called upon to face in life.
"I have been fortunate to grow up in a family where being a woman, I was not denied life's opportunities.
"I was given the chance to pursue any interest and career.
"Professor Daphne Attygalle was also asked to fill this post years earlier. She was a capable and distinguished person but she refused," Prof. Goonesekere said.
Asked about the possible changes in the University curriculum, Prof. Goonesekere said the University of Colombo in the last few years has introduced many changes both in teaching methods and a more flexible choice of courses termed the Course Unity System similar to the American University system.
She explained that students today have a choice of courses. They can combine non-traditional and traditional courses.
For example, a course in Geography can be combined with a course in Planning and Development. Also one can combine a course in Criminal Law with say Environment.
Prof. Goonesekere went on, "Students are encouraged to write project reports and are tested on a regular basis on their assignments instead of having just one exam at the end of an academic year.
"I am now fostering and encouraging these changes. We are also encouraging inter-action with the private sector.
"Students are given the opportunity to meet the private sector for career guidance. There are also now courses in Commercial Law and Management.
"We do not, amidst these changes, forget to focus on students' responsibility to the community, for example the Law Faculty, Medical Faculty, Arts and Science faculties, all have courses that focus on social issues. In fact, students are encouraged to focus on research projects," she said.
Asked about the possibilities of introducing technical she said, she feels strongly that the University is not a place to teach skills.
"I grant that skills are important but the student must be given the opportunity to think out ideas and reflect on them and evaluate their relevance to practical realities, she said."
She mused "These are the ideals we are seeking to achieve, but there are problems."
"The first problem is that students feel pressured since some of them work outside while studying here. Some also follow courses outside the University," she said.
The second, problem, she said is that they now come from tuition- oriented secondary schools, so at the University they have to unlearn this system.
"Though we have introduced staff development and encourage them to use new methods, the staff has a tendency to encourage passive learning. It is upto us to see that this does not happen," she said.
The third factor, she said, which is a king-sized problem is that students are politicized.
"They have strong political convictions but they are still not mature about assessing these. Sometimes they become combative, violent, intolerant and ill-balanced. This creates problems of discipline and maintaining law and order.
"It is sad but true that student groups fight among themselves. During our time such a problem did not exist."
She is advocating student counselling and also staff-student interaction even in students' hostels.
"I must say that women students who come from a wide range of backgrounds manage their hostels better, with discipline and responsibility, unlike the men students who are sometimes strong and aggressive," she said.
"We find it particularly difficult when student groups resort to violence."
"We are working hard to inspire and instil in students non-violent values and appreciation of peaceful values," she said .
Asked whether politicians are involved, Prof. Goonesekere, said that "they are not openly involved but I suppose they can help by discouraging and preventing violence."
The majority of the students she feels are tolerant and peace-loving and seek to study in a pleasant environment but they should also become involved and try to influence others in tolerance. Similarly the staff too should get involved and try to propagate tolerance and peaceful values, she said.
The good-looking Vice-Chancellor is married to lawyer R.K.W. Goonesekere, one-time Principal of Law College.
One can expect much from the country's first woman Vice-Chancellor. She has knowledge, a sense of responsibility and above all, an unswerving dedication to her duties.
She will doubtless walk in the traditions of other great Vice-Chancellors of this University.