---
Golf tot Gajan
By Annesley Ferreira
A five-year-old going places in any sport is a rare happening. But here comes the news of Gajan who has been featured in City TV, CTV Global News and on the prime news channels in Canada.
Little Gajan is referred to as the second Tiger Woods in golf and is often featured in global spotlight since he is classed head and shoulders above most of the golfers twice his age, who is not even taller than a putter.
He is the youngest son of Marimuthu Sivabalasingham who excelled in sports in Sri Lanka captaining the Saracens in cricket and later on turned out for the Tamil Union being a product of St. Matthews College, Dematagoda where he was a top sports all-rounder.
In 1990 Siva migrated to Canada where he is self-employed as a accounting consultant.
Coming back to Gajan who is just five years old, he has already fired a 68 and 71 at a local 18 hole par 54 course.
The Markhan youth took up to golf when he was just two years old wiping an iron from his father's golf bag and swinging the club alongside his dad in their backyard. He quickly merged as a Tiger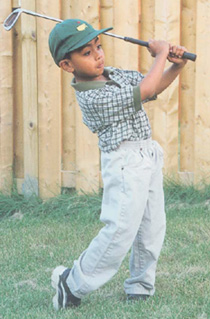 Woods fan who also performed similar feats at the age of three.
Gajan who is sponsored by Nike says Tiger Woods is the best, displaying his own collection of cap and shirt stressing that he has copied Woods' stroke and dresses like him in red shirts, and shoes.
The youth's enthusiasm is shown when on course pumping his fist in the air like the elders when he sinks a 20 yard putt and covers his face with his hand after a narrow miss.
He chips and putts 150 shots a day in a regular training stint whilst in winter or rainy days he chips into a net in the basement of his home East of Markham and putts on a five metre carpet strip with a raised hole at one and.
Gajan is also a video golf player, when travelling, he takes the portable putting green and a putter and he practices in hotel rooms.
Talking about Gajan's entry into golf, his father said that after they came to Canada they were amazed as to how accessible golf was compared to Sri Lanka where the sport is generally played by the rich.
The sister of Gajan, Sinduja 17, was instrumental in getting her brother interested in the game, presenting a set of toy golf clubs for his birthday.
Other than golf, Gajan is a blue belt in martial arts hoping to win the black belt in the near future.
Recently at the Unionville Golf centre, Gajan took 40 putts from the edge of the practice green where he aced two shots and came within the range, amongst others, while four other teenagers watched in amazement.
Pro-golfer Glen Fox sees Gajan as a bright prospect and gives him all the encouragement to practise as much as he wants which draws a lot of distraction by passers-by wanting to have a look at him hitting the ball harder and harder.
Gajan has the rare honour of meeting Tom Watson, one of all-time golf greats at a charity tournament in Woodbridge where he has chummed around with other reputed players.
Watson was five times British open champion, twice US open champion and twice winner of the Masters. It was a honour indeed to little Gajan.
Paul Doucet of Golf Town in Scarborough, a golf academy and retailer, who has a hand in instilling the finer points of the game to Gajan has created a video on Gajan's swing, comparing them to that of Tiger Woods and Jack Nicklaus.
The clubs that Gajan uses are custom fitted made by McMahon Golf in Markhan, shortened to fit his 112-centimetre height allowing him to drive120 yards straight up the fairway.
Paul Wilson of Angus Geln Golf Academy says, Gajan is going to be really good. You can tell by watching him that he has the fludity of it in his body. And that's not something he'll lose with age.
"I promised my mom, I'll win her a Mercedes for a hole-in-one and I'll get my dad one too for what he has helped me to be".
---
Congrats Sanath !
By Dr. Baptist Croos, FSC.
Hearty congratulations to Sanath Jayasuriya and his team for having won the Test series against the 1999 world champions, the formidable Australian team. As everyone knows it was the first ever series win against Australia and Sanath was the first Sri Lankan to register a Test series win in his debut as captain.
This victory, of course, will be faithfully recorded in the history of Test Cricket. Hearty congratulations are also due to Steve Waugh and his team for having gracefully conceded defeat after playing the series so proficiently. The man of the series, Ricky Ponting fully deserves our praises and admiration.
Rain the saviour
Thank the weather gods, the brother sun, the sister moon and all the planets in high heaven for having played a major role in producing the heavy monsoon downpour that brought the third Test match to a reasonable finish; otherwise we would have been finished.
It was incredible. For a moment, the kangaroo had the lion by the scruff of the neck. The 1996 world champions, Sri Lankans, thought they were playing a one-day match. At the speed wickets were tumbling down, an innings defeat was in the offing. Down came the merciful rain putting an end to our agony. Masterblaster Sanath Jayasuriya had to eat humble pie. Oh No! Two ducks in the hand are definitely not worth two in the bush!
Please don't shower inordinate praises on our cricketers. The human body is very sensitive and intriguing. A big pat on the back may result in a swollen head. Self-praise is no recommendation either. Our cricketers must be adept, shrewd, optimistic and courageous. They should learn to take up the gauntlet and accept the challenge manfully, then the victory is worth recording.
The Contrast
The simple fact is that we were almost in the jaws of defeat in the third Test. Rain saved us. The English proverb "The higher the monkey goes, the more he shows his tail," is worth meditating on. Our worthy opponents know our foibles and weaknesses alright. They have exploited us to the maxinum and taken us off guard many a time. That's why the Australians had us reeling at 61 for 4. Our world class top-order batsmen just capitulated offering little resistance to the fast and accurate bowling of Fleming and McGrath. In contrast, rain or shine, Ricky Ponting belted our weary bowlers all over the field and played a painstaking innings and earned the "Man of the Match" and "Man of the series" awards. Given the same weather conditions, he became a hero. One needs guts, grace and gumption, to achieve anything worthwhile.
The opening pair
The openers are supposed to spearhead the batting. A substantial total on the score-board by the opening pair is crucial to create confidence and inspire determination in the rest of the players. If in the first over or in the first ball itself disaster strikes, then the rest of the team is demoralized; pressure is imposed and a panicky situation created.
That's what happened to our top-order batsmen. The tail-enders usually fold up in such an awkward situation. Players are specialized in their department of the game. If batsmen fail miserably, how do you expect the bowlers to hang on? They too "blast" their way to doom and destruction. Time and again it has happened. On the other hand the Australian openers did exactly what was expected of them and they did it in remarkable style, putting more than a hundred runs on the board as the opening stand. That was really creditable on the part of Slater and Blewett to have given the Australians a flying start.
When the openers cringe and crumble at the first attack, what is to follow would be worse. In the case of the Sri Lankan team, even the captain who happens to be the opener, should think seriously as to the strategy he is going to adopt in the future. According to his remarks at the awards ceremony, Sanath feels confident that he could still do well as the opening batsman. Hope he'll do it and I wish him well.
The umpires' dilemma
When umpires succumb to pressure they give snap decisions which they regret later. Mark and Steve Waugh were victims of unfair decisions. Actions take place in a flash of a second, in the twinkling of an eye, the umpire is non-plussed if he is not alert and quick-witted. Frantic raising of arms and full-throated appeals make the umpires to make quick and often wrong decisions. lf simple run-outs are referred to the third umpire, why not refer crucial and complicated slip catches or tip catches? With astounding action-replay devices readily available now, decisions will be made fast and accurately. This would help to avoid a lot of embarrassment and ill-feeling.
---
Farewell is not forever
By Aubrey Kuruppu
It is given to few men to rise to the very top in their chosen field. Even fewer continue to be associated with the profession they gave a greater part of their lives to, on retirement.
Providence has seen to it that these twin fortunes have been visited upon Kandiah Francis (K.T for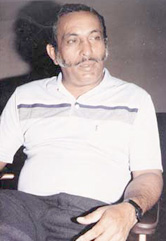 short), and they couldn't have been granted to a more decent and endearing cricketing personality.
When he took off his white coat for the final time after the rain-hit Sri Lanka Australia Test at the SSC, KT must surely have felt more than a tinge of regret and sadness. But there was no Dickie Bird show of tears, no undue emotion. That wouldn't have been in keeping with the image of the Railway Head Guard he had been for many a year before deciding to take the plunge and get involved in full time umpiring. Instead of signalling trains to and fro it was henceforth going to be the signalling of exits for bemused and chastened batsman.
For Sri Lanka's premier umpire of the last one and a half decades or more, it turned out to be the right decision. KT stood with Herbie Felsinger in Sri Lanka's inaugural Test against Keith Fletcher's England side at the Oval in February 1982. In 17 and a half years of umpiring at international level he stood in 25 Tests and 62 One-day Internationals. Further, he has umpired in all the Test-playing countries (except in the West Indies) and stood in Bangladesh and Sharjah for good measure.
To be sure, he had his ups and downs. Selected to stand in the Test against New Zealand at the SSC in 1992, he was denied the opportunity and informed of the decision on the morning of the match after he had arrived at the around. Things sincerely can't get 'Curiouser' than that. Again, picked to officiate in the 1987 World Cup on the sub-continent, KT stood down later and P. W. Vidanagamage sent in his place. His debut in the World Cup was further delayed, came the '92 World Cup and Herbie Felsinger, who was to stand in it, suffered a stroke. His place was taken not by KT, but by another.
How did the Francis success story begin? Not many people are aware that KT played cricket for two schools - St. Mary's Kegalle and Fatima Kalmunai. In fact he captained the latter school in their Big Match against St. Michael's Batticaloa in 1957 and, latter's brought to an end the latters string of triumphs by beating them. next it was D and C Division cricket for the Railway.
Goaded by the Jayasinghe brothers - J. M. C and M. A.- KT decided to don the white coat. He also recalls the role played by others such as Camillus Pereira, K. T. Ponnambalam, Royle Barthelot, Granville Hamer and espcially Major General B. R. Heyn in his umpiring career. His first big break came when he officiated in the under-19 unofficial Test at the CCC in 1980. His colleague was S. Ponnudurai and the Indians were led on that occasion by none other than Ravi Shastri. Then followed the unofficial Test at the Oval in 1981 against Kim Hughes' Australians.
Having umpired with almost everyone on the International panel, KT picks out David Shepherd (England) Darrel Hair (Australia) and Brian Alridge (New Zealand) as the umpires he enjoyed standing with most. They made his job that much easier by co-operating one hundred per cent, Alan Border, Steve Waugh, Saeed Anwar, John Wright and the odd bowler in Courtney Walsh are some of his favourite players. "It was easy to work with them. They accepted that umpires are human and were prepared to accept mistakes once in a way."
---
Set a thief to catch one
The year 1967, apart from our success in rugby was a memorable year for me in my Police career.
It was during this year that I was promoted to the rank of an Inspector of Police. I was then still working in the City Traffic Police and we had a new officer in charge in Inspector Dennis Peter who had a long spell in Jaffna as officer-in-charge of Traffic and was a very popular police officer in the Northern Peninsula, even though he was a Sinhalese born and bred in Negombo.
The officers who were promoted to the rank on Inspectors in my batch included S. Thangiah, who is now in the United Kingdom having a nursing agency called "Elenor Nursing Agency" and supplying nurses to all the leading Hospitals in London. Ananda Jayasena, who retired as S.S.P having served last in the Colombo Fraud Bureau. Freddie Ratnasingham who recently passed away in Switzerland, C. Navaratnam, a national long jump and hop step & jump champion who retired as an S.S.P having last served as Deputy Commandant of Sri Lanka Police Reserve. Sarath Borelessa, a swimming Gold medalist who retired as S.S.P and Commnadant of the Military Trained Police platoons and presently working for the Japan International Cooperation Agency (JICA), "Tipper" Thiagarajah, Lancelot Perera, Miles Ekanayake, a Thomian athlete and tennis player who retired as Director of Police Transport, L.B Deegalle, affectionately called "De Gaulle" to his annoyance, Karunaratne who was serving in Negombo and P. Udugampola who later became a controversial D.I.G to name a few.
We had our three months training at the Police Training School which was shifted to Echelon Square from Kalutara and the Director of Training was S.S.P. N.G.C Seneviratne (Puvi) and our lecturer was A.M Ratnayake, A.S.P and the Chief Lecturer was Inspector Leslie Boyagoda.
I had to shift from the Fort Inspectors' Mess temporarily to Echelon Square for our training where today the Hilton Hotel and the Twin Towers stand. Then I had a puppy which I picked up near the Police Hospital which was then along the Marine Drive at Galle Buck, Fort near the Chaitiya and which became the pet and the mascot at the Fort Inspectors' Mess and Police Officers who visited the Mess to quench their thirst and used to bring their children to play with this pup which I named as "Laika", the name of the Russian dog that went in a spaceship.
When I went for my training, I handed over the pup to A.V. Fernando, a confirmed bachelor who was working for the Times of Ceylon as a senior sports writer under the pen name "Alban": specializing in cricket and he was living at the Bristol Hotel opposite the Fort Inspectors' Mess. You could see him in the nights going to the Chinese Restaurants for dinner accompanied by Laika, when I was under training.
Whilst under training we did our parades at the Echelon Square parade grounds and physical training at Galle Face Green in the mornings and during the day it was all lectures in law and police orders. I was appointed the prefect of the class inspite of being the most mischievous. It was like "set a thief to catch a thief". We were free during the week-ends which enabled us to travel to the outstations where our batchmates were stationed and enjoyed ourselves. On Sunday evenings we used to go to the Roof Top of the Ceylinco Building where the Akase Kade was where beat shows were on and let ourselves go.
After my promotion I was transferred to Pettah Police as Inspector- in-Charge of Traffic in recognition of the Police team's great rugby showing in 1967 and worked there till the end of 1969
To be continued next week.
---
Let's not burn cricket at the altar of victory
By Sharm De Alwis
The concept of the Third Umpire was that of Mahinda Wijesinghe. Mahinda has now come one step further with the suggestion that a batsman may be given the right to appeal against what he considers a bad decision, with certain conditions to curb abuse.
There is no doubting the fact that wrong decisions have been given right down the ages since cricket was first played and we now can't have a Dr. W.G. Grace saying "the crowd has come to see me bat, not you, umpiring." The equipment is available to offer redress, so it is sensible to make use of it.
Before cricket became a win-at-any-cost competitive sport at school level and an industry at National level, fair play was the order of the field and off it. The die-hards and those who thought of cricket as a National achievement got on the sidelines and the bandwagon and things weren't gentlemanly anymore.
When Percy Maralanda led his Trinity teams to sixteen wins by innings on the trot over a period of three years, broken only by a 10 wickets win over Wesley, that gallant captain recalled to the crease a Wesley batsman who had been wrongfully given out. For the records, the victories continued without a break for another six matches under the captaincy of V.C Schokman.
Sixty years after Maralanda's epoch gesture, Jeremy Mutumani was ruled not out in the Big Match of 82, the year before he captained Trinity. Jeremy walked, because he knew he had snicked and the catch was held.
Ashan Welegedera ran a boy out at Asgiriya in '94 and with the umpire's finger raised, he told his captain Tilina de Silva that the ball was not in his gloves when he broke the sticks and the captain recalled the batsman.
When Mark and Steve Waugh were given out, the TV re-plays proved beyond a shadow of doubt that they were not out.
I am told that the Laws of Cricket clearly state that a dismissed batsman once he has crossed the boundary ropes on his way back to the pavilion, cannot be recalled to the crease. Amend the rule.
Our great-hearted captain Sanath Jayasuriya who would have learned the truth only at the end of the day's proceedings would certainly have recalled the batsmen if not for the idiosyncrasy in the Rules. I want to think that Sanath has style and ethos.
Let cricket be a sport not a fracas, let's play the game in the tradition of the old Masters.
---
Old Nalandians honour three cricket greats
By Bernie Wijesekera
October 9 was an important day for old Nalandians, young and old, when its Junior OBA organised a felicitation for three of its cricketing heroes - Bandula Warnapura, the first Test Captain, Roshan Mahanama and Asanka Gurusinha at the Hotel Lanka Oberoi.
It was a great happening for the past and present cricketers, who not only brought fame to the school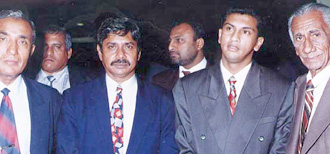 since independence, but also contributed much to put the country in the international cricketing map.
Nelson Mendis, who initially coached the trio at the embryo stage paid a glowing tribute for their exploits on an off the field. Put aside their cricketing ability, but also possessed human qualities. Warnapura started his school career at Visakha Vidyalaya. He then moved to St. Peter's and finally settled down at Nalanda and sowed its seeds for the start of its glorious cricket career.
Despite setbacks and obstacles, both Roshan and Asanka played in the correct spirit. The duo prematurely retired for reasons best known for themselves, Mendis added.
Bandula Warnapura also addresed the audience and thanked the organisers for this memorble get together and awards ceremony.
Warnapura said when history is written, one must not forget the past greats who with their own men and material did proud for the school. Undoubtedly the best that Nalanda produced was Stanley Jayasinghe. He is a complete cricketer and a good administrator, too. Most of the emerging cricketers have bnefitted from his know-how.
At this felicitation there were past coaches like Gerry Gooneratne, Channa Gunasekera in the midst. They received special awards.
The present Principal, Hemantha Prematilleke thanked Junior OBA for organising this felicitation. Of course, the school needs the support from the old boys for its continuity my predecessors have received in the past. I am confident of getting similar support to continue their good work on and off the field, Mr. Prematilleke, added.
Nalanda had another first in producing the youngst President to the Cricket Board, in Thilanga Sumathipala who played alongside with Mahanama and Gurusinha. Sumathipala was one of the special invitees and also addressed the audience. Foremer Princiapl, Mr. S. Athukorale also spoke.
Roshan Mahanama thanked the Junior OBA for this Silver Honours awarded to Warnapura and his former school and Sri Lanka team mate Asanka Gurusinha. Incidentally, Gurusinha now domiciled in Australia couldn't make the trip. Sri Lanka cricket coach Dav and Mrs. Whatmore were among the special invitees.
---
Briefly
Royal Thomian Regatta
The 27th annual Royal/Thomian regatta will be held on Saturday, October 23 at the Beira Lake opposite the Colombo Rowing Club sponsored by GSM Dialog. The Royal team will be captained by Kushal Abheyratne while S. Thomas' will be led by Heshan Henry.
The first boat race inaugurated in 1962 was won by Royal and S. Thomas' on 15 occasions each, with the record standing to the credit of S. Thomas' in a time of 3 minutes 29 seconds set up in 1986.
The inaugural boat race was won by the Royal crew comprising, D.I. Fernando (Bow), C.P. Samarasinghe (two), M.E. Wijesinghe (three), L.A.W. Sirisena (Stroke) and V. Wijemanne (coxswain). The breakdown of the races won are:
Senior Fours - Boat Race Trophy: S. Thomas' 11, Royal 8.15 each;
Junior Fours - Eraj Wijesinghe Trophy: S. Thomas' 11, Royal 8;
Senior Pairs - Freddie Anthony, Raux Memorial Trophy: Royal 10, S. Thomas' 3;
Junior Pairs - Chula Samarasinghe Challenge Trophy - Royal 3, S. Thomas' 0;
Senior sculls - Royal/Thomian Regatta Challenge Trophy: Royal & S. Thomas' 4 each;
Junior sculls - Ajith Gunawardena Challenge Trophy: S. Thomas' 2, Royal 0;
Overall winner - T. Noel FernandoTrophy: Royal 13, S. Thomas' 12.
The 1999 St. Thomas' Sculls boat will named Capt. Janaka de Fonseka and Wing Commander Thilina Kaluarachchi boat.
School for Blind win
A dashing 90 with ten fours by Wasantha Jayawardena steered the School for Blind, Ratmalana to a facile 67 run win over the Presidents XI of the Sri Lanka Federation of the Visually Handicapped in the opening match in the All Island limited overs cricket tournament encounter for blind played at Ratmalana. This tournament has been organized with the silver jubilee celebrations of the Sri Lanka Federation of the Visually Handicapped.
Dimuthu Perera too contributed with a quickfire 39 including a six and 4 to the School's 194 in their allotted 30 overs. Skipper Chrishantha Bandara, U. Priyantha and Thushara claimed two wickets each for the Federation XI. In reply the Federation XI were bowled out for 128 with skipper Chrishantha Bandara scoring 65 which included 8 fours. Wasantha Jayawardena and Kalyanakumara captured 3 wickets each.
Clean sweep by Asoka House
Ananda College's Asoka House made a clean sweep of the school's under-13 inter-house cricket championship played recently.
Asoka House was led by batsman Thilina Dissanayake who was adjudged man-of-the match on two occasions for making scores of 65 and 104 in two of his team's qualifying round matches.
P. Boteju of Vijaya House hit the highest score in the championship, 131 not out and was picked as man of the match on one occasion and best fielder in another contest. Another performance worthy of mention was produced by D. Kahandagamage who was adjudged best fielder on two occasions and best bowler in another match. P. Palansuriya (best bowler), Rukshan Tharindu (best bowler), V. Wijesuriya (best fielder), G. Rupasinghe (best bowler), B. Abeykoon (man-of-the-match, best batsman), M. Perera (best fielder), Janaka Sumithrarachie (best bowler), C. Herath (man-of-the-match), K. Senaratne (best fielder) and N. Denagama (man-of the-match) also won awards at the prize giving.
OSC swim champions
Overseas School of Colombo (OSC) emerged champions in the South Asia International Schools swim meet held at its school pool at Battaramulla.
The school won four of the six age groups winning the overall championships. The Overseas School, Colombo 4 x 50 under 12 boys' relay quartet broke a long standing South Asia International Schools Association record. The Overseas School of Colombo will be hosting a number of local and international events during the course of this year while the track and field championships will be hosted in March next year.
South Africa, Pakistan champs
South Africa and Pakistan were declared joint champions when their final was abandoned due to the sudden death of Asrar Umer, a member of the Pakistan team at the 10th Africa/Asia/Middle East Bridge championships played at the Crystal Ballroom of Taj Samudra Hotel.
Umer, 53 years of age died of a heart attack on Wednesday, October 13. South Africa and Pakistan qualified to play in the Bermuda Bowl finals in January next year. India bagged the third place in the men's section defeating Bangladesh by 102 points to 52.
India bagged the ladies' title defeating Egypt. In the ladies' final event Egypt were leading India 121 points to 110. Pakistan beat South Africa 71 points to 59.25 to win the third place.
In the Transitional Swiss team final, Chelliah's team comprising the Sri Lankan open team, M. Chelliah, K. Baskarakan, Dr. H. Keerthisena, Paul de Neise won the title with 148 points, with Rashid's team second, 145 points, India 140, Poci 128, Chennai 124, Jordan 124, Romance 121, Mauritius 120, Aces 117.
Thirteen teams participated.
Jose Damiani, the President of the World Bridge Federation arrived in Sri Lanka and will be a guest at the awards ceremony.
Trinco Joes dazzle
St. Joseph's Trincomalee showed what football is all about when they beat De Mazenod by 5 goals to nil in their Don Paul Henry Patrick memorial trophy invitation inter schools under 19 final played at Kandana. The main goal scorer for the winners was skipper N.M. Nowfer (3). On their way to the finals the Trincomalee lads beat the more fancied St. Benedicts 4-3 and trounced Maris Stella, another force to be reckoned with by 6 goals to nil. The team is coached by Charles Vasanthan.
Nishok Anthony and R. Norton from St. Joseph's Trincomalee was picked as the best goalkeeper and best player respectively.