Year on the Web
30th March 1997
| HOME PAGE
| FRONT PAGE
| EDITORIAL/OPINION
| NEWS / COMMENT
| BUSINESS
---
By Renuka Sadanandan
Twenty years ago, Helen Rust lived in a charming estate bungalow, whose upper balconies afforded a view of rolling hillsides. The cattle sheds on the fringes of the drive were not part of the landscape, but it is here, in a converted cottage that Helen, whose brother Cecil T. Rust was the chairman of The Times Of Ceylon Ltd and a well known proprietary planter in the 1940s and '50s now lives, in humble surroundings with only the memories of the old days to keep her company.
The Mount Franion estate in Muruthalawa, a few miles from Kandy off the Katugastota- Kurunegala Road was once a flourishing tea plantation. In its present state, it is a mixed crop estate, but the tea factory with the letters 'Mount Franion' painted boldly across it, is still very much in evidence. A winding, somewhat rocky road wends upwards to the planter's bungalow also known as Mount Franion, but our destination is the cottage and its solitary occupant. Helen Rust greets us warmly, happy to share the memories of the days when she and her family had their place in society.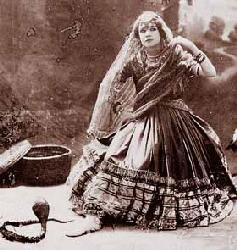 Helen, when she was in India
Helen Rust was born in India in May,1914. Her father Julian Rust, was a kinsman of the Duke of Nottinghamshire and a man inclined to the arts, whose chief passions were painting and photography, the former pastime also shared by his lovely wife Elizabeth Anne Nelligan, whose wild Irish beauty was the subject of many a portrait. The Rusts had four children, Cecil, Violet and Helen, another daughter having died of diptheria in infancy.
Though 82 years old now, the artistic temperament inherited from her parents still runs strong in Helen and she paints when the mood takes her, whimsical, delicate compositions of fairies and nymphs and also sketches of the birdlife that she sees around her. But it is not of her art that she loves to talk, but of dance. I fell out of my cradle dancing" she says repeatedly, and as if to emphasise the point, does a little twirl.
The Rusts though having their family properties in Huntingdon, Nottinghamshire,('Robin Hood country, you know,' Helen smiles) travelled extensively. The young Misses Rust were taught by a governess as was the custom of the time and Helen had a succession of dancing teachers as well, Russian, French, English from whom she imbibed the various disciplines. When the family visited India, where they also had a house, their friend the Nawab of Ranpur had a special train sent to pick them up. Helen has many photographs of this time, including several of herself and her sister draped in the fine Indian silks, adorned with jewellery. She also performed in India, dancing as always for charity and received a medal in appreciation of her efforts from the Begum Atiya, dated 4.2.1928. The Begum, says Helen, wanted to stage a show for her in London but a serious accident dashed the young dancer's hopes of making a career of it. She never lost her passion for dance, though. Many years later, in 1984, she was to dance the hula in Colombo at a show titled 'Hawaiian Paradise' for the National Council for Child and Youth Welfare. A performance in Kandy the same year was for the Cancer Society.
Brother Cecil came to Ceylon as a young man and soon established himself as a proprietary planter. The sisters, however, had wanderlust in their veins.
They went all around the world, from Paris, to India, Australia and Vietnam. When the Second World War broke out, Helen worked for some years as a nurse in Africa.
Whilst brother Cecil was busy expanding his holdings in Colombo and his involvement with The Times of Ceylon, the two sisters Violet and Helen, after many years of adventurous living moved to a comfortable, airy tea estate bungalow Mount Franion, in the late '50s, where Helen recalls they had a 'wonderful life' together, giving full rein to their artistic natures. ìWe would rise early and paint the whole day, sometimes. On other days we would travel down to Colombo or visit friends in Kandy." The family also owned a town house in Katugastota, which earlier had been occupied by Lord Louis Mountbatten, during his stay here as Commander-in -chief of the Allied forces.
Today that mansion, perched on a hilltop and commanding a spectacular view of the Mahaweli as it courses around the bend, is a government school Mahaweli Maha Vidyalaya.
Mountbatten's portrait, we were told, still hangs in one of the upper rooms and in a lower room with a typical English gabled window and fireplace is the family crest of the Rusts, though the schoolboys roaming its precincts have no idea of its meaning. The Rusts named this house Huntingdon Hall in memory of their ancestral home in England and according to Helen, her mother died here.
It was a carefree, idyllic existence in the country the family had all come to love and happy days when the sisters had friends aplenty and the means to entertain them in the lavish manner they were accustomed to. Their house, Helen recalls was chock-full of paintings and antiques, most of them brought down by her brother Cecil from their family home in Huntingdon.
One enormous piece, she remembers, was a grand dining table some thirty metres long, which in later years, she sold for a song. The other antique furniture, amounting to a few lorryloads was all sold later.
All three Rusts never married. Helen muses that in her case, it was, perhaps, that she and sister Violet being kindred spirits they never really felt the need.
In fact, she remembers, that after her mother's death, her brother had been adamant that the two of them should lead separate lives and even bought a house in London. But they were not so easily parted, quite content to live on in Lanka.
Cecil Rust died in London in 1960 (see box story) and Violet, some years later in 1974. Her sister's death had a profound effect on Helen who confesses that her life changed dramatically after that.
She continued living at Mount Franion but a light had somehow gone out of her life. In 1982, she sold the house, a decision which she still regrets bitterly and is loath to talk about.
It was bought by a planter Christopher Worthington and later changed hands. As her fortunes declined Helen was compelled to move to what was once the 'cowshed' as she puts it, a little cottage renovated to suit her simple needs. One family retainer, M.G. Jayaratne still works for her and only some of the strikingly beautiful paintings on the walls and a few treasured mementos of the family and her dancing days remain to tell the story of the last surviving member of the Rust family in Ceylon.
Yet Helen Rust, though her memory is occasionally hazy, and her steps a mite unsteady at times, is blessed with a blithe spirit. And an unfailing faith in her God.
"He is looking after me," she whispers, "I have no troubles." Turning the pages of her sister's Bible, she produces a faded copy of the family crest with the Latin words 'Fortis et Stabilis'. Translated it simply means, brave and steadfast. Helen Rust has lived her life according to that tradition.
---
Extract from The Times of Ceylon, January 16, 1960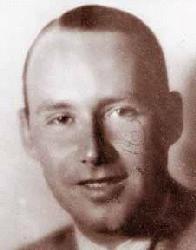 Mr. Cecil T.Rust, proprietary planter, traveller and former chairman of The Times of Ceylon Ltd, died in Westminister today, aged 55.
He had been in uncertain health since undergoing a serious operation in London, 16 months ago. He fought back with splendid courage and his invariable cheerfulness under gravest difficulties earned him the admiration of all his London friends.
Just before Christmas, his illness took a graver turn and he returned to the unavailing care of Sir Stanford Cade at Westminster Hospital.
Mr Rust came to Ceylon and became a planter almost by chance in 1925. He had originally intended to be a doctor and was, for a time, a medical student at Edinburgh University.
He heard the call of the East and fate brought him to Ceylon which was to be his home for the rest of his days and which inspired in him a deep love for the land and the people.
After serving his apprenticeship on Hanwella Group, Padukka, under the formidable Gordon Brooke, Mr Rust took over Mahaberiatenne Group, Teldeniya in the Anglo-Ceylon Company.
He remained there until after the war when he set up as a proprietary planter and acquired other business interests.
He was Chairman of the Board of Directors of The Times of Ceylon Ltd during the historic period before and after the island gained independence. He was a director of the company until the time of his death.
There can be few Ceylonese planters who travelled more widely about the world than Mr Rust. There was, I think, no continent he had not visited and comparatively few countries he had not been. He would keep any audience entertained with stories of life and experiences from Florida to the South Sea islands and from Cape Town to Kalamazoo.
Only a few weeks ago, guests at a birthday party in London stayed until the early hours of the morning, listening enthralled to his tales.After the death of his father in South Africa, Mr Rust made a happy home for his mother before she died and for his two sisters at Katugastota. His sisters arrived in London by Comet a fortnight ago.
Note: The Ceylon Times, the forerunner of the Times of Ceylon was founded in Colombo by one John Capper, a Colombo merchant in July 1846. Capper had been a sub-editor on the London Globe. He sold the paper in 1874 and returned to England, but when it later went into liquidation, he meanwhile having come back to Ceylon resumed control of the paper, helped by his son Frank Capper, who had come to Ceylon as a coffee planter. His elder son H.H Capper also joined them and the paper, with its name changed to The Times of Ceylon soon flourished. Cecil Rust was Chairman of The Times of Ceylon in its centenary year, 1946.
Continue to Plus page 2 - The End of Innocence : Tagore's idyllic university * Book reviews: Potent icons, all mysterious, Everything in good taste
Go to the Plus Archive
Please send your comments and suggestions on this web site to
info@suntimes.is.lk or to
webmaster@infolabs.is.lk