Year on the Web
30th March 1997
| HOME PAGE
| FRONT PAGE
| EDITORIAL/OPINION
| NEWS / COMMENT
| BUSINESS
Richard Boyle traces the saga of 'Rampage' - a pioneering local production
Continued from last week...
Melodramatic, contrived, trite, I sense some of you saying to yourselves, and possibly you are right. But it is difficult to convey the nuances of the story in a synopsis. Indeed Rampage was unique among the animal horror films of the late 1970s, epitomised by Jaws, in that sympathy was very much with the animal rather than with the human. It was a "green" film, ahead of its time, in that it addressed the issue of the increasing friction between elephants and humans. And it also explored the theme of "trigger- consciousness', a theme supremely relevant in Sri Lanka over the past 20 years.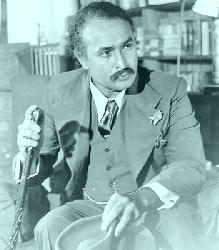 A scene from Rampage: Gamini Fonseka in the part written especially for him.
I had written the part of Sir George specifically for Gamini Fonseka, as I had the part of Martin Squires for Chris Greet, so that took care of a large part of the casting. Allan Foenander, casting director of Sri Lankan origin living and working in London (who is now one of the biggest on either side of the Atlantic), agreed to short-list some talented young English actresses to play Julie. Most importantly they had to be willing to travel to Sri Lanka for a relatively modest fee. The two prime contenders were Stephanie Beacham and Mary Tamm. In the end we decided on Mary Tamm, who had acted in The Odessa File. Although she turned in a solid-enough performance, in hindsight perhaps we should have plumped for Beacham, whose subsequent career has been notable.
The other professional English actor who joined the cast in Sri Lanka to play Julie's father was James Drake, a veteran of the Ealing Studios era of the British film industry. Nathan Katz, visiting American professor of comparative religion, was chosen for the important clarifying part of the Vicar, and gave a suitably convincing performance. In a cosmopolitan cast, Forbes was played with some panache by a Frenchman, Jean-Pierre Hautin, who also acted in several other Sinhala films. Eddie Jayamanne and Akushla Sellayah among others, contributed fine cameo performances as well.
Rampage was filmed mostly on location in Nuwara Eliya and Kandy with studio filming taking place in Colombo. Of the production itself there is little to remark on, except perhaps the magnificent two- storey set of the interior of the Squires' house the creation of the Art Director, J.A. Vincent. As far as I know, this was one of, if not the biggest studio sets to be constructed in Sri Lanka, and the wrecking of it by the elephant is the most dramatic scene of the film.
Rampage received a surprising amount of international media attention during the production. Asiaweek, in its issue of 29 April 1977, had featured an article called "Elephantine Assassins" about the deteriorating relationship between humans and elephants in Sri Lanka. 'It was a matter of time before a movie-maker with vision of stampeding box-office crowds, dreamed up a blood-letting effort with an elephant', observed the author. 'Jaws was the first in the genre. Then there were others like Grizzly and Dogs. But Rampage soon to be filmed in Sri Lanka's lush jungles by Manik Sandrasagra holds a much greater promise of horrifying reality than its Hollywood forerunners ever did. During the past two years, 64 mahouts have been killed beneath the feet of enraged and ill treated charges....'
Some weeks later, on June 8, the London Sunday Express carried a photograph of Mary Tamm riding a horse on its front page. 'Rain is bringing a little sunshine into the life of actress Mary Tamm', read the extended caption. 'Not the rain of England, but the torrential monsoon rain of Sri Lanka, which has caused a three-week delay in the filming of Rampage, a story set in Ceylon during the thirties. Mary was due to fly out to start filming today but the delay has given her more time to brush up on her riding, which is part of her role.' Then, in its issue of July 2, 1977, Screen International announced to the film-making fraternity that, 'A first international film for Sri Lanka-based Cine-Asia Ltd., started shooting on July 1st in Sri Lanka'.
Athough Gladwyn Fernando made a rough-cut of the film in Sri Lanka, it was decided to undertake all the post-production sound work at the reputed Cine-Lingual Sound Studios in Soho, London, in order to attain the highest possible standards. Gladwyn Fernando, Gamini Fonseka and Manik Sandrasagra joined me in London for this phase of the project. What the dubbing editor, Richard Key, made of the film and us all I don't know, but I am aware that his work gave Rampage a finish not seen or heard before in the local industry.
Rampage opened in Sri Lanka at the Savoy Cinema, after its premiere on October 23, 1978, billed as "Sri Lanka's first major motion picture". Then on November 5 it was screened at the Chicago International Film Festival. Reviews were generally enthusiastic. The respected critic, Philip Coorey, writing in the Sunday Observer of October 28, 1978, declared: 'The title gives the impression that it is an action film, with elephants rampaging about; but it is not. Rampage is really a dialogue film operating at two levels - one, a straightforward, tense narrative and the other a psychological exploration of a man's inner conflicts, his fears externalised in the form of the killer elephant which becomes a symbol of fate or destiny or retribution'.
Coorey was particularly impressed by the authentic visualisation. 'If the film deserves an award it is for its art direction, as the whole period is evoked nostalgically and marvellously, a way of life for the British and for the upper-classes which has vanished. It is reminiscent of (Joseph) Losey's The Go- Between. Amidst the polished silver, the uniformed servants, the flower gardens, the ritual church services, the British act out their roles - and it is that established life which gets disrupted when the killer elephant begins to pick and choose his victims'.
The critics were unanimous in their praise for the cast. 'Gamini Fonseka', wrote Coorey, 'gives an effective portrayal of a man who has guilt on his conscience, a man in search of repentance; one who finally understands tragically that repentance is not enough - that there must be reparation and retribution as well'. Coorey also appreciated the strong contribution made to the film by Chris Greet's fine performance.
Another review, which appeared in the Daily News of December 30, 1978, began: 'Intense suspense, subtle, direct philosophical messages and an unconventional intercultural love affair between a Ceylonese man and an European woman, unique in Sri Lankan cinema, make Rampage an exciting, impressionable film. Manik Sandrasagra shows an in-depth perceptiveness and understanding of the good and bad effects of the mingling of the two cultures that could only have come from a deeply personal revelation. He takes a situation that is so often misunderstood by pre-existing prejudices and biases, and endows it with its proper legitimacy and respectability'.
The reviewer, the American Martha D. Soffer, was intrigued by the gender aspects of the film contained in the relationship between Sir George and Julie since, as she claimed she understood more about the Ceylonese male than elephants. 'Sir George can match her sharp intellect', wrote Soffer. 'Sir George can expand her mind to deeper insight. He is a challenge to an emancipated woman of 1938. She wants him, but she wants him with dignity. He wants her but his Ceylonese pride misleads him to think that such an expression of love is weakness, so he puts up barriers, self-destructive barriers; always needing to be in control, always needing to be one step ahead, as one must be when hunting the enigmatic elephant'.
Soffer's preoccupation with the Ceylonese male found its ultimate expression in a criticism of an aspect of Gamini Fonseka's performance. 'Is this the image of the Ceylonese male we want to endow to the world?', she queries. 'A cold insensitive man incapable of any real human emotions? Shame, shame: the interpretation of Sir George's role was too macho. If he had smiled but once, even I would have fallen in love with him.'
Soffer winds up her review by stating that, 'This movie has a message, unique and universal in the same breath', but fails to explain what that message is. Meanwhile Coorey had declared that 'Rampage is not a great film, nor does it pretend to be. Its greatest merit as a film is that it combines entertainment with an underlying seriousness, and audiences can take it whichever way they prefer'. (Thank you Philip, I couldn't have expressed it better.)
At the 1979 National Film Awards (the year in which Bambara Avith, directed by Dharmasena Pathiraja, won the prize for the Best Film), Rampage was entered into a special English section and cleaned up. Manik Sandrasagra won a Bronze Lion for his direction, Gamini Fonseka and Chris Greet won the Best Actor and Best Supporting Actor awards respectively, and S. Vamadevan received an award for his excellent cinematography.
However there are other names that must be mentioned in connection with the film. For instance, Nimal Mendis for his memorable title music, and Sarath Fernando for the theme music, described by one critic as "Ceylonese Baroque". Then there is Kirthi Sri Karunaratne, who designed some superb costumes for the film. Sesha Palihakkara created some remarkably realistic make-up jobs on elephant attack victims, involving many cartons of Kensington Gore. And finally Cedric Martenstyn, at present sadly missing, whose knowledge of animals and the hunt proved to be indispensable on several occasions.
I am sure that both Manik and myself would have been surprised, had it been intimated to us two decades ago, that Rampage would be our last feature film individually or collectively, in particular as we had other projects planned. Fate, however, had other ideas in store for us. Of Gamini Fonseka's subsequent career nothing need be said. But it has to be mentioned that Chris Greet has gone on to enjoy a successful career in England as an actor in commercials, and more recently films, such as the cult comedy Funny Bones.
In spite of television sales in the Middle East and the Far East, it could be said in l990s parlance that Rampage under-achieved in its prime objective of generating international theatrical sales. The truth is that without international budgets it is in most instances difficult to attain the necessary overall production quality.
Nevertheless, Rampage was a bold, pioneering effort, a film that deserves more than a passing mention in the history of Sri Lanka's film industry, and a film with which I am proud to have been associated.
---
Continue to Plus page 6 -Ranjini Peiris: It's music all the way
Return to the Plus contents page
Go to the Plus Archive
Please send your comments and suggestions on this web site to
info@suntimes.is.lk or to
webmaster@infolabs.is.lk