Year on the Web
30th March 1997
| HOME PAGE | EDITORIAL/OPINION | NEWS / COMMENT | BUSINESS | PLUS
Contents
---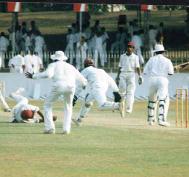 HOW IS ZAT. Ananda fielders go crazy with joy as Ananda skipper Indika Konara dives to take a brilliant catch to dismiss Nalanda's Mevan Porage in the 2nd innings for no score off the bowling of Mallawarachchi. An action shot of the 68th Ananda-Nalanda encounter which ended in a draw at the SSC Grounds yesterday. Pic by Ranjith Perera.

68th 'Battle of the Maroons' ends in tame draw
Rasika's 91 lights Ananda
By S.M.D.Sirisena
The 68th 'Battle of the Maroons' between Ananda and Nalanda petered out a tame draw at the SSC Grounds yesterday.
Ananda, who were 87 for two overnight, took their score to 231 for eight wickets and declared. This was in reply to Nalanda's 248 for 5 declaredon the first day.
Ananda played a negative role by declaring before the tea break when they were 231 for eight wickets in 92. 5 overs. Openera Rasika Ranasinghe was the top scorer with a fine 91 which included nine boundaries. He faced 218 deliveries to knock-up this score. Ranasinghe put on 60 runs for the fourth wicket with Jithendra Perera whose contribution was a patient 25 with three hits to the ropes.
Sriyan de Silva was the best bowler for Nalanda claiming three wickets for 82 runs with his well flighted deliveries while Isara Amarasinghe and Danthila Dayaratne captured two wickets each.
The highlight of the match was the gallant unbeaten 149 by Nalanda skipper Shantha Kalavitigoda, who set a new record in the Ananda-Nalanda series by overtaking the knock of 145 scored by Sri Lankan batsman Roshan Mahanama in 1984. In the second innings, however, Kalavitigoda, obviously tired out by his record breaking feat on the first innings, was out for 2. The honours in the Nalanda second innings belonged to Sanjeewa Rodrigo who scored 51. Just when he reached out for his 51st run, the crowds invaded th field and the game was held up for ten minutes and after two deliveries, the match was called off in the sixth mandatory over.
SCOREBOARD
Nalanda - 248 for 5 dec
Ananda - (87 for 2 overnight contd)
Rasika Ranasinghe c Pieris b De Silva 91
Lahiru Chaturanga lbw b N.Kumara 9
Rajith Basnayake c M.Porage b S.de. Silva 8
Indika Konara b Amarasinghe 19
Jithendra Perera st Dissanayake b Dantila 25
Thilan Kandambi lbw b Amarasinghe 13
Eranga Handunhettige lbw b Amarasinghe 17
Maduranga Mallawarachchi b S.de Silva 19
Chandimal Dharmapala n,o 16
Extras - 14
Total (for 8 wkts dec) in 92.5 overs - 231
Fall: 12, 31, 90, 150, 174, 174, 203, 231.
Bowling: Niranjan Kumar 10-8-8-1; Isara Amarasinghe 23-8-48-2; Sriyan de Silva 35.5-16-82-3; Danthila Dayaratne 18-3-52-2; Suditha Pieris 3-0-22-0; Sanjaya Rodrigo 1-0-3=0; Shantha Kalavitigoda 1-0-2-0.
Nalanda 2nd Innings
Sajeewa Rodrigo c Pushpakumara (sub) b Mallawarachchi 51
Dhanuska Fernando c Basnayake b Dharmapala 8
S. Kalavitigoda c Basnayake b Dharmapala 2
D. Dayaratne c Dharmapala b Kandambi 26
Newan Porage c Konara b Mallawarachchi 0
Sriyan de Silva n.o. 0
Extras - 16
Total (for 5 wkts in 31.4) 104
Fall - 24, 38, 86, 87, 104
Bowling: C.Dharmapala 8-2-19-2; E.Mallawarachchi 9-1-22-2; I. Konara 4-0-19-0; N.Jayawardena 3-1-2-0; J.Perera 3-0-17-0; T. Kandambi 4-2-8-1.
---
Old Zahirians in A Division rugby
Old Zahirians Sports Club, Colombo who were playing in the B Division rugby football tournament for the last four years, this year will scrum down in the A division for the forthcoming season.
Naseen Caffoor will lead the Old Zahirians SC with Fawmy Hamid who led them last year as his deputy.
The Old Zahirians are hard at practice at Maradana under their Rugby Chairman, Ibrahim Hamid the former Police Captain.
The President of Old Zahirians Sports Club. M. F. M. Ismathdeen a former CR & FC player requests all past ruggerites of Zahira College to rally round the club.
Powerlifting AGM
The Annual General Meeting of the Sri Lanka Powerlifting Federation will be held today at the Havelock Sports Club Pavilion at 10.30 a.m.
---
HNB wins hockey title
Hatton National Bank led by M. Boteju emerged Mercantile A division hockey champions winning all seven matches they played and aggregating 42 goals and conceeding just 5 goals.
This is the first time that they had won the Mercantile A division title.
On their way to winning the title, the HNB team beat Hong Kong Bank 1 nil, AirLanka 9 nil, Singers 3-2, Arpico 16 nil, John Keells 5-2, Commercial Bank 2-1 and Bartleets 6 nil.(AF)
---
Vishu Mohan cager on April 5,6
A Five a side cager tournament for men over 35 years of age in memory of Vishu Mohan will be conducted by the Sri Lanka Veterans Basketball Association on April 5 and 6 at the Depot Police Courts at Bambalapitiya.This tournament is open to all clubs, associations and service organisations and will be sponsored by Uswatte Confectionery Works Limited, Ratmalana, of which the former Peterite skipper Nihal Perera is the Managing Director.
Entry forms and the rules for the tournament could be obtained from Capt. Mathew George at No 138, Havelock Road, Colombo 5 or Trevine. E. David No 30, Hunupitiya Road, Colombo 2. Entries will close on Monday March 31 and the draw will be held the same day at 5.30 p. m. at No. 138, Havelock Road, Colombo 5.
---
Drawn
The 46th annual cricket encounter between Sri Summangala College Panadura and Moratu Vidyalaya for the K.M.Perera Memorial Trophy at the Tyronne Fernando Stadium, Moratuwa ended in a tame draw bringing the number of 'no decisions' in the series to 25.
Sri Summangala - 309 for 6 dec and 46 for 2 (Nalinda Jayanath 17, Roshan Wimalasena 13)
Moratu Vidyalaya - 221 (Anil de Mel 73, R.Aponso 29, R.Wijesinghe 20; Roshan Wimalasena 3 for 29, Amila Perera 2 for 40)
---
Coca Cola Schools One dayers
STC, Isipatana, SJC enter quarter-finals
S. Thomas', Isipatana and St. Joseph's booked their berth into the Inter Schools Limited overs quarter finals played for the Coca Cola Bottlers Trophy with wins over St. Aloysius, St. John's Panadura and De Mazenod Kandana, respectively yesterday.
At Mount Lavinia S. Thomas' beat St. Aloysius by 108 runs.
S. Thomas 240 for 7 in 45 overs. Upeka Fernando 106 (with 8 sixes and 7 fours), Bathiya Karunaratne 32, Nilanka Peiris 23, U. Paramasivam 23, Romesh Fernando 31, I.Indraka 4/45.
St. Aloysius 132 for 9 in 45 overs. (Romesh Fernando 3/20, Naren Ratwatta 2/12, Suranga Peiris 2/14.
At Panadura - Isipatana beat St. John's by 4 wickets.
St. John's 174 all out in 44.5 overs. M. Jayalath 38, R. Niroshan 30, U. Dinuk 28, Suresh Perera 2/25, V. Nuwan 3/25, P. Withana 3/28.
Isipatana - 176 for 6 in 43.4 overs. Suresh Perera 50, Amal Wanigasekera 35, V. Nuwan 20, S. Indika 3/43.
At Darley Road - St. Joseph's beat De Mazenod by 100 runs.
St. Joseph's - 204 for 7 in 36 overs. Charinda Fernando 70, D. Ramanayake 32, Monto Perera 21, Roshan de Silva 29, N. Laksiri 3/47.
De Mazenod 104 all out R. Dilhara 27, Charinda Fernando 2/24.
Today's line up - D. S. Senanayake vs St. Sylvesters at Wijerama Mawatha, St. Peter's vs Kalutara MV at Bambalapitiya, Prince of Wales vs Dharmpala at Moratuwa, (AF).
---
Lankan boxers win in India
Both Sri Lankan junior boxers who competed at the New Delhi YMCA 4th International and 11th All India Boxing Championships won silver and bronze medals. The meet was held last week at the New Delhi YMCA Open -Air boxing ring.
M. D. K. Wanni-arachchi who won a silver, outpointed Yuki Kimura of Japan in the light fly weight in the semifinals, but lost to A. C. Shivaji of the Indian A team in the final. The Lankan had to give up his bout due to tissue -tear in the left thumb. The Lankan came in for high praise from the officials and spectators.
D. B. Walisundera who had to be content with a bronze medal in the bantam weight bout losing on a close points decision after having dropped his Indian opponent Sazid Yasser to the canvas in the second round with a terrific left hook to the head but Yasser however survived the 8 count to win the gold.
Both Walisundera and Wanniarachchi are students of Vidyaratha College, Kandy.
Eight countries participated in this championships which included boxers from Japan, Thailand, Turkmenistan with India fielding two teams.
Donald Munasinghe the President of the Sri Lanka Schools Boxing Association accompanied the boxers as the Manager cum coach.
---
Zamani favourite for N'Eliya Races
Zamani is the name to watch during the festive season in Nuwara Eliya. This thoroughbred has proved its class in earlier races and is the hot favourite for the events conducted by the Sri Lanka Turf Club during the holiday season.
On the first day, the Kandos Upali Wijewardena Trophy for thoroughbreds and locally bred horses has drawn four horses in the five furlong event.
The other trophies on offer are: Ramboda Stakes five furlongs; Nescafe Breeders Cup five furlongs; Nanu Oya Stakes ponies; E.L.F.de Zoysa Cup; Mt. Lavinia Cup and the Single Tree Stakes.
The trophies that will be on offer on day two are: Sporting Star Cup; Ahmed Mahir Didi Cup; Kiran Atapattu Cup; Pedro Stakes; Sri Lanka Derby; Elephant House Cup; Westward Ho Stakes.
The trophies that will be on offer on April 17 are: Governor's Cup; E.W.Balasuriya Cup; Ceylon Breweries Cup; Oaks Trophy; Lake Siri Stakes; Pepsi Cola Stakes; C.U.de Silva Stakes and the Goodbye Stakes.
Meanwhile General Secretary of the Nuwara-Eliya Turf Club Mr. Rajah Sinnathuray said that the only remaining Turf Club is facing extinction due to financial difficulties. "Since the Colombo Race Course was closed down in the 1970's, the sport has been confined only to Nuwara Eliya and now they have only three races for the whole year and all of them are held in April". According to Mr Sinnathuray, if there are more sponsors the club could conduct races even in August.
"So far we have had only three main sponsors for this year. They are: E.W.Balasuriya, Sumathipala Group and Ceylon Chocolates Ltd, each contributing Rs. 50,000. The Club has also sent a delegation to Dubai in a bid to raise finances", he said. "To make matters worse", Mr. Sinnathuray continued, "About 25 families have encroached upon the 35-acre racecourse in Nuwara Eliya and they have even put up permanent structures there".
Mr. Prasanna Goonet-illeke, a committee member of the club said that it was totally unprofitable to maintain horses for the purpose of racing only just for three days of the year. "The cost of maintaining a thorougbred is about Rs. 10,000 a month. The masses too cannot afford to go to Nuwara Eliya, specially to witness the races. Originally the Nuwara Eliya Races were meant only to be a holiday affair", he said.
Mr. Gunatilleke said that the ideal situation for a racecourse should be within a 30 mile radius of Colombo City limits which will enable race fans to visit the course easily.
The races for the current season have been scheduled for April 6, 14 and 17.
---
Moratuwa Road Race
The annual Moratuwa Road Race conducted by the Sri Lanka Veteran's Athletic Association will be held on April 26 starting at 7.30 am.
The start and finish of the race will be the Puran Appu Park, New Galle Road, Moratuwa. The race will be held along the Moratuwa-Panadura Highway.
The Open events will be for open men (10 km); for women and over40 veterans (5 km) and for over 35 veterans, women and boys under 16 (3 km).
Entries close with the chief organiser Gregory de Silva, No 92, Puran Appu Raja Mawatha, Moratuwa on April 23. AF
---
Cavaliers take on Moratuwa
The inaugural over-40's limited over cricket match between a star studded Moratuwa Invitation XI and the Lanka Cavaliers XI will be played at the Moratuwa Stadium on April 5. Play will commence at 10a.m. The Moratuwa XI will be led by Bandula de Silva while the Cavaliers will be skippered by Bandula Warnapura, Sri Lanka's first Test captain.
The probable teams are:
Lanka Cavaliers - Bandula Warnapura, Jayantha Seneviratne, Gerry Woutersz, Damien Fernando, Mervyn Fernando, K.H.Nandasena, Basil Perera, Keerthi Gunaratne, C.P.P.Raj, Zareen Hameed, Dushan Zoza, Peter Manuel, Desmond Woutersz.
Moratuwa Invitation XI - Bandula de Silva, Sylvester Dias, Lanthra Fernando, Daya Sirisena, Srinath Silva,Gerald Mendis, Sunil Wickremanayake, Hemal Mendis, Premlal Fernando, Jayalath Aponso, Chitral Mendis, Jayantha Perera, Gamini Soysa -AF.
---
Foreigners to compete in Foxhill Super Cross
This year's Foxhill Super Cross will see several foreign competitors come under the starter's orders. This event is being conducted by the Sri Lanka Association of Racing Drivers and Riders (SLARDAR) together with the Sri Lanka Military Academy (SLMA) at Diyatalawa on Saturday April 19th.
The foreign competitors who will be of champion standing in their respective classes will provide high calibre competition backed up by the emergency teams of the SLMA.
Practices will be held on April 17 and 18 at Diyatalawa.
The car track will be as usual of high standard and several modifications made to the Motor Cross Track which will see other changes with a spectacular jump before approaching the finishing line.
High speed sections for both cars and bikes are the order of the day.
This event is not for the faint hearted and the local drivers and riders have accepted the challenge of foreign competitors who are vying for honours.
Entries will close with Rodney Mason at Carplan Limited at No. 297, Union Place, Colombo 2 and with Dissanayake at No 9 St. Joseph's Road, Nugegoda on April 3 at 5 pm.
---
Kinross 6-mile swim today
The 33rd annual six-mile sea swim organised and conducted by Kinross Swimming and Life Saving Club will be held today March 30 at Wellawatte.
This swim is open to men and women while an inter-club trophy will also be awarded to club champions.
The duration of the swim will be 3 1/2 hours.
The trophies on offer will be;
1 - R. Mangram challenge trophy for the men's individual winner.
2 - The Turab A. Jafferjee challenge trophy for the team winning the inter club team race.
3 - A. J. Thaha challenge trophy for the women's individual winner.
4 - E. R. Templer memorial trophy for the first Kinross swimmer to finish the course.
5 - Maharajah challenge cup for the youngest swimmer to finish the course.
6 - The Mike Sirimanne challenge trophy for the youngest Kinross swimmer.
7 - The Tissa Ariyaratne challenge cup for the oldest swimmer to finish the course.
Last year's winners were, Marlon S. Delano of St. Joseph's in 2 hours 29 minutes 5 seconds, While Upeka Samarawickrema of St. Bridget's Convent won the girl's race in 3 hours 19 minutes.
The men's team championships was won by Sri Devananda MV with Mahesh Prasanna bagging the youngest swimmer's award.
---
Ace Singapore driver dies five days after crash
A Singaporean racing car driver who was well known on the regional circuit, died in hospital recently five days after he was hurt in an accident at the Pasir Gudang race track in Johor.
Now, his family members and close friends are going to ask the motor racing authorities in Malaysia and Singapore to launch an inquiry into the accident that killed him.
Last Sunday, Mr. Doraisamy Krishnan was driving in the latest round of the Johor Race Series 1997 when his souped up black Honda Civic was hit by another car just as it was rounding a bend at full speed.
Krishnan raced in Sri Lanka at the Monaro Night Speed rally and finished in second place to Reyaz Farook last month.
Mr. Latiff Hussain, 39, his close friend, was in the pit at the time it happened.
He said: "It was the third lap of a 15 lap race. He had pulled himself up to third position after starting way behind.
"I looked at my watch. It was 2.30 pm. Suddenly I saw a white Honda Civic ramming his rear. Krishnan's car just went up in the air, nose dived to the tarmac and then banged into a concrete wall."
Mr. Krishnan's race manager, Miss Jasber Kaur, 33, said ambulance crew and safety marshalls only came to his aid 20 minutes after the crash.
She said: "Meanwhile, the race continued. I was shocked that after such a horrific accident he was not airlifted by helicopter to a nearby hospital. Instead he was taken by ambulance to the Johor Specialist Hospital."
Already in a coma, he was brought back to the Mount Elizabeth Hospital in Singapore, where doctors operated on him three times in a vain attempt to save his life.
---
In Brief
Athletic AGM
For the first time in the 75 years history of the Amateur Athletic Association of Sri Lanka the incumbent office bearers have convened its Annual General Meeting. It will be held tomorrow, (March 31).
Novices Boxing on April 2,3 and 4
The ABA Novices boxing championships conducted by the Amateur Boxing Association will be held on April 2,3 and 4 at the Police Field Forces Headquarters Ring at Bambalapitiya.
Boxing will commence at 5.p.m daily.
The weigh-in medical check-up and draw will be held at 8. a.m.on April 2 at the Police Sports Club Pavilion.
Meanwhile, the postponed Stubbs Shield meet will be held on April 6 and 7 at the Bandaranayake MMV Hall at Veyangoda.
This meet is conducted by the Sri Lanka Schools Boxing Association and sponsored by the Ministry of Education and Higher Education.
The weigh-in, medical check-up and draw will be held on Sunday April 6 at 8 a.m. at the venue (AF).
Former pacies say: "We're out of it"
Three former Sri Lankan pacemen, Rumesh Ratnayake, Asantha de Mel and Saliya Ahangama who are members of the Fast Bowlers' Committee, have disassociated themselves from being involved in the selection of the three fast bowlers for the MRF Pace Foundation in India.
De Mel has stated they were not consulted when the final selections were made and they are in no way responsible.
The three bowlers who are presently training in India are Namal Sadikeen, Imran Thahir and Dinesh Samarasinghe.
(AF)
---
Antonians win 3 badminton titles
Defending Champions St. Anthony's College won the All Island Inter School Under 19 Badminton Team Championship for the third consecutive year, which was held at S. Thomas' College Gymnasium, Mt. Lavinia recently.
In the finals the Antonians beat S. Thomas' College, Mount Lavinia 3-1, and took their First Championship Title this season.
The Antonians started off well with victory over Thurstan College, Colombo, 3-0 in the group matches and followed it up with 3-0 rout over more fancied St. Peter's College in the quarter-finals.
In the semi-finals Antonians beat St. Joseph's College, Colombo, 3 - 1.
The Antonian left-hander N.J. John gave them the much needed good start by scoring a morale boosting victory over Yohan Gunasekera 15/12, 15/1, then Nuwan Abeysinghe lost to favourite Rajitha Guruge 8/15, 8/15. Antonian skipper Chinthaka Gunaratne scored a smashing victory over Saminda Senaratne 15/5, 15/2 and gave Antonians a 2-1 lead.
Again Chinthaka Gunaratne with S. Sudharshan beat Rajitha Guruge and Y. Gunasekera 15/9, 12/15, 15/7 in three games.
With this victory Antonian shuttlers have won:
* The All Island Under 14 'A' Division Team title for four consecutive years - 1993, 1994, 1995, 1996;
* All Island Junior Nationals Overall title for three consecutive years - 1994, 1995 and 1996; and
* The All Island Under 19, 'A' Division Team Title for three consecutive years - 1995, 1996 and 1997.
Please send your comments and suggestions on this web site to
info@suntimes.is.lk or to
webmaster@infolabs.is.lk