Year on the Web
30th March 1997
| HOME PAGE
| FRONT PAGE
| EDITORIAL/OPINION
| NEWS / COMMENT
| BUSINESS
---
By Kshalini Nonis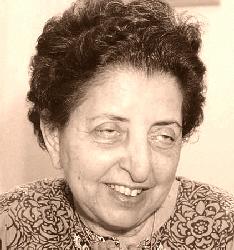 Freny Jilla
"Meeting the Shah of Iran and camping in his beeautiful palace grounds when I was in Iran in 1970, as a Training Assistant for the International Girl Guides Association was really an experience that cannot be described in words.
You could call it a most unusual way of camping. Since he was very interested in guiding and scouting, he gave us 100 acres of his grounds to conduct our camp. The tent I was given was carpeted, and the pipes we used for washing had gas cylinders attached to them to provide us with warm water.The grounds had beautiful rose gardens, swimming pools etc," said Mrs. Freny Jilla, reminiscing on her travels as representative of the Girl Guides Association of Sri Lanka.
She went onto say that it was also a sentimental experience for her as she was able to see the land of her ancestors and was thus able to go back to her roots. "I originally thought that the Shah was a very proud man and never thought that I would have the opportunity to meet him as a trainer. "I haven't met any Parsis from Sri Lanka, and when you return to your country, tell your people to come and settle down in Iran," he told me. Ofcourse I did not tell him that there were only about 70 Parsis in Sri Lanka at that time," she smiled.
Ms. Jilla had also had the opportunity of seeing the 'Peacock throne' as well as the Shah's Palace in the city. "The palace was magnificent, and even the bannisters were made of cut-glass........it was almost as if everything had a 'glittering effect', she added.
Ms. Jilla's involvement with the Girl Guides goes back over four decades, when she was schooling at Ladies College. She joined the Guide movement partly because her friends were involved in it, and moreover because she was very fond of the outdoors. "The experience I have got by being part of the movement is tremendous, and what is truly unique is that it is open to anyone, irrespective of their caste, creed or race, " she said. Ms. Jilla is at present the Acting President of the Sri Lanka Girl Guides Association.
She went onto say that as Guide Commissioner she was able to travel the length and breadth of Sri Lanka, whilst her travels overseas, to every continent excluding the Americas has indeed widened her horizons and enabled her to make many international friends.
Another one of Ms Jilla's memorable moments was when she was presented to the Queen of England in 1953. "My husband, N.D.Jilla was in the civil service, and I met her during a visit to Kandy. I was wearing the Parsi saree, and when it was my turn to be presented to the Queen she remarked that I was wearing the saree in a different manner. The Prince who was standing immediately behind her said, "Don't you know that she is wearing the Parsi saree and the Queen replied "Of course, I have seen so much of it in India"!!
"I had another opportunity of being presented to the Queen in 1975, in Buckingham Palace when I went as Chief Commisioner of Sri Lanka to the UK. When I met her she said "I have met you before." She then remembered our meeting in Kandy twenty years prior to this. She is a truly wonderful lady, and I thought that it was indeed very nice of her to have remembered someone she had met so many years ago," Ms Jilla said.
Ms. Jilla also had memories of meeting the King of Denmark, King Christian the 9th in 1960. "He told me that his wife was very interested in gardening, and took me around his garden one evening. Although she has met several other heads of state these were some of the most memorable occasions for Ms. Jilla.
According to Ms. Jilla, the fact that Sri Lankans were dressed in saree, made people, particularly heads of state take special notice of them as they 'stood out' in the crowd.
Ms. Jilla feels that the experiences one gains as a girl guide are invaluable. "For instance, one of our tests was to learn cooking, and this will undoubtedly help the girls in the future. "If there are no servants, you are not lost and will go ahead and do the cooking," she said.
Ms. Jilla said that the present programmes followed by the Girl Guides are more sophisticated than before. "We have badges for action against drug addiction, stenographers etc. actually everything that a girl can do," she said.
So what is her message to the present guides? "Just working for badges and working to be a president's guide is not true guiding. One must continue to be further involved with the association when one leaves, and more importantly give something back to the association from which one has got so much," she concluded.
---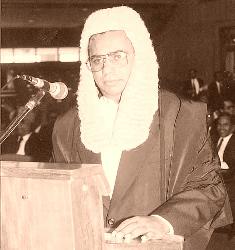 The Additional Solicitor General C. R. de Silva took his oaths as President's Counsel before Chief Justice G.P.S. Silva and other Judges of the Supreme Court on Thursday at the Supreme Court Colombo.
---
Scholarships are offered by the Government of India to Sri Lankan nationals for studying Hindi at the Central Institute of Hindi, Agra, for the academic year 1997-98. For further information and for obtaining the prescrib contact the Information Wing of the High Commission of india, 36-38, Galle Road, Colombo 3.
Girls Friendly Society sale
A Sale organized by the Girls Friendly Society (GFS), will be held at its headquarters, 58, Green Path, Colombo 7 on Sunday, April 6 commencing at 9.00 a.m. Clothes for adults and children, sarees, costume jewellery, pickles and chutneys and a variety of items will be available at bargain prices.
---
The National Association of Broadcasters of USA will honour TNL Radio of Sri Lanka with the 1997 NAB International Broadcasting Excellence Award. TNL Radio is one of only two radio stations in the world to ever win this prestigious award.
The International Award for Broadcast Excellence was established by NAB to recognize international broadcasters and broadcasting companies that have demonstrated exceptional leadership in advancing the broadcast industry and expanding the services they provide to their community and audience.
An eminent panel of industry professionals made the selection for the prestigious international award.
---
At the Colombo Art Gallery today there's an exhibition on printing called 'Print Sri Lanka '97' showcasing a range of material such as pictorial calendars, diaries and planners, office calendars, greeting and invitation cards, periodicals and magazines, brochures and leaflets and this year cartons, labels and tags.
Awards of excellence, distinction and merit will be presented to the best judged on concept and design, print quality and final finishes of the products on show. The firm coming out on top will get the 'Master Printers Association Trophy' which was won last year by Messers Aitken Spence.
Works will be adjudged by a panel consisting of the Government Printer Neville Nanayakkara, Chairman National Design Centre Sarath Surasena, State Printing Corporation General Manager Mr. Udayar and several others.
The exhibition ends today evening . There will be no entrance fee, organisers said.
---
Three new developments in education which have been subject to intensive research in Great Britain will now be offered to Sri Lanka through Gateway International School. There are Key Stage tests of the British National Curriculum, the London Examinations Certificates of Attainment in English and computer courses for children.
All children aged 7, 11 and 14 take national tests in English and mathematics and 11 and 14 year old children additionally take a national test in Science, in Great Britain, under the new British National Curriculum. Children pursuing their studies at Gateway International School will be presenting themselves for these tests, the distinct advantage being that they would receive an exposure to the highly developed and accepted British system of education while schooling in Sri Lanka.
The London Examination Certificate of Attainment in English, conducted by the University of London will be available to Sri Lankans for the first time through Gateway. These universally accepted qualifications if obtained will help Sri Lankans to improve their career prospects locally and internationally and provide opportunities in securing places in institutes of higher learning abroad. The prescribing of syllabuses, correction of scripts, evaluation and the award of certificates will be by the University of London. Gateway will offer preparatory courses providing the required competence in listening, speaking, reading and writing for the 6 prescribed levels. Gateway also provides an opportunity for kids from 4 years of age to learn computing at its Kids' school of computing. Students are taught in a multi-media environment and are exposed to a wide variety of educational software just brought down from Britain. In additional to computing they also learn Mathematics, Science, English, History, Geography, General Knowledge etc. through the computer.
The theme of the Gateway International School is "an international school in a Sri Lankan environment". In keeping with this theme and while pursuing the British National Curriculum in the main, Sinhala and Tamil are taught in Key Stages 1 to 4, each child is taught his/her religion from Key Stage 1.
---
Violin maestro Ananda Dabare conducts the Symphony Orchestra's first subscription series Concert for the year, at 7.00 p.m. on Thursday, 3rd at the Navarangahala.
An outstanding violinist of the younger generation, twelve year old Thushani Jayawardena performs Bach's Violin Concerto No. 1 in A minor as soloist at the Concert. She is a pupil of Ananda Dabare.
---
The Splendour of Easter, in song and narrative presented by the Ladies College OGA choir will be held at Ladies College Chapel on Easter Monday, March 31, at 7 pm. All are welcome.
---
Continue to Plus page 10 - Fatal: the parent trap
Return to the Plus contents page
Go to the Plus Archive
Please send your comments and suggestions on this web site to
info@suntimes.is.lk or to
webmaster@infolabs.is.lk