Year on the Web
30th March 1997
| HOME PAGE
| FRONT PAGE
| EDITORIAL/OPINION
| NEWS / COMMENT
| BUSINESS
Tagore's idyllic University is swept up in a tide of change
Ruben Banerjee, India Today
He had called it "The cargo of my life's best treasure". An institution that would nurture every student's creative instincts while providing an environment in harmony with nature and attuned to the mind-set of the rest of the world.
For decades, teachers at Visva-Bharati, the centre of learning Rabindranath Tagore set up in 1921 at Bolpur in West Bengal's Birbhum district, imparted education that was not confined to the textbook. The pursuit of knowledge and search for excellence were paramount in the institute, whose alumni list boasts Indira Gandhi and Satyajit Ray. But in its platinum jubilee year, Visva-Bharati, Tagore's chosen vehicle for educational, cultural and spiritual development, finds itself battling against inexorable change - and inviting charges of having lost sight of its founder's original ideals.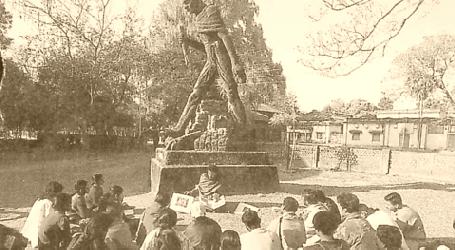 Shantiniketan: end of a great legacy?
The institution's changed priorities were most recently reflected in the citation that accompanied the conferring of Deshikottama,Visva-Bharati's highest award, on Lata Mangeshkar at the annual convocation last month. For an institution known for its cultural orthodoxy, the reference to Lata's popular numbers in Bollywood box-office hits like Hum Apke Hain Koun! and Dilwale Dulhaniya Le Jayenge expectedly drew gasps of disbelief. The same evening, old-timers were jolted by chants of "Madhuri, Madhuri" by the graduating students which greeted M.F. Husain when he went up on stage to receive the Gagan Abani award.
It's more than just a generation gap. "Santiniketan has a great legacy. But the legacy is ailing," laments Dinakar Kowshik, renowned painter and former principal of Kala Bhavan, Visva-Bharati's famed arts college. Burdened by modern-day pressures, the spirit behind Visva-Bharati's sprawling campus, 5,000 students, 11 faculties and over 100 departments (with an annual budget of Rs 18 crore) is flagging.
Question paper leaks are now common and admission lists are routinly tampered with.
Santiniketan's formal university status, many feel, is responsible for the twin afflictions of corruption and nepotism. Six months ago, 100 teachers were promoted in one stroke after their mandatory skills test was inexplicably waived. Question-paper leaks are common and admission lists are routinely tampered with. Says Surpriyo Thakur, a Tagore descendant and long-time Santiniketan resident: "Teachers teach with an eye on their pay-scales. Students learn more to get marks."
To be sure, there still exist patches of pristine Santiniketan, the small town with a population of just one lakh. Even today the beating of throngs heralds the dawn, and the children of Patha Bhavan stop in their tracks for the ritual morning prayer, Baitalik. It isn't unusual to find Kala Bhavan students taking their painting lessons under the open sky and, even though Hindi film tunes regularly pierce Santiniketan's stillness, an occasional student can still be found passing by along the mud tracks, humming Rabindrasangeet. But overall, Visva-Bharati is at a crossroads.
"Much of the contradiction was only to be expected. Measuring up to Tagore, after all, is a daunting task," admits Dilip Kumar Sinha, the Visva-Bharati vice-chancellor. The life and works of Tagore continue to be a part of the curriculum, but students take them up for qualifying in their final exams rather than out of inspiration. On graduating from the agricultural faculty, for instance, most students take up rewarding jobs in big companies instead of dedicating their expertise to rural regeneration.
The end of Santiniketan's innocence is even reflected in its changing landscape, which of late has become more of a holiday resort - pock-marked by flashy weekend homes and guest houses - than a pilgrimage. Worse, Ramkinkar Baij's famous sculpture, Sujata, and a fascinating mural by the legendary Benode Behari Mukherjee have been defaced.
The truth is, Santiniketan today rings of hollow symbolism. With its universal flavour having faded - the multicultural atmosphere is a thing of the past - Visva-Bharati has failed to be any different from other Indian universities. It has neither proved to be a enduring pathbreaker in educational experimentation, nor has it remained a centre of excellence and achievement. Somewhere along the line, Tagore's "clear stream of reason" seems to have lost its way, or simply dried up.
---
Ivan Peries: Paintings 1938 - 88 by Senaka Bandaranayake and Manel Fonseka, Colombo (Tamarind Publications) 1996.
Reviewed by Professor Ashley Halpe
One returns again and again, as did Ivan Peries himself, to that core of still, incandescent icons loved into luminous being by brush, hand, eye and memorial meditation. Time after time, from the earliest days (Homage to Lionel Wendt, 1945 and before, the Homages to El Greco) to the untitled oil, painted in the last year of his life, which is the last plate in this book.
Their material is familiar: images from our Western beaches - boles of coconut trees, fisher huts, watchers of the sea, sand, sea, sails - betrayed and debased by Lankan-Romantic cliche art. But redeemed, as experience and memory of the artist's Dehiwela boyhood and youth are reconstituted to shape spare, vibrant mandalas into which the soul of the beholder is beckoned, to be held in healing trance. It is impossible to view these beautiful paintings as "beautiful," as art-objects, even when plates in a book. They move mysteriously in their stillness to encompass one lingering before them.
This is the core experience. However, this book with its 138 colour plates and 67 black-and-white figures does ample justice to the wide range of Ivan Peries' achievement in a working life of fifty years. While keeping a broadly chronological sequence, the book presents the visual material with sustained technical excellence and a brilliant layout.
It is not, perhaps, too much to say that it sets a new standard for art book production in our part of the world. We have here the possibility of an encounter with the art, even if at a remove, that is scarcely possible with the paintings themselves except on such rare occasions as the magnificent Sapumal retrospective that accompanied the launching of this volume.
We encounter a refined and educated sensibility finding expression in work securely grounded in a complete command of craft. The book documents the artist's training and methods.
There is early evidence of talent and artistic culture, the latter no doubt derived from the study of art books and journals before the scholarship in London from 1946.
The instinct for fine draughtsmanship is illustrated by the drawings which accompany the introductory essay and a distinctive palette is as evident in the early portraits as in the Homages to El Greco.
The artistic culture is at this stage wholly European: behind these works we glimpse not only El Greco but Whistler and Sargent; there are painterly references to Modigliani, Cezanne and Matisse.
Later, after the professional training on scholarship, there is a more developed concern with texture, with design, with experimental representation of the human form. Watercolour is handled with the utmost delicacy and economy and there is exploration of such technical resources as the use of a gesso underlay.
Some small works have a calligraphic elegance, while we have massive canvases like The Bathers (1949) and The Arrival (1959-60) which deploy monumental human figures and narrate or suggest events with rich symbolism. While keeping a broadly chronological sequence, the book presents the visual material with sustained technical excellence and a brilliant layout.
The authors Senaka Bandaranayake and Manel Fonseka interpret Ivan Peries' oeuvre in terms of five phases:
These fifty years of painting encompass five distinct periods, each characterized by particular kinds of pictures: first, the early explorations culminating in the formation of the '43 Group and Homage to Lionel Wendt (1945); a second phase in the late forties, with the large-scale 'panel' compositions, elegantly crafted nude studies and the portraits, outstanding among them Irangani (1950); the high period of the mid-fifties, which sees masterworks like The wave (1955) and, at the end of that decade The arrival (1959-60), a watershed in his evolution; then, the latter part of his career, in the sixties and seventies, marked by works of great tranquillity or strong emotion, and also the parallel developments of miniatures in acrylic and watercolour; and, finally, the Leaning tree series and the paintings of the last decade.
It is to that core, however, that one returns. I have long been something of an aficionado, beginning with a serendipitous introduction. Neville Weereratne enlisted me, then in my last year at school, among the fetchers and carriers when hanging the 1951 exhibition at the Photographic Society's Hall. I remember a Homage to El Greco holding me with numinous presence, an interaction echoed in an undergraduate article on El Greco for Aquinas, the magazine of the Newman Society at the university.
I carried a drawing by Ivan Peries and a woodcut by Neville Weereratne in the same issue. And as a very, very junior member of the '43 Group and hence a frequent visitor to the home of its anchor, Harry Pieris, I could not fail to receive impulses that educated from paintings in the Harry Pieris collection by Ivan Peries, Richard Gabriel, George Keyt, Justin Daraniyagala' and Harry Pieris himself. Wandering through those rooms viewing the 1996 retrospective had the additional dimension of recollection of things past.
It was to the core that I returned, and I returned yet once more in this encounter with the present volume. To that most recent return the volume gave a new and precious dimension, I should say enhancement, through the warm yet perceptive biographical sketch.
And even as the biography humanized my appreciation of Ivan Peries' work I wondered at the composed serenity and radiance of those central images. Was that serene and blessed mood denied to the artist himself or afforded him only fitfully? Was he only a medium or channel of the virtue that flowed, from him or wherever? Or were those images born of a yearning for a sweet golden clime? There is a letter to Harry Peiris:
"I sometimes wonder whether I shall ever get the opportunity to spend my last years in Ceylon when the children are really grown up. If ever I did I shall devote my time entirely to painting and reading, live in a little hut by the sea and grow a long beard. A real pipe dream!" (p. 43)
The biographical sketch records so much displacement, disruption and inner tumult. What is reported in quiet, unvarnished terms enables us to glimpse a frequently troubled spirit:
"I spent six months in Friern Barnet, where I was under sedation. Locked in, beaten up, kicked in the chest and put in the padded cell half a dozen times. That, Sir, is the price of a "master work."
He had finished The Arrival, which took "two years to plan, six months to execute, working 20 hours a day" and collapsed.
Hence one is amazed that so much of the painting imparts the sense of "an eye made quiet by harmony and the deep power of joy," enabling the sahrdaya, the one who approaches from the heart, to have an experience as of "seeing into the life of things."
Ivan Peries spent his working life, in effect, in London and Southend-on-sea. After growing up in Dehiwela, he spent only seven years in Sri Lanka after returning from his art studies as a government scholar. From 1953 to his death in 1988 he was an emigre, with only one brief visit to Colombo in 1976.
One is compelled to ponder the significance of that prolonged sojourn far distant from the originals of his cherished images. We need to consider what truth there might be in Neville Weereratne's label for him "the Romantic exile" ('43 Group. A Chronicle..., 1993).
Romantic, yes, "but only if one pays due heed to the complex overtones of that word," as I had occasion to say, speaking of Ivan Peries, in a 1977 article (George Keyt, a felicitation volume). But in regard to the appropriateness of "exile," it could be said that more is implicated than the biographical reality that the artist spent the last 35 years of his life in England.
The point is that although the elements composing his most powerful and most typical paintings are abstracted from the remembered landscape of his youth, they are indeed abstracted and sea-changed. Transmuted in the crucible of an imagination nourished by a colonial education in the ways of thinking and seeing of Western Europe.
The genius of the artist and the processes of a personal spiritual vision have transformed them into potent icons, but they have little to do with the actual hues and dynamics of light and shade or wave and sky on the western beaches and nothing at all with the teeming life of the fisher communities or of suburban Dehiwela.
I find it difficult to think of The Arrival, described by the authors of this volume as the most impressive of their category, the 'Panel' paintings, as having an "ancestry, if any, (in) the 'panel' paintings of the Sri Lankan muralists of the nineteenth and twentieth century" (sic). I find the subsequent comment more congenial: "Of course ... the relationship is only collateral-The Arrival is the product of the twenty years or so of Peries' painting that preceded it. " To my mind the echoes of "Gauguin, the Douanier Rousseau or the Surrealists" are not "accidental and superficial" but real and symptomatic.
For art in twentieth century Sri Lanka has typically affected the dialects of modern painting or the fractured syntax of Giacometti or Epstein. There has been a deep-going and crucial divergence from the living heritage of Indian and Sri Lankan culture, except perhaps in the best work of George Keyt, Richard Gabriel and Stanley Kirinde.
It is not easy to work out how "Peries relates in a purely modern and internal way to pre-modern Asian tradition." I would agree that a "persistent quality of Peries' art" is "the purification and idealization of experience."
This was available to him in a certain tradition of Western spirituality from Gregorian Chant and Hildegarde von Bingen, through St. John of the Cross, the ethereal polyphony of Sicut Cervus and Byrd's Ave Verum, to the Libera Me of Faure's Requiem, Thomas Merton and Four Quartets, as much as in states of rasa in South Asian aesthetic experience identified in "classic South Asian aesthetic theory. "
Recognition of the real location of Ivan Peries in an aesthetic terrain fed from many sources does not in any way diminish the appreciation of the unique power of his great paintings.
Rather, it gives one a richer sense of the complexity of cultural being in a post colonial context and helps to define the heroism of the artist's triumph over disjuncture and psychic disturbance, enhancing, if that were possible, the capacity of the paintings to gather us briefly but memorably into the artifice of eternity.
---
Review by Arun Dias Bandaranaike
The Martin Taylor Trio, from their 'funky' opening -"73, Berkeley Street"-to their closer two hours later with "Blues for Kumar", took the sizable audience assembled under-the-stars in the British Council Garden, through a multifaceted tour de force that included complex Tadd Dameron like Be Boplicks, boog-a-loo excursions with Wes Montgomery like octave runs, andsophisticated, technically astounding forays through "Georgia On my Mind", and "They Can't Take that Away from Me".
Adding a dimension of colour starkly different from previous encounters with Taylor, was the welcome inclusion of Jigs and Reels played on the Mandolin to the accompaniment of the Bordran ( a Gaelic Drum used among the ethnic Scots) played by twenty year old James Taylor. If there were doubts about the relevance of this,the sheer virtuosity displayed and joi d'vivre, compensated amply. (We might also remember that Michael Brecker and Don Grolnick recorded"Itsbynne Reel", capturing much the same style, in their 1988 Impulse recording - there probably is a 'reel-chic' among Jazz people !)
The other member of the trio Bassist Terry Gregory astounded some with his ability, playing an electric bass, but left handed, and inverted .i.e. The wrong way, with the wrong order of strings top to bottom. A thoroughly competent musician with years of experience in many musical spheres from Rock, Pop and Musical Theatre in addition to Jazz, Terry is the 'listening' bass player, providing a superlative wall of support for the improvising musician, anticipating every harmonic move by the soloist. In the second half of the show, he provided us a glimpse of 'harmonics' on the electric bass, much in the way the late Jaco Pastorious (of Weather Report) did - a wonderfully warm and glowing diversion.
Drummer James ( Martin Taylor's son) was cautiously restrained most of the evening, but came into his own on "Autumn Leaves", which was given a completely different treatment and flavour, with a free- form funk introduction, that settled into a comfortable and well-defined 4/4 in the improvised section.
James, despite his youth, has been sufficiently eclectic in his listening, that he has studied his rudiments taking into account the drummers of an era gone by, with very commendable cymbal work and a good knowledge of this difficult idiom. In Jazz, the ear iseverything .
Martin Taylor's work, if anything, shows well the hard work he puts into developing form and polish, along with mastery of technique that takes him well beyond predictability. As we have noted before, he has cultivated the ability to focus simultaneously along more than one plane-of-invention. How well this aspect of matters was laid bare in his delineation of (the already mentioned) "Georgia" and "Taking a Chance on Love".
In the latter he laid the entire opening chorus across series of sixteenth notes played with his thumb on the open lowest-string. Beautiful ! Another factor worthy of comment is the way he built his solos (e.g. "Blue in Green"), every one a study in logical development with meaningful use of rubato and ornamentation. Everything in good taste - the vital ingredient in assuming the role of a 'Legend'.
---
Continue to Plus page 3 - Ritigala: myth and mystery
Return to the Plus contents page
Go to the Plus Archive
Please send your comments and suggestions on this web site to
info@suntimes.is.lk or to
webmaster@infolabs.is.lk