Coach Ratnayake rues on Women's WC shortfall
By Pranavesh Sivakumar
cricket
View(s):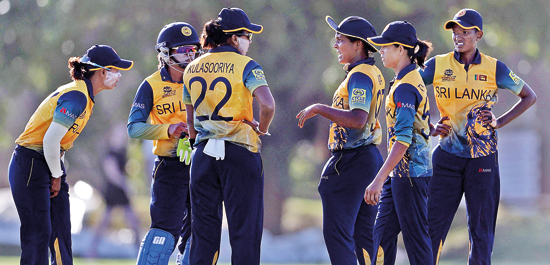 Rumesh Ratnayake, the national coach of
Sri Lanka women's team, rues of falling short of firing themselves into the semi-finals, which would have been history for the Lankan ladies at last month's Women's T20 World Cup in South Africa.
The Chamari Athapaththu-led side, started the tournament on a high by stunning hosts South Africa with a 3-run win. Their momentum got only better after beating Bangladesh convincingly by 7 wickets. However, what ensued, though expected with Australia, was only a low.
So much so, against both the Trans-Tasman countries, they were decimated. Worse was, against the New Zealanders, where some hope rested that the Lankan lasses could register a win that could guarantee a semi-final entry.
"I'm very disappointed, because we got a good start. Each match, we said that was going to be our best performance. We won the first match (of the tournament too) and saw the next match. Fortunately, those things helped," Ratnayake said, reflecting on the
World Cup.
Against the eventual champions Australia, they were thrashed by 10 wickets. Under pressure against the Kiwis, they only caved in meekly and weakly, surrendering inside three digits. The added pressure was prompted by a semi-final berth.
"New Zealand was third in the world. It's just that we battered second in the same venue and lost both the games in a very low-scoring affair. They got 60 and 70 something and lost. I'm not trying to put the blame on the toss or giving any excuses. But if you take the record there, batting second doesn't win most of the time. Those are not excuses as I said. New Zealand also wasn't going to be easy, because they were also fighting to be there. We were prepared."
"Against Bangladesh, we bowled very poorly at the start. The first six overs we gave 10 boundaries. But our bowlers came back strong. The batting start was very poor. Harshitha (Samarawickrama) and Nilakshi (de Silva) battered superbly and was an exhibition of good understanding of each other, running between the wickets and pure batting."
It was a contrasting world cup for them registering two good wins and then going down badly without a fight.
"Aussies are the benchmark we should follow in all aspects of the game," he explained.
Elaborating in hindsight as to what went wrong, "Simple thing, we didn't bowl as well as we should have. We didn't field well, to start with. New Zealand got a score of 164, and we got a good start in the first two overs. But couldn't sustain it. If you see a person like Chamari, trying to stay there and get runs, that itself shows we were keen and wanting to get going. But we failed in a way we shouldn't have."
"We failed badly in our batting and bowling also. Bowling we gave away too many easy runs to let them score 164. There were other elements that didn't help too, as I said. The pitch and conditions were different to what we had in Newlands. However, no excuses."
Ratnayake, in his debut with any women's team, revealed he went into the world cup aiming to bring it home.
"I got this in December. Only a little time to prepare. I had to encourage the players and support staff, specially the players. That was enough time to do something big. We wanted to win the world cup. So as a coach that is the dream, that's how we prepare. I've seen that happening. I made sure to tell them, we're getting ready to win the world cup. Somebody can say you failed miserably, somebody can say you did well. I'll take both."
Giving no clear indication on who could be Athapaththu's successor, Ratnayake, however, backed his captain predicting more of her is to come. Athapaththu, hitting 118 in the tournament, surprisingly missed out by a whisker as the most runs from a Sri Lankan player after Harshitha Samarawickrama, who tallied 119.
"There is potential. We are only seeing Chamari's 60% and a lot remains to be seen. I'm very happy with what I see. It's a matter of getting them in to the groove."
The Lankans, having a packed calendar, next host Bangladesh in a home tour of three Women ODI's and as many Women T20's in the end of April or first week of May. The squad has hence returned to practices.