Can CR paint its 100 year with Nippon Paint Knockout title or will Sailors upset?
RUGBY
View(s):
Colombo Rugby and Football Club (CR&FC) stands a chance to add elegance to their Centenary Year celebrations, if they grab the coveted Clifford Cup Rugby title, when they take on a rejuvenated Navy Sports Club in the Nippon Paint Inter-Club Knockout final today. The grand final between the Red Shirts and Sailors, will kickoff at 4.00p.m. at the Racecourse ground in Colombo, following the Women's Knockout final between Army SC and Navy SC, scheduled to kick off at 2.00p.m.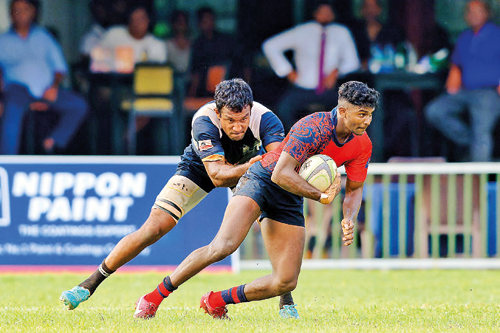 On paper, CR&FC sit higher than their opponents Navy SC, who have made great strides to regroup as a unit. After the withdrawal of Nippon Paint League champions Kandy SC and bottom seed CH&FC, both finalists CR&FC and Navy SC earned byes towards the Clifford Cup semi-finals.
The only two quarter-finals to be held were the games between Police SC and Air Force SC, which was won by the Cops by 22-17, and between Havelocks and Army SC, in which the Soldiers marched forward with a commanding 39-17 win.
The two semi-finals unexpectedly turned out to be blockbusters. After trailing closely, CR&FC managed to edge out Police SC in the crucial semi-final, while in a similar clash Navy SC bounced back to overcome Army SC by 16-13. These outcomes would make today's vital game more exciting.
CR, who ended up as the second best team next to Kandy SC in the concluded Nippon Paint Inter-Club League Championship, however have met their rival of today twice during the league competition. On both occasions CR&FC overcame Navy SC comprehensively by 33-27 on January 22 at Longdon Place. They upped their performance with a more convincing win of 37-17 on February 11 at the Racecourse, indicating they are capable of pulling out a third win against the Sailors.
"It all depends on how the teams cope up on the day. It's pretty obvious that Navy SC has improved far better than they were in the league tournament. Of course, a loss will hurt us, but a win, which we highly anticipate, will be an added boost to the club's Centenary Celebrations," noted Ted Muttiah, the President of CR&FC.
As opposed to the Sailors, who making their second appearance in a Clifford Cup since 1976, CR&FC has appeared in more finals. The club from Longdon Place lost only twice during the entire season – both against the league champions Kandy SC – and will look to keep that record as it is today, with a win.
Navy SC has suffered six defeats through the season, but will be keen to stage a miracle with the intention of laying their hands on the century old silverware presented to the best team of the knockout competition, for the second time.
"The side to play with minimal mistakes will triumph. In the two league matches we lost to CR, we led the halftime, and the players know what exactly happened. Hopefully we will not let that happen for a third time. But a close final is on the cards," stated Saliya Kumara, the Navy SC Head Coach.
According to available statistics, CR has won the Clifford Cup a total of 14 time, and they would be keen to make it 15th and complete a season never to forget.
"It has been a great season, I must say. Looking back, despite obstacles, Sri Lanka Rugby (SLR) managed to conduct the competitions without any hindrances. The competition has become more fierce than it was at the beginning few months ago, and it's very encouraging to see an armed force side, such as Navy SC, making it to the final. CR&FC is celebrating their 100th year, and a win will definitely add more to their celebrations," stressed SLR President, Rizly Ilyas.
As the league competition, Nippon Paint continues as the title sponsor for the Clifford Cup, while Webxpay, Siddhalepa, True Digital, Kottu Mee, ASDS Art, Gilbert, Elephant House, Turkish Airlines, Moose, Signature Clothing, EFL, Gaja TV and the High Commission of Pakistan partnered SLR in conducting a smoothly-run rugby season.