Bird flu scrambles egg imports from India
View(s):
Strict checks to be conducted in India and Sri Lanka; Poultry Farmers Association leader says Sri Lanka could export poultry products
By Senuka Jayakody

There will be a further delay in importing eggs from India as the eggs are being subjected to micro-biological tests to prevent the spread of bird flu.
A State Trading Corporation senior official said these micro-biological tests would take three to four days and the shipment was expected to reach Sri Lanka before the end of next week.
Further strict restrictions had been imposed, as the Health Ministry would also be conducting micro-biological tests in Sri Lanka.
All Ceylon Bakery Owners Association President N. K. Jayawardena said he had spoken to the Health Minister earlier this week to discuss the delay in egg imports. The Minister told him there was a problem in India and the eggs would arrive by the end of next week.
All Island Poultry Farmers Association Chairman Ajith Gunasekara said he had attended a conference of the World Poultry Veterinary Association last month in India, where Sri Lanka's poultry industry had come ino praise.
This is in the wake of India facing an outbreak of bird flu, where nearly 4000 chickens and ducks were selectively killed last week in Jharkhand to prevent the spread of bird flu.
The death of a Cambodian girl from bird flu was also mentioned at the conference he attended.
Mr. Gunasekara said even Indians were confused about why Sri Lanka was attempting to import eggs and risk a potential outbreak of bird flu in Sri Lanka for a mere difference of Rs. 3.
"India's poultry industry is not hygienic since they sell eggs on the streets and chickens are killed on the streets as Indians like it fresh," he said, comparing it to Sri Lanka, where the industry is much more hygienic.
"Indians say we have European standards and the Indian poultry industry should also follow Sri Lanka," he said. He added that Indians had told him that Sri Lanka could aim at exporting poultry products.
Moreover, Mr. Gunasekara said he did not expect the bakeries to protect the rules imposed to prevent the spread of bird flu.
"Would there be a PHI officer to supervise every egg which would be broken in bakeries. Do we have the resources to do so, in the first place." Mr. Gunasekara asked.
He also blamed the Consumer Affairs Authority (CAA) for the current gazette prices stating "now the boards in the shop say Rs. 44, but there are no eggs."
He claimed the CAA was protecting the consumers but not the producers since only a maximum retail price had been imposed, but not a minimum retail price.
"Since eggs are an agricultural product, the price fluctuates frequently depending on environmental factors," he said, explaining that if it is given a fixed price, it should be done according to a price formula, which was changed every week.
The CAA had conducted around 100 raids within this year, of which about 50 were for selling at higher prices than the current gazette prices, an official said.
State Veterinary Surgeons Association Secretary Dr. N. T. Hewagamage said they were still against importing eggs to the country.
Commenting on the recent event in India where about 4000 chickens and ducks were killed he said Sri Lanka did not have the capacity to do so, if the virus did afflict the country.
"In India, they provide compensation for such farmers, but Sri Lanka does not have capability to support our farmers in case of bird flu," he said.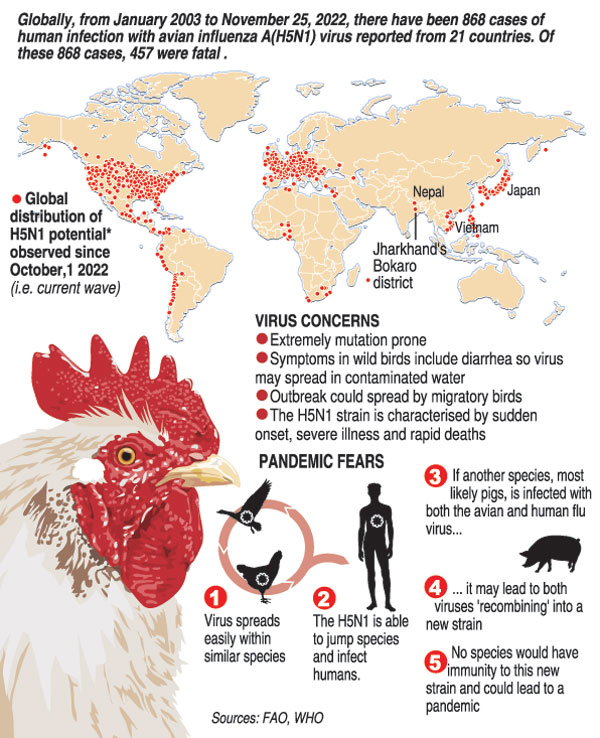 Court battle between CAA and wholesale dealer; Magistrate orders unsealing of store but legal issue continues

By Chris Kamalendran

The Consumer Affairs Authority (CAA) was forced to reverse its decision of sealing an egg store following a court order on Friday.

In a letter, the CAA had informed the Wattala Magistrate's Court on Thursday, that three officials had gone to the shop owned by Anton Appuhami, a wholesale egg dealer in Ja-ela, and requested 2500 eggs.

But he had denied having stocks and the CAA, upon investigating his accounts, had seen that he had sold eggs at higher prices, the CAA informed the court.

Thereby, the CAA had requested to seal the store and a lorry containing eggs and to order Mr. Appuhami to keep the electricity in the store running to prevent the eggs from rotting, for which the court initially granted permission.

However, Mr. Appuhami, also the Egg Traders Union Chairman, denied the claims of the CAA, saying he was asked for only 2500 eggs.

He had refused to sell the eggs on the grounds that he sold more than10,000 eggs as he was a wholesale trader.

On Friday, considering fresh submissions, the Magistrate's Court instructed the CAA to remove the seal and the CAA was thereby forced to reverse its decision.

During the time his store was sealed, Mr. Appuhami said he was unable to supply eggs to two confectionery manufacturers and they had to cease night production, depriving 400 workers of their overtime payments, the court was told.

He said he would file action against the CAA for the damages caused.

However, a CAA senior official said, the CAA would file charges against the trader.
The best way to say that you found the home of your dreams is by finding it on Hitad.lk. We have listings for apartments for sale or rent in Sri Lanka, no matter what locale you're looking for! Whether you live in Colombo, Galle, Kandy, Matara, Jaffna and more - we've got them all!