Rhodes to hold coaching stints in Sri Lanka
View(s):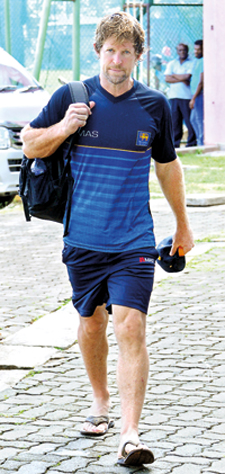 Reckoned as the world's best fielding coach, former South Africa cap Jonty Rhodes will visit Sri Lanka to conduct a series of coaching stints with his coaching partner Ryan Maroon.
Rhodes, 50, arguably the world's finest fielder at backward point, together with Maroon, a First Class cricketer of South Africa, will be coaching the budding cricketers of Sri Lanka.
Ama Sports, an establishment promoting cricket coaching clinics, sports events, sports tours and importing sports equipment, are the organisers of the six-day coaching programme of Rhodes and Maroon.
"This will be the first time Jonty (Rhodes) will come on such a mission to Sri Lanka. He has been a part of the Sri Lanka coaching unit in the recent past, but during the upcoming camps, he will mostly focus on youngsters, while we also receive inquiries from First Class cricketers as well. He will be willing to have anybody on board, who are eager to learn and perfect their skills," Alex Nishantha, the coodinator of the coaching programme, stated.
The opening Coaching Clinic for batting, bowling and fielding will be conducted at the Colts grounds in Colombo on August 29, a Thursday. The Trinity College cricket ground, former Sri Lanka Test venue Asgiriya Stadium, Kandy will host the second coaching camp on August 30.
This will be followed with a two-day leadership development programme which has been arranged for aspiring cricketers at St. Joseph's College, Wattala on August 31.
The series of coaching camps will come to an end, and the scene shifts to the Negombo Sports Arena, where batting and fielding will be fully focused on for three straight days from August 31. The Negombo Clinic will come to an end on September 2, marking the end of six days of cricket with Jonty Rhodes.
'Jonty', a household name for any cricketer in the world, is a legacy for a fantastic fielder, at any position, in the cricket field. Rhodes' body language on the field, is known to be very positive. His famous dive, to run out Inzamam ul-Haq, during the 1992 Cricket World Cup, is still considered a memorable and athletic incident that occurred in the history of cricket.
"I am looking forward to see the skills and teach the cricketers, the Jonty Rhodes way. Let's see what Sri Lankans can do and how willing these cricketers are to learn and buff up their skills," Rhodes, releasing a video message, stated.
Further information on the coaching clinics and registrations could be obtained by calling Ama Sports officials on 0718014414 or 0776021862. Nishantha revealed that only 40 players per clinic would be accommodated and the demand, mainly from school cricketers, is growing.