Grease–The Musical: Some great moments hit by inconsistency
Reviewed by Francesca Mudannayake
View(s):
Grease– The Musical is as ubiquitous as it is charming; a soundtrack for the '70s, and its movie version secured the futures of John Travolta and Olivia Newton-John. Earlier this month Cold Theatre 7, helmed by Kevin Cruze, put their own spin on this beloved musical to somewhat mixed reviews.
The show takes place sometime in the late '50s at the fictional Rydell High. The sets (designed by Kevin Cruze and Suchithe Malawikankanamge), lighting design (by Amesh de Silva and Johann Perera) and costume design (by Jo Jo de Silva) ensured that the production felt vintage and classic. I couldn't help but admire how the lighting bounced perfectly off the costumes ranging from the babydoll dresses and flawless Pink Ladies jackets right down to the T-Bird leather jackets. I was particularly taken up by the twinkly lights that resembled the night sky and the gorgeous curtains that adorned 'Beauty School Dropout'. It was romantic and colourful which suited the vibe of the show. But while the overall music direction was quite good, the sound wasn't as together as it should have been with some mics not being synced and modulated well enough. In the beginning I struggled to hear the boys as the girls totally overpowered them.
However, the cast worked well together and you could see months of preparation had gone into developing the friendships as the boys clearly had a good rapport with each other. A mixture of male bravado and childish behaviour made them a joy to watch but there were times where it was slightly overkill, particularly when it came to fighting the Scorpion gang – an unnecessary bunch of scenes which slowed the play down slightly.
On the other hand, each of the Pink Ladies had their own personality; ditzy Frenchie (Chantal Dassanayake), sassy Rizzo (Agalya Kotigala).
Rizzo is actually a personal favourite character but I felt that in this instance the act of being tough felt slightly forced whereas Marty (Nimansa Thalduwa) stood out, practising restraint whilst conveying a feisty attitude.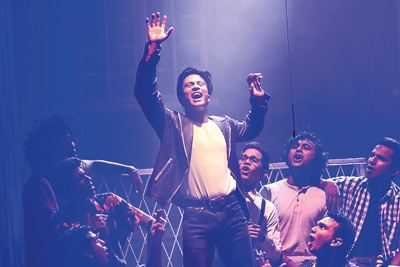 Despite the fact that both Danny and Sandy are not the most interesting characters in the play, both leads on opening night (Julien Anderson and Daniella Perera) possessed gravitas and powerful voices that led to many 'moments' within the show. Special mention should also go to another big voice, Danu, whose turn as the fabulously gay fairy godfather à la Ru Paul complete with David Bowie heels, in 'Beauty School Dropout' was a breath of fresh air.
The dancing was nothing short of wonderful. Ranging from rock 'n' roll to jive to Broadway, the cast proved more than adept at taking on whatever was given to them and presenting it with agility and flair. Moreover it looked fun to be dancing onstage. Though keeping in sync wasn't always possible, I appreciate how much effort it must have taken to do such intense choreography whilst making it look easy for which both the cast and its choreographer – Umeshi Rajeendra – should be commended. In particular two ensemble cast members- Joshua and Nelisa – stood out in every item they danced in.
One of the things that let the show down slightly was inconsistency particularly when it came to accents. Some actors retained their American accent, others began with it and then let it trail off while others kept dipping back and forth into it. In other areas, when the girls were too high pitched or the guys were shouting, words were often lost or not enunciated clearly.
This production was sponsored by various companies and oddly enough they featured quite extensively within the show with one scene dedicated to the boys using a mouthwash before the prom. No dialogue, just straight gargle and spit. Personally, it felt slightly odd. But, theatre companies need funding so, hey-ho.
I did think that the closing sequence needed some polishing as the transition into it seemed quite abrupt and caught me off guard –suddenly they were singing 'You're the One I Want'. Overall though, the show presented itself as more of a school production as it lacked a certain professionalism on several fronts. Consistency is key and while I attended on the first night, response to the second and fourth night (which involved a different cast) was slightly underwhelming. While it is important to give opportunities to everybody, it is equally the responsibility of the director to ensure everybody is up to a certain standard and performance is of high quality so that the spectator is guaranteed a good show.
On a final note, it's interesting to see how Grease has fared in an era of 4th wave feminism and #MeToo because let's face it – Danny Zuko is a douchebag. There. I said it. Apart from the much discussed line from 'Summer Nights' ("did she put up a fight") you can't ignore the fact that he subtly gaslights Sandy. Not only does he manipulate her into rethinking her (ALREADY ACCEPTABLE!) personality and wardrobe choices, he even goes as far as accusing her of dressing in her sports kit purely for the attention of other guys.
But to be fair, it's not like the girls are any more supportive of Sandy. In fact they all seem to embody some form of stereotype (ditzy blonde, sassy vamp, that one nerd). True, Rizzo tries to subvert the stereotype but she does go back to square one by the end of the show.
Admittedly, this play was set in the '50s and was written in the '70s. But would it have killed the writers to make these characters a bit more…three dimensional? Fortunately Grease has a stellar soundtrack and a successful movie which will stand the test of time for generations to come and therefore guarantee the longevity of the show. All things considered, I still could go and see this musical again, I suppose.