Royal College Computer Society launches 'Syntax'
By Paramie Jayakody
View(s):
The Royal College Computer Society recently released volume 1 of their first tech magazine last month. Computer Society chairman, Thanu Perera, along with the teacher in charge, Navodani Samarasinghe, put together this magazine.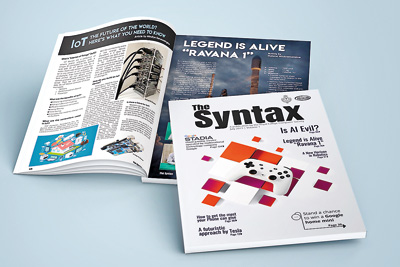 The first technology oriented magazine released in Royal College, the magazine is full of topics that cater to the interests of the club's young members. At a casual glance, it includes history of tech, events such as Google I/O, new breakthroughs like Sri Lanka's first satellite Rawana 1, new technologies, and even O/L and A/L syllabuses.
The most notable thing about this magazine is that the content and design were all done by club members, and teachers. The articles cater content for students of all grades.
Speaking about the contributions, Thanu said some of their teachers, contributed articles in keeping with syllabus related material as well.With the magazine growing in circulation within College, the society is pleased with the reception received so far.
Organisers hope to release the magazine bi-annually and hope that it will become integrated as part of the society's yearly plan. As of now, this is one of the biggest new projects that they have handled we are told.
The Computer Society aims to spread knowledge and information adds Ms. Samarasinghe adding that "every student should know about new technologies."
Right now, the 500 copies printed of the magazine are only available within school premises and are being sold at a price of Rs. 150. However, if it continues to gain traction, we can no doubt see it in stores in the near future.
Thanu appreciates and is grateful for the support from his executive committee, the computer society,their teacher in charge, the other staff including Amaratunga sir, who proofread the magazine, and their principal, Mr. B. A. Abeyrathna.