Foreign nationals attempt to smuggle rare insects foiled
Text and pix By Shelton Hettiarachchi in Nuwara Eliya
View(s):
Two Chinese nationals who were arrested while trying to smuggle 14 insects out of the Horton Plains National Park, were again remanded till 7 March, by the Nuwara Eliya Magistrate Pamoda Jayasekara.
The suspects were identified as Hu Wei (33) and Yuan Lingfeng (30).
They were arrested within the Horton Plains National Park on February 18 after Park Warden P.K.M. Pradeep Kumara and Deputy Park Warden T.P. Dayaratne received a complaint that two Chinese nationals were behaving suspiciously inside the park.
Among the items found on the suspects were 13 insects, a plastic bottle containing wings thought to belong to an insect, a net designed for capturing animals, four mobile phones and a laptop.
Wildlife officers also found cotton balls laced with chemicals that are suspected to have been used to kill the insects, an identity card issued by a Chinese university and two passports.
The suspects were produced in the Nuwara Eliya Magistrate's Court on February 19, where they were ordered to be remanded till February 21.
The Department of Wildlife Conservation (DWC) requested Court's permission to obtain a further report on the insects found in possession of the accused. Accordingly, the dead insects are to be sent to the National Museum in Colombo for identification while the chemicals are to be forwarded to the Government Analyst's Department for analysis.
Court also impounded the passports of the suspects. It was revealed that they had been intending to stay in Sri Lanka till March 22.
Deputy Park Warden T.P. Dayaratne led the prosecution, while Attorney-at-Law Sanjeewa Dias appeared for the suspects.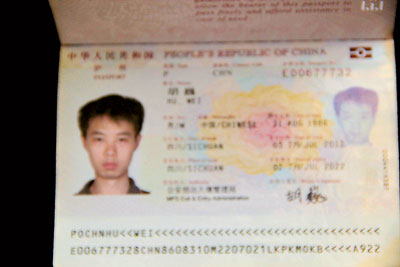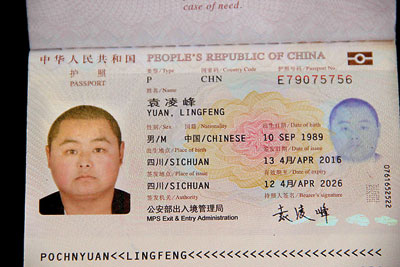 The passport pictures of the suspects