Right to Information application shows DWC has erected more than 1,000 km of electric fences
By Kasun Warakapitiya
View(s):
More than 1,000 kilometres of electric fences have been erected by the Department of Wildlife Conservation (DWC) in the last three years alone in an effort to mitigate the impact of the human-elephant conflict, statistics obtained by the Sunday Times through a Right to Information application show.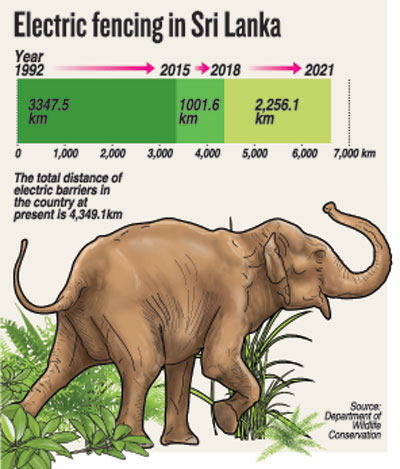 From 2015-2018, the length of electric fencing put up around the country to keep elephants out of human habitation is 1001.6km. The total distance of electric barriers in the country at present is 4,349.1km or 281 fences. The initiative started in 1992.
But between this year and 2021–a period of three years–the DWC expects to erect a further 2,256.1km of fencing. This will bring the total extent of electric fencing to 6605.2km or 15 times the length of Sri Lanka.
The barriers, all of which are solar-powered, are located around parks, reserves and sanctuaries that border villages. The most number of fences–52 of them making up 780km–are in Polonnaruwa. Moneragala follows in second place with 34 fences — 524.6km in length. And Anuradhapura is third with 35 fences and 491.3km in extent. At the other end of the table, Mullaitivu has only four fences, 56.3km in length.
Some conservationists were critical of the strategy. The DWC is planning to trap elephants within protected areas, said Supun Lahiru Prakash from the Biodiversity Conservation and Research Circle. The animals had vast home ranges and most of them roamed out of parks in search of food and water, depending on the season.
"Trapping elephants in protected areas is not a good plan as they will break fences to follow their urge to be in their home range or die within confined areas if those places are hit by drought and there is no food and water," he warned.
The DWC must place fences around villages or erect temporary barriers around paddy fields instead of restricting elephants to areas outside their home ranges, he suggested.
The Sunday Times also obtained data regarding the capture and translocation of elephants. Between 2015 and 2017, a total of 44 elephants were captured and moved from one place to another at a total cost of Rs 10.56mn.
There were also several elephant drives–chasing them from one place to another using thunder flares and serpent flares (elephant crackers)–during the same period.