Children suffer abuse from those trusted to protect them
By Shaadya Ismail
View(s):
Children from poverty-stricken homes and broken families are extremely vulnerable to abuse by adults, the Woman and Child Abuse Prevention Bureau said.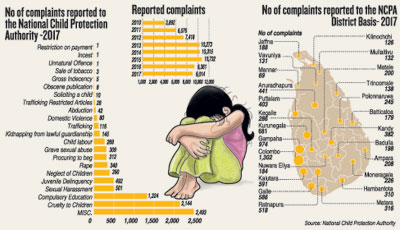 Inquiries by The Sunday Times revealed shocking stories of abuse suffered by children even in places where they reside for protection, such as orphanages, while in other cases abuses take place with the connivance of parents.
Fourteen-year-old Sandali, a resident of Kurunegala, was living under the care of her grandmother from the time her mother left to work abroad. Coming from a broken family she was deprived of the parental love that a normal teenager would receive. On her way to school, she was befriended by 22-year-old Amal, an unemployed man idling on the streets. The affair ended with her becoming pregnant, which meant the end of her schooling. She was left psychologically scarred at a very young age.
Another appalling incident was reported from a village in Anuradhapura. The Buddhist priest at the village temple was admired by some people while others detested him. These relationships came into sharp focus when the parents of a 13-year-old girl lodged a complaint that the temple priest had raped their child.
Police investigations revealed that the priest had taped the rape, with the film showing only the victim but not disclosing his identity. Intensive analysis convinced police that the monk had carried out the abuse.
After this incident was brought to light other children also came forward with accounts of abuse at the hands of the village priest. Some children said that when the priest had visited their homes, their parents had left them alone with him and abuse had occurred at those times.
An orphanage is a safe haven to many but an incident in Kurunegala sadly raises a wholly different impression. Police investigating a complaint found that 18 boys, all in their early or mid-teens, had been sexually abused by workers who used to visit the orphanage. Investigations are continuing.
Annually, about 10,000 complaints of child abuse are reported to the National Child Protection Authority (NCPA). A Right to Information application filed by the Sunday Times, revealed that 9,014 cases of child abuse were reported last year to the NCPA.
Of the total, 2,144 complaints involved cruelty, 1,324 were about deprivation of compulsory education, 501 concerned sexual harassment, 340 involved rape, 309 involved grave sexual abuse and 390 were based on child neglect. Most of the complaints came from the Colombo, Gampaha, Kurunegala, Kalutara and Ratnapura districts.
NCPA Director-General Anoma Siriwardena said the volume of complaints overwhelmed the authorities' capacity to investigate and find solutions.
"There are only two child magistrates' courts in Sri Lanka, so delays are prolonged," she said.
All this meant that nearly half the caseload of child abuse incidents are left unresolved.
"We receive around 20 to 30 complaints every day, out of which 10 per cent involve abuse and harassment," Ms Siriwardena said. Most cases involved deprivation of schooling. Yet another issue she highlighted was the drug menace.
"It's either that the child becomes neglected because the parents are drug users or that the child becomes attracted to these drugs," she said.
The NCPA can be contacted on the1292 helpline at any time, any day. A specially-trained team receives calls and categorises each complaint.
Janapaura, a concept introduced this year, aims to gain the support of members of the public in child protection matters. This programme was introduced in the Kurunegala district, and the authority is to soon carry out sessions in the Anuradhapura district.
According to the NCPA, a database will be developed to enable solutions to be provided online, thus reducing delay in serving justice to the children affected. The system will be in place by the end of this year.
"There is an increasing trend of child abuse. The nature of complaints has varied over the years," said Mahendra Dassanayake, President of the NCPA Employees Union.
He views the biggest form of abuse as drug addiction and says this is due to children being neglected by their parents.
"Children show a lot of enthusiasm to try out new things, as a result of which they fall into traps such as drug use," he said.
"There is a misconception in society that only a girl child must be protected," Mr. Dassanayake warned. According to NCPA research, many boys also suffered sexual abuse. Boys were also often neglected and grew up without being taught proper values.
He said there were more cases of abuse than were reported, and social and economic status affected the reporting of complaints.