Match-fixing allegations against Lankans: ICC probe still on
Pramodaya clarifies position, says he did not call for an investigation
View(s):
I vividly remember, it was in the early 1990s, I had the opportunity of having a chat with former Indian Cricket Captain Mohammed Azharuddin. Yes, he had an imposing stature – tall, lanky and eloquent. While in conversation, I realised he was a God-fearing individual who seemed to be proud of his given vocation and, in most instances, we were made to believe that, when he did his talking, he did it with the bat. While engaged in that act, he poured poetry along the playing arena, converting his actions into runs, while waving his magic wand or, what he describes as just a cricket bat.
Yet, by the time the millennium changed to the 2000s, Azharuddin, along with other greats such as South Africa Captain Hansie Cronje were dumped in shame and banished from the International Cricket Council (ICC) International circuit forever, as a result of match fixing. It is understood that it was Azharuddin who introduced Cronje to the bookies.
Yes, Cronje faced an untimely death due to a mysterious plane crash, while Azharuddin was given a reprieve and moved to the political circles but, what is unfortunate is that two great cricketing personalities were lost to the game.
Nevertheless, that faux pas has not come in as a deterrent or, slowed down the greedy few who are really interested in taking shortcuts to prosperity or else, slip into awkward situations, because the player is not sharp enough to look through the wiles of another sleazy character. Just ask current Pakistan fast bowler Mohammed Amir. He would be able to explain a thing or two about poking the toes between your two front teeth. Anyway, thank God, he is back in the International fold.
Though the big guns in the Indian subcontinent – India and Pakistan — have had issues involving matters pertaining to unlawful activity in cricket, Sri Lanka has literally escaped from conviction. So far, only one Sri Lankan cricketer has been penalized. He is former off-spinner Jayananda Warnaweera, who lived under a cloud of uncertainty over his bowling action while playing international cricket, and then in his post-international career, under another cloud over his role as a curator and an administrator. He was dumped by the ICC for not cooperating with an investigation. The rest has been suppressed under a lid, like the proverbial Pandora's Box.
But, what is now transpiring is rather disturbing. Since the down-sizing of Lankan Cricket began with the departure of the Sanga-Mahela legends and the advent of the Thilanga Sumathipala administration, chirps of match-fixing, spot-fixing and other allied accusations have been in the air. However, it came to a crossroad when former national selector and a member of the 1996 World Cup-winning outfit, Pramodya Wickremasinghe began to discuss issues in the public.
The first news to hit the streets last year came out in this manner: "The ICC confirmed it has initiated investigations into Sri Lanka Cricket. This comes after allegations of match-fixing by former Sri Lanka cricketer Pramodya Wickremasinghe. The ICC's Anti-Corruption Unit (ACU) officers recently visited the country.  
"ICC General Manager – ACU, Alex Marshall, said: 'The ICC's ACU works to uphold integrity in cricket, and this includes conducting investigations where there are reasonable grounds to do so. There is currently an ICC (ACU) investigation under way in Sri Lanka. Naturally, as part of this, we are talking to a number of people.  We will not comment any further on an ongoing investigation. If anyone has information that would assist the ACU in its enquiries (contactacu@icc-cricket.com), we would urge them to get in touch.'"
However, Wickremasinghe was firm in claiming that, though he discussed some rumours about what was going on in the game at present, in public, he did not request for an ICC probe into the matter.
However, a while later, former national Cricket Captain Arjuna Ranatunga too came out with similar accusations pertaining to goings on in Lankan International cricket.
Meanwhile, at this end we learned that, in reality, there is an ongoing probe into activities going on in Lankan cricket at various levels, and the ICC ACU has launched investigations. Not very much later, there were several visits by the ACU sleuths, interviewing even some big guns. Yet, two months on, with no probe report forthcoming, the story was gradually dying where the Lankan public was concerned.
Then, on Jan.7, we came up with a chat that we had with a former national cricketer who is now domiciled overseas, and what he unfolded was very disturbing and, even if an iota of it comes to pass, Lankan Cricket would smell to the high heavens.
A few days later, some Lankan pressmen dug out the ACU story and began to crossexamine the SLC hierarchy at a press briefing.
An AFP report on January 09, 2018, said: Sri Lanka Cricket (SLC) said on Tuesday the sport's global governing body had found no evidence of wrongdoing against it following allegations of match-fixing and other forms of corruption.
The Board said the International Cricket Council (ICC) had failed to uncover evidence of graft during an investigation into explosive accusations levelled by former Sri Lankan players.
SLC chief executive Ashley de Silva said ICC anti-corruption investigators visited the island in September and conducted a wide-ranging inquiry.
"They do not put out statements after an inquiry, but if there is anything adverse, they would inform us. To date, they have not told us of anything (against Sri Lankan players or officials)," de Silva told reporters.
There was no immediate comment from the ICC.
The council's announcement in September, that it had begun an inquiry, following corruption allegations by former skipper Arjuna Ranatunga and ex-player and national selector Pramodya Wickremasinghe.
The SLC said its executive committee had directed players and staff to cooperate with the ICC's probe.
Ranatunga, who captained the islanders during their 1996 World Cup win, has alleged that insider meddling cost Sri Lanka a repeat tournament crown during the 2011 final against India.
Ranatunga, now a government minister, alleged that unusual changes were made to the team before the final which Sri Lanka lost by six wickets.
Similar allegations of "unnatural match patterns" and queries over player selection were made by Wickremasinghe.
The ICC announced the probe a day after SLC said that 40 contracted national team players had asked for an immediate inquiry into "shocking" allegations by Wickremasinghe.
Sri Lanka cricket board President Thilanga Sumathipala said it was "very unfair" for such allegations to be made without any evidence, adding the ICC had found no proof of foul play."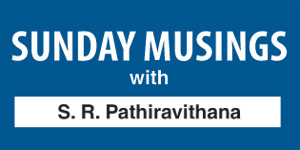 Perturbed by the revelations, Pramodya Wickremasinghe once again inquired from the ICC ACU about the status quo, and stood firm he did not make any probe request.
On Wednesday, the ICC replied to the Wickremasinghe query and said its probe into the match incident allegations by the ICC ACU is ongoing but, the investigations were not based upon any complaints made by the former National fast bowler.
An angry Wickremasinghe told the Sunday Times, "Why are they trying to cover-up their tracks, and trying to implicate me?
"This is just another 'red herring' introduced by the SLC to hide the real situation, whereby they would be aware of what really took place and who was summoned for this investigation, whether players or board officials. Getting present and past players involved to cover up their sins and diverting the resultant adverse attention away from them, seem to be their aim.
"I have once again got written proof from the ICC that a probe on cricket corruption is on and I am not a part of it in any manner".