Sri Lanka Football languishing without Technical quality!
View(s):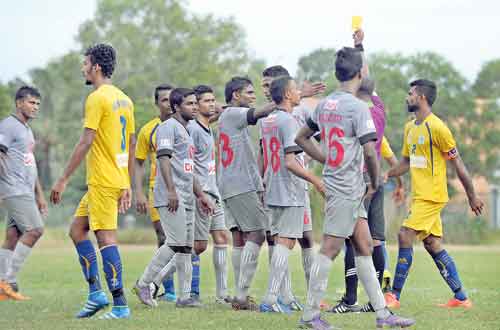 Every sport over the years refines its allure because it develops the infinite skills and methodology that raises standards and persists in crafting the epitome of performance and admiration. We have seen the Bolts of Athletics, the All Blacks of Rugby, and the graceful Ali of Boxing to name a few. And of course the hand of God that Maradona presented Football.
Today the World of Football continues to produce remarkable talent and spine tingling games that hold us spellbound and makes the sport one of the most admired and followed across the globe. Every four years the World Cup encapsulates the best of the best and brings to a stop all other activity, while fans follow their national squads and gleefully applaud proud victory or sulk in the pain of defeat.
In Sri Lanka we have sadly been privy to a marked decline in football standards and what not many notice, a glaring bankruptcy in technical prowess. In previous articles Kornerkick has drawn the attention of readers to the virtual collapse of football administration and the grand larceny that is perpetuated without any intervention by the powers that be.
All that misadventure finally takes its toll on the technical development of the sport laid bare by recurring defeats in international and regional competitions. The FFSL has no answer to this malaise and merely rides the band wagon of regular FIFA and AFC workshops attended by mediocre officials or surreptitious dictators who go for the ride and pose for pictures with the superstars of world football and there it ends.
Until the 70's and early 80's Sri Lanka football fans would recall at least one name that adorned Football from a technical perspective. That was the martinet of the sport, Neville Abeygunawardane. This was one man who read the sport like a poet and understood the nuances of what made Football one of the most loved sports.
A strict disciplinarian, Neville rode the football firmament like a colusses brooking no nonsense from both officials and players. To him the chant and mantra of the sport was sacred and anyone who attempted to mess with it was given short shrift as he and he alone commandeered the ranks at that time.
With his passing away that mantle of technical leadership slowly dwindled and it was perhaps only P D Sirisena, the Pele of Lanka who kept a semblance of that determination alive, working with Saunders SC to produce young footballers who had the passion and the virtuosity to take the game forward. With time that dedication too has vanished as Sira is now aged and there is no one of that caliber or discipline to assume such a role.
Subhani Hashimdeen, another Sri Lanka International has written extensively on the subject and offered advice repeatedly but successive administrations have kept him at bay while another stalwart, Rumy Packeerally is ignored because he dared to challenge the pundits and got lumped in the wrong camp. There are a few others, but the Technical Department at FFSL is a revolving door and if you don't play pooja to the chieftains, you invariably get discarded to history.
FFSL President Anura De Silva is a former Sri Lanka Football Captain. A competent player and leader, Anura more than most is best suited to understand the rigors of technical development. Unfortunately, he is in the wrong job where playing politics is more important it seems than playing football. He has had a long sojourn at the top with the opportunity of a long stint of four years now under his belt. So it is he who must fashion a football renaissance based on technical considerations. These aspects he has articulated on many occasions but knowledgeable football people know that the challenge lies in getting a genuine team together.
Withstanding the tugs-of-war at FFSL takes more effort than setting up a technical think tank. The idea that only FIFA –A license coaches can do this job is a myth. No doubt Class A coaches have a head start but most of the cadres we have lack other qualities. The Technical Dept in the modern context is also an expensive affair with the advent of academies and other perquisites.
The FFSL can ill afford such extravagant programs because it simply does not understand financial management and merely relies on football trainers rather than competent managers who understand concepts and programs now adopted by most top football nations.
Which begs the question, what should we do? A couple of years ago, FIFA sponsored a top German Technical Expert, Horst Kriete who spent some time in Sri Lanka. Horst did a careful study and submitted a detailed report which like most such endeavors never saw the light of day. This is the sad parody of Sri Lanka Football and an utter waste of resources. Even today, if the FFSL President takes this report out of the cupboard and put together a tested technical group together, some good may come out of it. This is the kind of program that the Ministry of Sports must sponsor and encourage. FIFA should also monitor such grants and ensure they don't go to the dustbins of FFSL.
Much has been written but not much happens. We all know that a Technical Development must start at the grassroots. But budding players and diehard fans are not willing to wait forever. It is the task of FFSL to define a Technical road-map that will convert the grassroots and youth programs into quality senior level performance. We cannot win international competitions easily these days, that's for sure, but we can play quality football. Just see what India has achieved. Today, India is seen as a future world beater. That day will come because it has at long last got its act together and created a culture that attracts young people to Football in a nation where cricket is a religion. Sri Lanka can but it has still not found how?
In the next feature of  5 November, Kornerkick will dwell on Regional Development. Meanwhile readers are welcome to send their comments to Kornerkick@gmail.com