Malays Masters host Aussie veterans Cosmos at Hockey
By Lakshman Ranasinghe
Colombo Malays Cricket Club 145th Anniversary celebrations
View(s):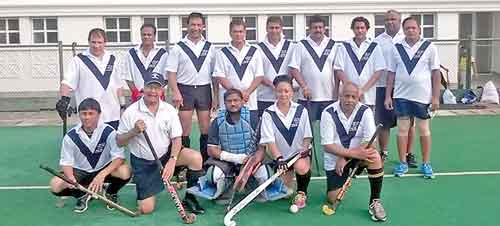 Cosmos Hockey Club from Melbourne, Australia, are making their second visit to Sri Lanka to participate in the Colombo Malays Cricket Club (CMCC) 145th Anniversary celebrations this year.
Established in 1872, the CMCC has not looked back since, despite undergoing many challenges, and emerged victorious. It stands today as the oldest Sri Lankan Cricket club with an unbroken record of 145 years of Cricket. Gathering laurels along the was, the Club displayed its skills in many other sports, of which, the game of Hockey saw the Club contributing to the growth of the game in the country.
Hockey was first introduced at the CMCC in 1907, and again in the 1920's and 30's. History records that the 40th anniversary of the Club in 1912, Hockey dribbling was one of the events at the Sports Meet organised for its celebration.
With the formation of the Colombo Hockey Association CHA in 1955, CMCC was appointed a controlling member, as one of the 20 clubs that formed the CHA. Today only 4 clubs  continue the game, like the CH&FC,  BRC, the University and Malays.
Today the Malays celebrate 55 years of active participation in Hockey. In 1963, CMCC won the CHA B Div. Knockout (KO) Championship for the Bacon Cup, beating Bloomfield in the final. That famous team that started the ball rolling at the club and drove enthusiasm in its membership were, T.M.Z. Dole, H.D. Rosairo, M.K. Ahamat, T.M.S. Saldin, T. Adahan (Capt.), B. Musafer, F.K. Hemasiri, S. Musafer, H. Musafer, T.Z. Assen and T.S.P. Misso.
On winning the CHA Pioneer Shield B Div League in 1966, CMCC was promoted to the A Div in 1969, and were Runners-up in the Andriesz Shield League, which position they held in 1970 and 1972. CMCC won the A Div KO for the Pioneer Cup in 1971. During this period, CMCC also participated in the CHA's B Div tournaments. The CMCC was the first Sri Lankan club to make an overseas tour abroad, when it was invited to participate in the Kupasamy Naidu Memorial All India Hockey Tournament, Kovilpatti, India, in 1970.
Today the CMCC possess a formidable side in the CHA B Div tournaments, currently unbeaten in the League and heading its Group. Entering a Women's team last year, CMCC emerged champions in the CHA Women's Hockey tournament. This year too, they are unbeaten so far.
To coincide with the 145th Anniversary Celebrations, the CMCC Hockey veterans will host a veteran's club team from Melbourne, Australia, Cosmos, to a Masters Match on Nov. 3 at 4.30 pm at the Astro Turf at Reid Avenue. This will be followed by an Invitation Hockey 7s Tournament among CHA member clubs on Nov. 26 at the Padang.
The Padang, home of the CMCC, has been the venue of many Hockey tournaments and continues to serve the Sri Lanka Hockey Fraternity.