Hiran Priyankara Jayasinghe undisputed Cycling Champ
By Lakshman Ranasinghe
All Island Schools Cycling Championship 2017
View(s):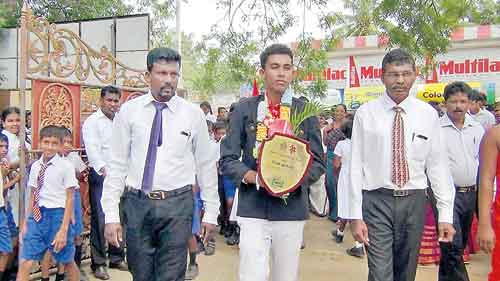 Amidst numerous difficulties and setbacks a new Cycling star was born in a hamlet in the Puttalam District, winning the All Island Schools Cycling Championship 2017 held recently.
Hiran Priyankara Jayasinghe, a Grade 13 student ofm Kottukachchiya Navodya Vidyalaya (KNV), came off with flying colours to win the 60km race from competitors from over 80 schools. The lesser known KNV came to the limelight with Jayasinghe's achievement and the school felicitated the proud product in a ceremony organised by its Principal A.H.H. Priyantha Saman Kumara along with the school's academic staff.
He was taken in a motorcade and was received on the way by the Deputy Director of the Puttalam Regional Education office and by the students of Kaladiya Vidya Sagara Vidyalaya.
Speaking on the occasion, Principal Priyantha Saman Kumara paid the high tribute to this proud product of the school, when, with emotion, he said "Jayasinghe took part in the race on a 'used' bicycle, while the others rode on new or well maintained bikes. Even with less facilities, Jayasinghe representing the North Western Province had the determination and courage to overcome all before him to be the victor."
A bud ready to bloom is aiming to bring laurels to his motherland in Cycling, and would welcome a sponsor and a guide for a helping hand, to enable this young talented rider to achieve his desire to keep the Lion flag flying high, nationally and internationally.