Buchanan's dressing room vision beyond the boundary line
View(s):

History is made up of incidents and characters. History is created every moment of the day but, only  selected minute details are preserved for posterity. In the 130-year history of the game of cricket, yes there have been cricketers such as W.G. Grace, Sir Donald Bradman, Sir Garfield Sobers, Clive Lloyd, Sunil Gavaskar or our own Kumar Sangakkara – who have made an impact, but they all are cricketers and all spoke just one language—what mostly happened beyond the boundary line.

But, if anyone was ever going to talk about a coach who always sits within the precincts of the practice areas and the dressing room and the impact that it made on the game, I am sure the unarguable choice would be former Australian coach John Buchanan. As far as we are concerned, the impact he made on the game of cricket is phenomenal. At the same time, we consider Sunday Musings as being fortunate to stumble upon Buchanan in Colombo and getting the opportunity of sharing some cricketing thoughts with him.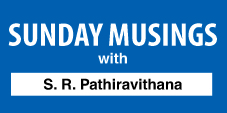 We began our conversation by asking Buchanan, who had a short stint with the Kolkata Knight Riders, about his impressions on what the effect that IPL has had on Indian cricket, and the game as a whole. Buchanan explained, "I had a short sting with them, may be 10 years ago. In this scenario, there is an on-field side and an off-field aspect. Off-the-field side concerns the popularisation of the game, a format that spectators and fans have got involved. Then you get broadcasters and the TV people getting involved. So it's the change in the manner cricket is consumed.
"Then on-field batters, bowlers and fielders have come up with a different repertoire to drive the game. They have invented new strokes and ways to take wickets. However, I feel that there is a slight gap between the batters and the bowlers – I mean the development of the batting technique and bowling. I feel that batters get far more opportunities than bowlers – I mean spend time to hone their skills and widen their repertoires. Yet, we have seen new shots and new types deliveries and the improvement of fielding – I mean specialist fielding."
Then the Musings pointed out that when he was the Australian coach, the Australian team did manage beat Australia in India but, now it seems the Australians are all at sea when it comes to playing in the sub-continent. Buchanan's opinion was a bit unexpected. He said any side playing in foreign conditions tend to stumble. The Australians may be all at sea while playing in conditions like India, Sri Lanka or Bangladesh but, it would be the same scenario in the reverse. The sub-continent teams also struggle while playing on bouncy Australian conditions. He feels that, with the the international calendar getting increasingly packed and busy, a side does not have the chance to get acclimatised to foreign conditions. "I really do think the central point of the performance matter is that sides do not spend sufficient time in the country, wherever it is, before they go into the big games. Most itineraries are so packed and there are so few games in-between. There is virtually no activity between big games. So there is very little time to acclimatise, weather-wise and skill-wise."
Drawing his attention to the fact that there are several Australian cricketers in the IPL circuit, we asked him whether these players do not get the chance to familiarise with the Indian conditions. Buchanan said the IPL is a different format of the game, but, when it comes to the longer formats of the games, "I feel acclimatisation is necessary."
He said: "It's all due to the fact that players do not spend sufficient time in a country where they travel to, to adjust their skills, be it Test cricket or ODIs."
We moved to his pet subject. The Australian International side he coached, which was a phenomenal success. Buchanan said, "I came in 1999 with Steve Waugh as captain and thereafter Ricky Ponting took over. We took full control of the situation in 2002/3. Then we had a run till 2007. During that time we beat almost all the sides in all formats of the game – we won about 75% of the games. Yes, it was a pretty good period cricket-wise.
"We had very good players…..there was no question about that. All these positive results wouldn't have been there if not for their skills. But, still it is not simple as that. You put a few good players on-board and you can't have good results. There are a lot of other factors that go in to make a success of it, and I think it was one of those factors. Coaching and management – how you harness all those skills together and how you get those skills together to achieve the desired results. So they too are constantly looking to improve on those skills. Be it Shane Warne, Adam Gilchrist, Glen McGrath or Rick Ponting, it was a case of challenging their skills and improving them. Our business was to see that players respond to that — constantly measure skills against results".
Then we pointed out that, in the midst, there were players such as Andrew Symonds also to contend with. He said that was the beauty of it. It took the skills of different characters to make that team so successful. "Always, everything does not run so smoothly. Sometimes, certain individuals may try to step out of line. It's not the role of the coach to deal with them but, as a team, we have to react to certain situations. So, whether you are a captain, coach or vice captain — they have to deal with it."
Then the Musings and John Buchanan strode back to the 2007 ICC World Cup final and the mysteries that surrounded that game between Sri Lanka and Australia. We asked, as coach of that ensemble, how he saw it, especially in regard to the use of the squash ball. He said "I vividly remember Adam Gilchrist's innings. He set it in motion and put us in a position that we could win the game. Then of course (Sanath) Jayasuriya, (Kumar) Sangakkara and (Mahela) Jayawardena had other thoughts. Yes, it was a really a tense game but, we always thought we had put ourselves in a position that we could have won. Of course, there were some incidents that made the final somewhat murky. But, we went through the tournament unbeaten. Even in 2003, we went on to win the trophy unbeaten but, I remember we had one tough game against Sri Lanka. It was really a close game. We went through 22 or 23 games unbeaten in the ICC tournament, and I think it was a good achievement. It is an achievement for any game and any sport."
Then we asked how he saw the debate about income-sharing and the finances of the players. In recent times players have got very vocal on the subject and recently, the Australian team went through one such episode.
Buchanan replied, "I think it an interesting issue. If you are at the top of your game, you should be remunerated accordingly, while at the same time, there also should be a certain benchmark. When you pay more and more money to the players, it means you take away money from the grassroots. Or else, the consumers have to pay more to sustain the sport. You have to pay more subscription. At the same time, the Australian players, in line with the Sri Lankan or Bangladeshi players, are better paid. Anyhow, there is no consistency in the remuneration for players. All I am saying is, where the game is concerned, it is about the grassroots and how it is sustained".