India Test tour of Sri Lanka confirmed
By S.R. Pathiravithana
View(s):
After the ICC cricket World Cup concludes end March 2015 and the Indian Premier League — the IPL centre stage in April-May, the Lankan International calendar will re-ignite in June-July next year with their FTP tie against Pakistan.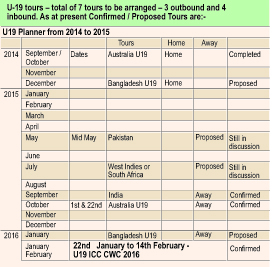 This in-bound tour will see the Lankans taking Pakistan for two tests, five ODIs and two T-20s. Prior to the Pakistan in-bound tour the Lankans will be engaged in their own T-20 Super fours tournament in May.
Now that Sri Lanka stepped into this unscheduled ODI series against India out of the FTP, India has reciprocated by diverting their in-bound Sri Lankan tour to an outbound one in August 2015.
SLC's head of Cricket Operations Carlton Bernadus said "Everything is in place now, the Indian three Test series will be an inbound one in August and we will have to start work on the logistics".
In October/November there will be another in-bound tour. West Indies will tour Sri Lanka for two Tests, three one-day internationals and two T-20s.
The in the turn of the year Sri Lanka will fly back to New Zealand for a series in December and January 2016. They will play 2 Tests, 3 ODIs and a T-20.
So far the only 'A' team series that is confirmed is also against New Zealand that will take in October next year. However according to Bernadus there is a likelihood of Pakistan 'A' making a tour mid-year while Zimbabwe and Bangladesh too have requested for slots and one of them would get the green light.
Bernadus said "Bangladesh and Zimbabwe have given us fixtures some time ago and are requesting SLC for reciprocation and I think it is obligatory that we reciprocate. Besides we also have been in touch with other Test playing nations and they have shown interest and may come on board for Under 19 and 'A' team tours."
A lot of emphasis will be put on the under 19 segment next year with an eye to the ICC Under 19 cricket Tournament which will take place In Bangladesh from 22nd January to 14th February 2016.