Can the Lankans break the hoodoo ?
By Naushad Amit reporting from Ranchi
View(s):
When Sri Lanka set off to India on October 28 to compete in a suddenly-arranged five-match ODI series expectations were contrary. But match after match the Lankans have drooped their value as one of the fiercest and unpredictable ODI sides, losing all for played so far in addition to a practice match played prior to the series in Mumbai.
With all games ending in losses coupled up with disaster and series being already decided, than being a decider, the fifth and final game to be played at the JSCA International Stadium Complex in Ranchi today becomes a tedious battle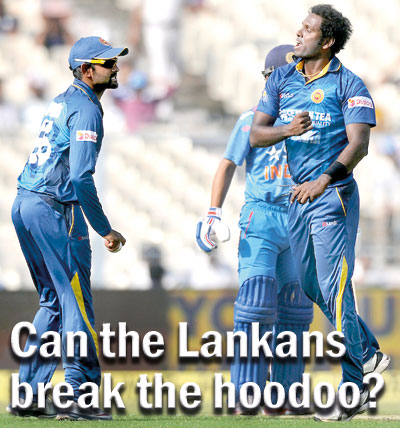 The Indian cricket fans, who are much rejoiced with their team's unassailable dominance, though will miss one man. The cricket fans in Ranchi will miss the presence of their hometown hero MS Dhoni, who has been rested until the first Test against Australia later this month.
The performances of the Indian batsmen and bowlers have certainly piled up a tremendous amount of pressure on their selectors as much as confusion and embarrassment has dominated the Sri Lankan camp. The visitors were humbled in each if the games played.The strong and young-blooded Indian team led by Virat Kohli not only thrashed the Sri Lankans in every aspect of the game, but also provided the much needed entertainment and satisfaction to cricket fans of Cuttack, Ahmadabad, Hyderabad and then Kolkata. They will look forward to offer the same sort of entertainment to the cricket fans of Ranchi, despite the absence of Dhoni.
Angelo Mathews, on the other hand, had to make explanations on and on at post-match press conferences and he will be looking forward to justify his team's performance in a different way as the winning captain at Ranchi. But with what happened at Kolkata, where Rohit Sharma single-handedly thrashed the Lankans claiming three records to his name will be a nightmare Mathews and his men would like to forget.However this will be a tour that would go down in the annals of Sri Lanka cricket as one of the worse-ever. Sri Lanka has faced series white-washes but the way they lost matches in this series simply depicted how mental toughness could take a team down, from bad to worse. This has only made Mathews run out of fair descriptions of his team's continuous failure.
At the post-match press conference at the Eden Gardens in Kolkata, Sri Lanka's pathetic bowling attack and its below-average fielding was really exposed. India had made totals of 363, 275, 245 before piling up a mammoth 404 three days ago. They only conceded 18 wickets so far in the series after four games have accumulated a tally of 1287 runs, after being set to chase twice. In comparison Sri Lanka has conceded 38 wickets, after being bowled out thrice, and has tallied 961 runs in four games.
What will be left for the Sri Lankans at Ranchi is to fight for their pride. At least get their acts together and aim for a win, to avoid a certain whitewash, as Kohli and his men have proved that they are simply unstoppable. Their batting order at present is the most powerful in the world, and with replacements grabbing the opportunities given, they will be comfortable in giving out an opportunity or two to those who were never featured in the series so far. Rohit Sharma replaced in-form opener Shikhar Dhawan, who had accumulated 283 runs in three games including a century and two fifties. But in just one game Sharma clobbered 264 runs, falling short of Dhawan's tally by just 19 runs. India never got an opportunity to try out their middle and lower order with the top order fulfilling the mission. Their bowling attack too has been up to standard and has bowled out the visitors thrice with the other outing ending up by claiming eight wickets.
In contrast Sri Lanka has failed to impress in all departments. Besides the only century came from Mahela Jayawardena. Skipper Mathews has a tally of 200 runs in four games inclusive two half centuries while TM Dilshan struck a half century and is one of the four batsmen among the top ten batsmen besides Kumar Sangakkara, who flew back home after the third game. Dhawan tops the list followed by Sharma and Mathews. Others in the list are Ambati Rayudu, Kohli and Ajinkya Rahane. Suresh Raina sits at ninth place before Sangakkara.
In the bowlers' list the top five places are dominated by the Indians. Paceman Umesh Yadav, who has had a fine series so far with 10 scalps, leads the list followed by Akshar Patel, Dhawal Kulkarni, Ishant Sharma and R. Ashwin. Among the Lankan bowlers Suraj Randiv, though he is back home, sits at sixth place, followed by Seekuge Prasanna Indian allrounder Stuart Binny, Mathews and Nuwan Kulasekera. This shows the difference between the bowling departments of the two sides.
If the Lankans are keen on making an impression against the Englishmen who will come down to Sri Lanka to play seven ODIs, they should make use of the game in Ranchi to put their act together.
The Sri Lanka team reached Ranchi on Friday and they underwent a practice session yesterday to look into possible changes that could be made for the final showdown. It is likely that opener Kusal Perera will be dropped from the final game but other changes will be made later on the day after the team meeting according to manager Michael de Zoysa.
"It will be too early to announce of any changes but there will be one or two. We have learnt a lot from the series so far and will stick to the basics," he said.
India will look at giving opportunities to those who were not featured just as the Lankans, who will have an option or two left to try out. But Sri Lanka will definitely eye to snatch a consolation win and head home with something to smile about despite their bitter memories that came in bulks. The match will begin at 1.30pm local time.
Sri Lanka (from): T.M. Dilshan, Kusal Perera, Dinesh Chandimal, Mahela Jayawardena, Angelo Mathews (Capt), Ashan Priyanjan, Seekuge Prasanna, Thisara Perera, Ajantha Mendis, Shaminda Eranga, Nuwan Kulasekera, Lahiru Gamage, Lahiru Thirimanne, Niroshan Dickwella, Chathuranga de Silva.
India (from): Ajinkya Rahane, Suresh Raina, Virat Kohli (Capt), Ambati Rayudu, Akshar Patel, Ravichandran Ashwin, Umesh Yadav, Dhawal Kulkarni, Stuart Binny, Rohit Sharma, Robin Uthappa, Karn Sharma, Vinay Kumar, Kedar Jadhav.