An unforgettable soccer encounter
By Subhani Hassimdeen – former national football captain and national coach
View(s):
It was our first Olympic tie- the year 1963 – the opponents India: reigning Asian Champions. By then Indian football had reached its zenith and their dominance in the Asian region was no flash in the pan.
The late S.A. Rahim – the Indian football coach adopting the 4 X 2 X 4 pattern of play for the first time in Indian football, with a dint of hard work and brilliant strategy , moulded a superb squad which not only gave India the Gold for Football at the 1962 Asian Games in Jakarta – Indonesia, but in the process overtook the national outfits of China, Japan, Indonesia, Korea, Malaysia and Thailand. It was with such a reputation that the Indian National Squad was billed to meet midget Ceylon in the first round Olympic tie at the Sugathadasa stadium.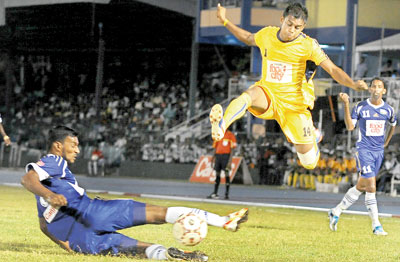 However, it was a pity that India could not maintain its Asian football supremacy for more than five years, as internal squabbles in the National Controlling Body spread their cancerous roots, eventually crippling the game. Today, India stands far below that of many other Asian nations in the sport it once dominated with authority. Meanwhile our own national squad was under training in readiness to meet this epic encounter. The Ceylon Squad comprised of: Peter Ranasinghe (capt) , M.M. Hassimdeen, Piyadasa Perera, Mahinda Aluvihare, C.S. Fernando, A. Zainulabdeen, B.H.H. Sally, M.A. Ameer, P.D. Sirisena, S.M. Noor, B.B. Sourjah, P.H.S. Albert, Edward Wickremasuriya, P.J.K. Kurukulasooriya, M. Shanmugam, Nalin Perera and A. Vandergert.
Training of the team was held each evening at the Echelon Square grounds (where the Galadari and Hilton now stands). A week prior to the tie, the team went into residential training and everyone seemed to be in peak condition – In a few preparatory matches, the national squad was seen working in midfield and upfront with a degree of confidence and cohesion, though in defence it appeared somewhat vulnerable.
So on a bright and warm afternoon the plane carrying the Indian national squad touched down at the Ratmalana Airport on Friday, 20th December, 1963. The Contingent comprised of: Goal Keepers – P. Thangarajah, P. Berman; Deep Defence – Chandraseker, Mushtaq Ahmed, Arun Gosh, Jarnail Singh; Mid Field – P. Franco , P. Singha, Ran Bahadur; Forwards – P.K. Bannerjee, Yusuf Khan, Appalairaju, Chuni Goswami (Capt), Inder Singh and Arumainayagam; Manager – Thangappan; Coach – Pentiah.
This strong and colourful outfit was mobbed by Indian fans in Colombo and a host of other soccer enthusiasts. The visitors went straight to the stadium grounds in the evening to have a feel of the turf. I watched them closely and was deeply impressed with their workout.
So, on Sunday the 22nd of December 1963, the Sugathadasa stadium was over flowing with an estimated crowd of over 30,000 soccer fans who came to see the Asian Champions perform against pint sized Ceylon.
Our coach the late V. Nadarajah had done a splendid job with the home team which, led by that versatile centre back Peter Ranasinghe who was in fine fettle. India in their sky – blue soccer shirts and white shorts, led by Chuni Goswami trooped into the field followed by the home team, to a thunderous ovation.
H.A.B. Masoor of Malaysia was in charge of the whistle and the kick – off went sharp at 4.15 pm. The Indians settled almost with the whistle and indulged in some crisp passes and dashing sprints on the wings. However our deep defenders Sourjah, Ameer, Peter, Albert, Sally and Hassimdeen at goal repulsed these intimidating attacks. In the eleventh minute, India drew first blood through Appalairaju. Immediately thereafter, Chuni Goswani Colliding with our iron man P.H.S. Albert came out worst in the dual. A deep gash over his left eye had turned the inside of the eye into a blood red ball. There was a dent on the side of his left cheek bone and he was writhing in pain. Goswani the skipper who was seen spearheading the Indian attack, was now reduced to a crippled lump of flesh.
He was carried out of the field to a nearby nursing home for immediate medical attention. Meanwhile, Mahinda Aluvihare unleashed a lethal right footer 25 yards ahead of the goal, which whizzed past Thangarajah's out stretched hands to get the equalizer. It was surprising that India made no substitution for the injured skipper, but it was later revealed that the skipper's parting words were that he would take the field soon on his return from medication. Heavily plastered, Goswani did return fifteen minutes later and joined his colleagues in battle on the field. It was an unwarranted risk taken, perhaps one that could have even been fatal. Yet, he chose to fight for his country, not caring for life or limb. Such was his courage and pluck. On the nick of time for the interval, Appalairaju scored once again to put India ahead.
Immediately after resumption of play Mahinda Aluvihare using his height to good advantage, took a high lob on his chest and punted forwards the Indian goal. When challenged by Jarnail Singh he deftly pushed the ball to nippy Sirisena, who swung to his left and released a stunning shot which was an instant goal all the way.
Ceylon once again equalized to the great joy of the home crowd. The Indians, not to be outdone, scored when centre forward Yusuf Khan smacked in a first timer off a pass from inside left Arumainayagam – score 3-2 in favour of India. Two minutes later Yusuf Khan scored once again and this time the architect was the injured hero Goswani, playing in safer terrain as left outside score – 4-2. A few minutes later Sirisena made our hearts stop beating when he muffed up a penalty offered. With this the morale of the home team sank low, although they made dangerous inroads into Indian territory. Ten minutes before the end Appalairaju got his hat-trick of goals with a cunningly deceptive swerve and swing , and finally placing the sphere away from a diving Hassimdeen. Unperturbed Ceylon fought back gallantly and in the concluding stage Mahinda Aluvihare, who was a cut above the rest , received a pass from Zainulabdeen in midfield, darted up front, beating one by one, the Indian who came his way, and finally propelled a sizzler nearly 30 yards out to beat the great Thangarajah all ends up. With the long whistle India, the Asian champions had beaten Ceylon 5 goals to 3 in a rousing encounter that had all the brilliance of an International.
Coach Nadarajah must be singled out for moulding a team which played superb football throughout, the eleven lions led by Peter and his deputy, that flamboyant Superstar Mahinda, would be long remembered for a performance reaching sky-high. Amidst the rumble and rattle of sirens, whistles, horns and cymbals with the crowd now homeward bound, that plucky Goswani was rushed to the operating theatre to put right a fractured cheek bone and a seriously damaged eye. Ironically Goswami not only missed the return encounter in Bangalore, but had to take leave of the game forever. Operated and lying in bed, he was comforted by the Indian players and officials, yet he knew he had reached the end of a career.
The Indian squad had to fly home leaving Goswami, the darling of Calcutta football crowd and an inspiration to the national squad thus ended a promising and bright playing career. His decision to resume playing even after doctor surgeon G.M. Muller advised him not to, reflected his courage and fortitude in abundance. Such were the patriotic zeal and courage of the Indian Skipper.