Sevens rugby: A chicken and egg situation?
View(s):

The Sri Lankan Seven's team left for Hong Kong to at least maintain the fourth position that they have been enjoying this year. Sevens it appears has come of age and has inspired more interest than before. Yet one finds a daunting task ahead in China as the team that took wing is missing some well known sevens players. Some have sated personal reasons while others are injured. This is where the authorities will have to build a strong pool of Seven's players, may be round 30, where each is as good as the other. This will not happen overnight but can be planned over time.

With the club season about to start and most players being contracted there is always the possibility that players may prefer to be at practice with their team than with the national squad. It is natural for this to happen as the commitment and the reward of payment is at the club. It is no doubt a chicken and egg situation. Is it so as we will see as we read on. It was unfortunate perhaps that with the Asian Games coming between the Asian Sevens Circuit dragged on till mid October. An Asian Games will not take place next year; there will be a reasonable gap between the Asian Sevens Calendar and the local 15-a-side tournament.
The UAE Rugby Federation in a bid to address the national team's chronic availability problems decided to ban players from playing for their clubs if they do not report for representative duty and they could be suspended up to two club matches. The governing body there goes onto say, "Any player who has been nominated or selected by the UAE performance manager for national duty and/or training camps and not attended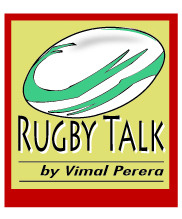 without expressing a valid/reasonable excuse will be sanctioned". This sanction is keeps in line with IRB regulations. That is where what otherwise would be a toothless tiger has been given the teeth to bite.
The IRB's Regulation 9 in summary states: "The future development and extension of the sport at all levels and throughout the world would be threatened if a union was not able to select and have available the players it requires."
The regulation has addressed a problem that has been in existence in many countries and has affected top rugby playing tier one countries. It has trickled down to the tiers lower down. Sri Lanka too has had its problems over the years and can use a new broom to sweep.
The development of the game has at times been hampered with half filled national teams not performing to their best. This is not good or the game as top level competition becomes a farce. Therefore the regulations have stated that a union has the first and last call upon the availability of a Player for selection and appearances for a National Representative Team or National Squad. It also states that this includes attendances associated therewith, including training sessions. None can whether by contract or otherwise inhibit, prevent or make unavailable any player from selection, attendance and appearance in a National Representative Team or National Squad, including training sessions. It also requires that any player must be released upon request by his Union. If the Player is unable or unwilling to appear, attend and then he shall not be entitled to play for a Rugby Body or Club for the period for which he has been, or should have been in attendance with the National Representative Team or National Squad.
Thus it supposes that any action that leads to a player making himself not available, can lead to the player being sanctioned as well as the club being liable to sanction. This may include sanctions such as that imposed in the UAE where a player will not be allowed to participate for the club in matches in the domestic union.
Obviously this is food for thought as we progress as otherwise we fall to where are due to the oft repeated excuse that they are under contract and the club pays them. Similarly the player too exposes himself for sanction.
Whither Sri Lankan Rugby will be a question as the door is once again open to those who are not of a like mind. Conflicting situations surface on and off when ever each chapter in the book of rugby is opened. It can be the start of a schools season, club season or even the work of the referee's society. This seems to be an inherent problem but not limited to rugby football. You have to differ or else how do you keep yourself in the limelight. Yet the governing body has empowered local unions to protect the National team who are followed in success and continuation of the game.
Vimal Perera is a former Rugby Referee, coach and Accredited
Referees
Evaluator IRB