Rajiva Wijetunga, best over-55 athlete
View(s):

Rajiva Wijetunga of MAS Intimates Unichela was awarded the Best Athlete Over 55 at the recently concluded Mercantile Athletic Championship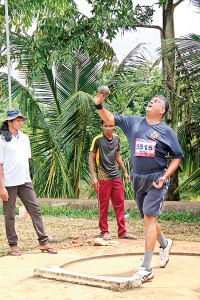 2014 held at the Mahinda Rajapaksa International Stadium, Diyagama.
Rajiva was placed first in the Men's Over-55 Shot Putt event throwing a distance of 10.78 metres which earned him the Best Athlete Award for 2014. In the Discus Throw event Rajiva throwing a distance of 25.93 metres was placed second winning the Silver medal. For Rajiva history repeated as he was placed first in the Putt Shot and second in the Discus Throw events at the inaugural Mercantile Athletic Meet in 1983 and since then Rajiva had continuously participated at the meet for 31 long years.
Year 2014 had been a good year for the MAS Unichela stalwart as he won the Shot Putt event at the last three Masters Athletic meets and was rewarded with the Best Athlete award for over 55s at the Sri Lanka Masters Athletic Meet.
The record established by Rajiva at Royal College in the Under 15 Putt Shot event throwing a distance of 34ft.10ins., in 1974 is still intact even after 40 years.
The inaugural Mercantile Relay Carnival and the 2nd Tug of War Tournament will be held at the Mahinda Rajapaksa International Stadium, Diyagama on November 1 and entries will be received upto October 20 (tomorrow). – LR