Planning an innings
View(s):

I had been coaching cricket for so many years. Therefore, I would like to share my experiences on how to plan an innings. I am sure that this article will help many up-and-coming players.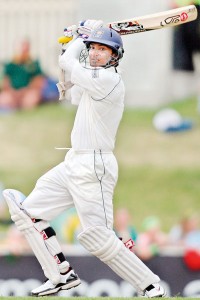 Fine, excellent strokes and a keen eye are not sufficient to play a long innings. Tactical sense, imagination, common sense and knowledge of your opponents are very important to build a long innings. One should know how wicket surfaces play under changing conditions. Most important is the feeling of mental peace. All these factors contribute to compiling a big score.
I find that the most trying time for a batsman is waiting for a wicket to fall. When this happens it signals his approach to the pitch. You keep on hoping that the opening batsmen remain at the wicket and perhaps go on to a solid stand. Such a situation makes it so much easier for you.
A batsman who bats at number three has a great responsibility because, to a great extent, it rests on you to form the backbone of the innings. One soon realises that if one of the openers fail, and you also fail, then the side finds itself in a great deal of trouble.
Although the waiting period is a most tense time, nevertheless, it gives you the opportunity to study what the bowlers are doing with the ball. It gives you an insight into how fast they are bowling and whether the ball is swinging one or both ways. This is a most important point to know. It makes batting so much easier if you are aware which way the bowler moves the ball in the air or which way he spins it off the pitch.
Batting is twice as difficult against spin bowling, if the batsman cannot pick which way the ball is turning until it hits the pitch. Many balls could be hit for four provided the batsman could pick up the direction of the spin by watching the bowler's hand. If you cannot read the bowlers hand then you will have a nightmare when facing the spin. Thus, you can see that a keen eye goes a long way towards making a good batsman. However, it is not everything.
Whether you are commencing an innings or have scored 100 runs, the most important thing of all is concentration. Without this asset you cannot become a classy player. I have seen many players who can bat wonderfully well for a certain time, suddenly suffer a lapse in concentration and soon find themselves back in the pavilion, if you want to be a top class batsman then concentration is your key asset.
A good way to test the value of concentration is to reflect for a few moments on how you were out in the previous innings. No doubt you will be surprised to discover how seldom you can truthfully concede that you were out to a superb piece of bowling or fielding. Most often you got yourself out due to a lapse in concentration.
When you go to the wicket wait for the right ball to break your duck. Don't go waving the bat around, looking for boundaries straight away. The safest way to get over the critical first period of twenty minutes is to restrict your scoring shot. This does not mean that you should not play any shots at all. No. It simply means that you dispense with hitting across the line of flight so early in an innings. Settle yourself by playing straight down the line in preparation for a big innings. Then you will be able to play all the shots in the book.
A good batsman should know where to hit the ball to get runs. How many times have you seen a batsman, who can hit the ball really hard, hitting it straight to a fieldsman time after time? It is very easy to collect runs if you know how to place the ball where fielders are not placed. It will help you to keep scoring at a reasonable rate.
These days, batsmen do not pay attention to running between the wickets. But it plays a big part in fashioning a long innings. Before you go to the wicket you should know the art of running between. It will help you to score many runs without going for big shots, if a batsman follows these guidelines then he can score big scores and become a world class player.
- Rev. Bro. Nimal Gurusinghe F.S.C.