Kandy aims to be top of the pops again
By Aubrey Kuruppu
View(s):
Kandy Sports Club's administration is up in arms against certain moves by the Rugby authorities in the run-up to this year's league tournaments.
The bone of contention is the draw which they allege was not done on "any proper basis". Over the last few years, Kandy's games against the Navy and Havelocks were played as the last two games, in both the first round and the second. This year, however, the Havelocks game will be the up-country Club's third game. It will be followed by the Navy game, will this new schedule militate against the building up of a climactic last couple of weeks?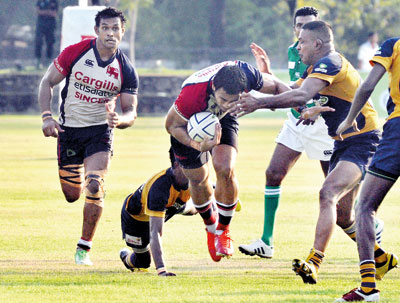 To be fair by the parent body, Kandy SC admits that they were sent a copy of the draw and their comments were invited. But Kandy SC alleges that no heed was paid to their representations.
With Kandy having lost out on the pre-season wrangling, they are endeavouring to get all that out of their system and to focus on this year's league tournament. Optimism is high for the former champions who have not won the league over the last couple of years.
Last year's make-shift coaching arrangements invited disaster. Coaching a leading, prestigious school is a different kettle of fish from handling a top-notch club side. Kandy SC found it out to their cost. The tried and tested Johann Taylor is back and this has led to a surge in optimism.
Kandy's foreign players in recent times have not measured up to the standards set by the likes of Kiti, Bati and Nagata. This year, however, they feel they have invested in the "real thing". Fijian number eight Eroni Gadola and the South Africans full back Quinton Crocker and number eight Chris Cloete are the new signings.
In addition, Kandy SC can call on the talents of a number of Sri Lankan players inter alia Fazil Marija, Wilwara, the Pereras, the Weeraratnes, Saliya Kumara and Pradeep Liyanage. The skipper Sean Wijesinghe is a Sri Lankan player of earlier vintage.
The following is a list of players who will turn out for the club.
Props: Dimitri Wijetunga, Piyumal Manchanayake, Kishore Jehan
Hookers: Damith Dassanayake, Uchita Jayasuriya
Locks: Gayan Ratnayake, Sashika Jayawardena, Dinuka Perera
Flankers: Sean Wijesinghe, Asitha Ratnayake, Tharindu Chaturanga
Number 8: Eroni Gadola, Chris Cloete
Scrum Halves: Roshan Weeraratne, Saliya Kumara
Fly Halves: Fazil Marija, Arshad Jamaldeen, Damien Ratwatte
Centres: Gayan Weeraratne, Pradeep Liyanage, Buvaneka Udangamuwa
Wingers: Anuruddha Wilwara, Ishan Perera, Lavanga Perera, Darshana Ettipola
Fullbacks: Nigel Ratwatte, Quinton Crocker