Inevitable 'Made in China' lable
Asia's one-billion population countries
View(s):
This lable is difficult avoid now and it is so, also in Tennis. The world professional Tennis bodies, women's WTA and men's ATP went 'gung-ho' into China with their events in September and October. Most of the top 30 players of the world ranking in women and men were in China this year. This year's outcome from the Chinese Tennis events will have a significant impact on the top 10 positions of the world in women's, men's ranking and in their earnings. China became an established Tennis-Land of Asia in 2014.
The Li-Na magic wand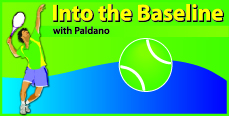 China has a large number of players and a few are prominent in the world rankings. When it comes to 'money-muscles' China is in the mega league of the world economy. The large player base and money only needed an ignition to make Tennis boom in China.
That is what exactly happened when Li-Na 'sky rocketed' into stardom. She ignited the Chinese Tennis boom. I saw Li-Na for the first time in New Delhi over a decade ago. Although limited in variety, her 'reaction' was leaps and bounds above than the rest in the draw. Li-Na's achievement was pioneering to Asia; 'gutty' to overcome obstacles, dedicated to find a path to be the number 2 and lasted long enough for the world to remember a Chinese name in Tennis.
Ten years ago, I would have not predicted that the Australian-Open and the French-Open titles would be won by an Asian Chinese. Li-Na has changed all that. From what I gathered from her interview in Wuhan, where she played her farewell event, she will stay with Tennis in one way or another.
Women's and men's events in China
Women's WTA and men's ATP have graded their events in the annual ranking calendar according to the strength of the financial commitment of the event. The events in China are the biggest in Asia today. Women's WTA players were in full force in the 'WTA-Premier' events in Beijing and Wuhan. Not only was the draw full of mega players but also their street Tennis promotions. Adding to these two WTA-Premiers, China also has four second tier WTA internationals in Shenzhen, Hong Kong, Guangzhou and Tianjin. In all, China has a financial commitment of $10 million for the women's events annually.
China is equally impressive in the men's events. Here too they are committed to an amount just over $10 million as prize money in three venues. The recent Shanghai event was an ATP-1000 category with $ 6.5 million in prize money. Roger Federer was the winner. Although the Chinese men have not shown the potential of Li-Na, many expect this to change soon.
Very often in individual sports, strength of the 'personality' plays a major role in success. The second salient factor for international success is the strength of the game-making ability. Today in men's Tennis, these can be only acquired through international exposure.
Indian billion – missing ignition
India is the other Asian country with a billion in population. They had their days in the past. Now Tennis in India is a 'second fiddle' situation.
Once again it seems to be the 'personality-factor'. Former Indian Davis cup player Rabi Venketesan who won Sri Lanka's National Title some decades ago, was in Colombo recently. He too gave the indication of this short coming in Indian players. India too has a large number of Tennis players and the finances. There is no one to ignite Indian Tennis at the moment. That is to say the 'Li-Na factor' is missing in India.
Tennis development in India largely focuses on junior base and not in the 'world beater' stream. Every country seems to make this mistake. Unless a 'world beater' appears it is difficult to propel national Tennis in any country. Kei Nishikori is doing it to Japan now being in the top ten of the world. Tennis is alive in India but not prominent. In doubles, they are a force to reckon with. We can easily recall names of Mahesh Boopathi, Leander Paes and now Sania Mirza. They are still active and successful in the doubles.
Asia – Singapore and Money
Asian Tennis got another boost when Singapore got the rights to stage the WTA women's year end championships for the next five years. This WTA event uses world ranking as the pre-qualification and permits only eight players into the draw.
Asia has more Men's ATP events now than before. Total prize money in Asia could be high as $ 30 million. The bulk of it is coming from China. Issue for big events in Asia will be the time slot availability in the global Schedule.
In January and February the southern hemisphere gets the event slots because of their summer weather, March to July is the traditional European summer season. August and September is the Northern American season. China being the early bird, has taken September and October slots of the schedule. There are potential Asian venues for top end events. Time slot availability issue will have to be sorted out for these venues to stage an event.
Player safety
ATP and WTA now give two months break for players in a year. They keep November and December without events. It is for injury prevention and physical recuperation. Even with this, 2014 saw the most amount of absenteeism due to injury. Li-Na retired due to this and France's Marion Bartoli did the same last year. This two month break will also contribute towards time slot issue for events.
'Jambalaya' sports
'Jambalaya' was a 'mishmash' of a meager meal to the struggling Louisiana plantation workers a century ago in USA. Now it is a 'Southern Comfort' entertaining gourmet favourite. India is trying the same recipe to make a mass sport 'Football' into an up-market product. Indians were and are into big time cricket but now the 'Indian-cricketers' are promoting 'Football'. Logic wise this 'mishmash' is a little difficult to understand. This is what we saw at the Premier league Indian Football inauguration last week in Mumbai. The league was launched by mega Cricketers, Bollywood stars with an 'Olympic like' opening ceremony. India has no known footballers, so it was a 'Jambalaya' move.
May be there is a change coming to Indian Cricket. Three big names promoted Indian Football last week. They are cricket's Master blaster Sachin Tendulkar, IMG mighty sport management institute and the Indian financial power house 'Reliance'. Question is whether India is dumping Cricket? If so, where does Tennis stand in India? In Greece where sport began, entertaining the public was given equal emphasis along with sports performance. Next week at the WTA Tennis in Singapore apart from Tennis, these athletic women will also do a fashion show and a photo-shoot to entertain the public. There will be Tennis too and bound to be very good.
-George Paldano, former international player; Accredited Coach of Germany, ITF and USPTR; National, Davis Cup and Federation Cup Coach–gptennis.ceylon@gmail.com-