Letters
View(s):

Cattle destroy our forest reserves, disturb the eco system

Much of Sri Lanka's rain forest was cleared 150 years ago for coffee and tea plantation by the British. About 30 years ago, during the implementation of the accelerated Mahaweli development project, large forest areas were cleared without assessing the environmental impact. As a result, the country has lost 80 per cent of its rain forest. But still we do not have a clear policy to protect the remaining 20 per cent of our national heritage even as major forest reserves are being destroyed by illicit timber fellers, hunters, ganja cultivators and land grabbers.

Forest reserves have been acquired for purposes such as building of tourist hotels, agricultural activities and construction of roads despite the public cry to safeguard the remaining fauna and flora. The areas affected include the reserve adjacent to the Somawathiya Chaittya in Polonnaruwa, the Wilpattu National Park and the Sinharaja forest. It should be highlighted that some of these activities have been curtailed to a certain extent by the timely action taken by environmentalists, nature lovers and conservationists.

An issue of cattle handling

For hundreds of generations, animal husbandry has been an economic activity of Sri Lankan villagers. However it must be noted that during ancient times, villagers kept separate grasslands for this purpose, while forests were conserved for the wild life and to obtain necessary timber only when required for construction work.

But today, cattle owners let their animals graze in forest reserves, little realising that their action contributes to the destruction of the forest undergrowth and surface soil. This happens in Lunugamwehera, Uda Walawe and Maduru Oya and other areas where land ownership and grazing rights are blurred, although allowing domesticated animals to graze in reserves is prohibited under the Wild life and Nature Protection Act. This law, however, has often been observed in the breach. A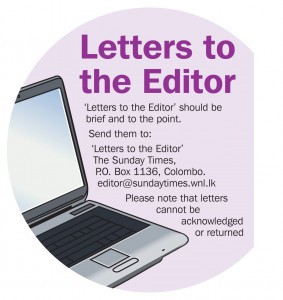 single ox or cow's daily consumption includes grass and plants up to root level, about 10 per cent of its own weight.
In Lunugamwehera alone, some 30,000 cattle destroy grasslands, plants and trees in the park.
In the Hambanthota district, dairy farmers graze their cattle in forest reserves after open grasslands in Bundala, Thissamaharama, Koholangala, Meegahapandura, Gannoruwa, Mattala, Weerawila, Reedigama have been taken over for development work.
According to villagers the number of cattle released into Wasgamuwa and Inginiyagala-Nilgala forest areas is about 15,000. Overgrazing is also seen in Wilpattu, Walawe, Yala and Weheragala.
Ecological impact
Overgrazing results in reduction of species richness, loss of bio diversity, loss of top soil and increase in surface run off in forest reserves.
The concomitant effects are the residual plant litter or thatch declining in mass density; while surface water infiltration is reduced and ground temperature rises. Thus surface temperature increases resulting in higher rate of evaporation and hence increased aridity.
Overgrazing also has a characteristic effect of reducing root depth, since photosynthetic activity is reduced in the growing rainy season when roots are propelled to greater depth. The grass therefore have hindered water uptake from the soil resulting in growth retardation.
Reduction in soil organic matter and thereby soil fertility impairment affects future growth of forest flora. The process of overgrazing leads to lowered vegetative densities, soil erosion and low quality grass; not only damaging the eco system of the forest reserve and habitat continuity, but also providing for an enhanced avenue for invasion of alien species and subsequent bio-diversity loss. Surface organic floss layer is critical in determining the soil's water holding capacity and how well plants do during the dry weather; the loss of soil depth and organic matter takes many years to correct.
So, what's next?
If we do not take action now, there will be even a reduced amount of rainforests in Sri Lanka for future generations. This not only impacts on the survival of animals and protected species of Sri Lanka, but also on the future weather patterns, agricultural efforts at national level and lifestyles of those in the immediate vicinity of the forests.
It is the responsibility of authorities and communities to ensure forest reserves are protected. It is important that villagers are educated on the effects and the law is enforced in controlling cattle grazing in these protected areas including world heritage sites.
Nihal B. Mawella
Via email
The fruit it bears
Don Manu (June 29) has said a mouthful – two mouthfuls in fact.
A philosopher (as they are wont to do) observed that you can tell a tree by the fruit it bears.
Bodu Bala Sena is obviously the fruit – 1 leave it to the reader to imagine what the trees is .
Nihal Rathnayake
Dehiwala
What about our right to free education?
Aren't we Lankan students too?
I'm a student of an International School who did the local syllabus in the English medium and passed my G.C.E. O/Ls last year. I was longing to join a reputed National School for my A/L's but the Education Minister has denied us entry to free education! He says that rural unprivileged children lose their opportunity if we enter. So what about us losing our right to Free Education?
As far as I know, rural children are not at all interested in doing their A/Ls in the English medium. Could you please point out even one rural child who is suffering because of us? Aren't we also Sri Lankan children who have equal rights?
According to the Education Minister's statement, I too possess all the qualifications because I'm also from a village down South like our President and I'm not at all rich! My parents are government servants!
There is no such circular or cabinet decision banning us from entry to National Schools! Surprisingly all higher officials including the responsible politicians are turning a deaf ear to this problem! The Education Minister said he would give a report stating why he doesn't want us to join government schools, but up to date there has been nothing.! Instead of accepting his mis-statement he is trying to create misunderstandings stating that students who did London O/Ls have been admitted to National schools when those children don't even think of a government school!
This is the bitter truth of our so called Education Minister.
Please give us our right to Free Education without discriminating the country's law! We need a quick decision before our schools start, dear minister!
If you are to gobble up our free education, gobble our franchise too, so that we'll be fortunate to not to vote for politicians like you.
Sinali Pathirana
via email
The stairway
In Grandfather's mansion
Where I passed my childhood
Two-red carpeted polished stairways
Met in the centre, mid-way to the
Ground floor.
Embedded into the wall
A painted glass picture of two lovers
Clinging to each other
Stood before a running stream of water
Fearing the crossing to the other side.
Now it represents to me, as an adult,
A fear of dying, leaving a world I know
To one I have yet to get to know.
Like the woman in that old frame
I need to cling to someone or something
Before I leave my present life, to die
And go into another life
Be it heaven or earth.
As a child I recall, being afraid , the same way
To go down to the ground floor
Or return to my bedroom, safe and secure
Upstairs.
Punyakante Wijenaike
Colombo
Please give us space to park
Thanks to the Colombo City beautification programme initiated by Defence and Urban Development Ministry Secretary, Gotabaya Rajapaksa, Vihara Maha Devi Park has been transformed into the Bride of the City of Colombo.
The well trimmed lawns, fountains, trees, well kept summer houses and clean park benches along with the Samadhi statue of Gauthama Buddha and the crystal white marble statue of Vihara Maha Devi all add to the beauty of the park.
A big bouquet should be given to the officers-in-charge and the personnel of the Civil Defence Service force who are in charge of park maintenance for performing their duties excellently. Well laid out and well lit walking tracks and cycling paths help the people who come to the park for an early morning walk or ride to maintain their fitness as the theme of the government is that a healthy nation is the wealth of the country.
This is the good side of the story. The bad side is the inconvenience caused to the people who come to the park in finding parking space for their vehicles mainly along Green Path where most parking spaces are taken over by school vans and office transport buses. People have to drive around the park to find a place for parking along the road in front of the Town Hall and Dharmapala Mawatha but all the spaces are occupied by the school vans and office transport buses. Even if we manage to find some space, after coming from the walk or jog, Rs. 30- will have to be paid even for a half hour parking ticket.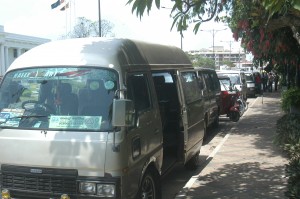 It is most pathetic to see buses carrying outstation schoolchildren coming to the city to visit Nelum Pokuna, the Art Gallery and the Vihara Maha Devi Park going round the park, looking for parking and when they fail, those vehicles simply drive away depriving the children of the chance of visiting these places.
When I spoke to a senior officer of the CSD and brought this problem to his notice, he said that they had written so many letters to the Colombo Municipal Council on this problem but had had no response. A traffic warden said that some office transport drivers park their vehicles in the morning, go to their workplaces and come in the evenings to take the vehicle for office transport. A van driver said they paid a monthly fee to the CMC but did not disclose the amount.
As the Colombo Municipal Council authorities do not seem to be interested in solving this problem we appeal to the Defence Secretary to take necessary action in instructing the authorities concerned to allocate a permanent parking slot for the buses that come with schoolchildren and a place for cars at least from 7 o'clock to 10 o'clock on weekday mornings. The ideal slot would be the small space to the right of the statue of late Gamini Dissanayake towards the public library.
A regular morning walker at the park
Nawala
Parliamentarians and pensioners: Who serves the country better?
A pensioner is a government servant, who after toiling hard for over 30 years has retired from government service, anticipating to spend the twilight of his/her life in a relaxed and quiet manner without any worries or encumbrances, but not as a discarded coin. Alas! They cannot fulfil their last wish, with the cost of living escalating by leaps and bounds The cost of medicine, milk powder (at least to have bed tea) vegetables and fish, just to mention a few, has gone through the roof. To cite an example, at the moment a kilo of green chillies is Rs. 800 and tomatoes Rs. 250.
The latest bolt from the blue to the pensioner, not only to the pensioner, but also to all senior citizens is the drastic reduction in the interest rates on their savings. As a result, pensioners who have fallen from the frying pan into the fire find it difficult to make ends meet. Some cannot even afford one square meal a day.
Although letters appear in the print media almost daily about the pensioners' dilemma, they seem to fall on deaf ears of the authorities. The parliamentarians who enjoy all the perks and benefits under the sun, seem deaf and dumb regarding the woeful plight of the miserable pensioners but they get a full pension after five years of service. I wonder what service they do. Is it equal to the service of the government servants?
With elections round the corner, I hope the parliamentarians will be alert and at least bring the matter up in Parliament. Pensioners are as usual building castles in the air about the prospects of getting a reasonable pension and I hope they will not come down as it has happened earlier.
Over to you, Minister of Public Administration, Please see that some justices is done to alleviate the sufferings of the pensioners.
Hilda Gunawardana
Rajagiriya
Plastic waste: Don't blame the public 
With reference to the article titled, 'War against plastic waste hampered by don't- care public', in the Sunday Times 2 of June 29, the public should not be blamed. Most households throw away heaps of plastic waste matter since they are at a loss as to what should be done with it.
If there is a regular system of collection from houses it would help to contain the waste. No one has the time or energy to take the plastic waste to collection centres.
Large bins at crowded junctions, bus stands etc could help to overcome this problem.
Handling plastic waste is tackled in schools but only a few schools have bins.
Collection or non-collection is what's causing an environmental hazard. The public is sure to co-operate, if they are taught the harmful effects. The newspapers and TV could play a useful role in this.
Nandini Daniel
Ragama