Leaves and bark on black canvas
By Purnima Pilapitiya
View(s):
The cosy white washed studio is strewn with paint brushes and other trinkets, but the bold black canvases- literally taking up most of the walls and floor stand out as elegant, daring and different; a sneak peak into Dila Weerasinghe's creations for the exhibition "Golden Dawn"; which is on today at the Lionel Wendt Gallery reveals.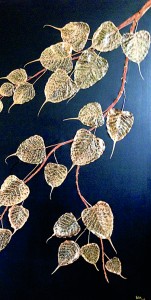 Despite this being her debut exhibition as a solo artist, Dila shrugs off being labelled as one. "I don't consider them to be paintings but rather creative works." Her long standing love affair with painting began as a child under the tutelage of Lathifa Ismail and continued well into her adult years although she never took it up professionally. "I painted from time to time," she explains though with working in the apparel industry, Dila found herself devoting less time to her passion. Seventeen years later she took time off work to learn more about art having taken a course in the US for a year and then painting and learning alongside her friends and fellow artists Charmaine Mendis and Minha Mahashukeen. 2011 saw their first exhibition 'Vruksha' which garnered a lot of positive feedback.
Aptly named '"Golden Dawn" the present collection inspired by nature is thematic in the use of black canvases painted on with gold paint. But the arresting use of colour isn't the only head turner of the exhibition. Drawing insight from her career in design and the apparel industry each individual piece is an intricate, detailed look at the subject. A telescopic view of the multi veined lotus leaf painted so as to mimic its movement to a soft breeze or the bronze falcon; wings spread in
semi flight; its layered feathers creating a visual feast for the art connoisseur are a few among the exquisite acrylic pieces.
By her own admission, not a very technically complex artist Dila prefers to create pieces that anyone can appreciate- "Something I would hang up in my own home" she explains. She has also displayed and sold her work to art galleries. This collection will be done in acrylics with interestingly used leaves and even tree bark, lending a very natural and almost three dimensional perspective to the pieces.
"Golden Dawn" a collection of creative works by Dila Weerasinghe will be open from 9 a.m. to 8 p.m. today, Sunday July 20 at the Lionel Wendt Art Gallery