Dialogue between two brothers on two pianos
By Namali Premawardhana
View(s):
Eshantha and Johann Peiris, brothers and well-known musicians, will perform their first 'two pianos' concert at the Lionel Wendt Theatre this Tuesday, July 22.
Are they excited to be playing together? "Yes!" jumps Johann, the exuberant one. "We will be," says Eshantha, more
measured. They have been preparing individually for months, but only began rehearsing together a few weeks ago.
The brothers studied piano under the guidance of Ramya De Livera-Perera, and what sets them apart from most of Sri Lanka's musicians is a conscientious attention to technical detail, which forms the strong foundation on which they build their individual performance ethic.
Both are uncommonly talented and experienced musicians. Eshantha, with his extensive list of performances at local and international stages with world famous musicians, and his work with Thriloka, Compound Eye and the Music Matters Collective, needs little introduction. Johann, the younger of the two, studied sociology at New York University, but remains committed to his instruments, performing frequently with the Cantando Cello Ensemble in Colombo, and working as a pianist/chamber musician in Manhattan, New York, where he lives.
"We grew up together, so now we're playing piano together," Johann smiles. Although, as he says, it was self-evident that the brothers should play a two pianos concert, Eshantha points out that they hardly play together. "Growing up, we only had one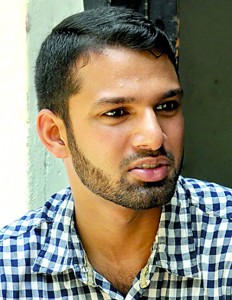 piano at home," he explains, "and I had left the country by the time we got our second one."
A piece both the brothers are quite enthusiastic about is Balinese Ceremonial Music by Colin McPhee. Eshantha plays on the smaller Zeitter & Winkelmann piano, which once belonged to Lionel Wendt himself, singing the full-blooded melody over Johann's tribal bass lines, coming from the Yamaha grand.
"When we picked the instruments, we knew they would sound different," Johann says.
"But we thought that was a good thing," Eshantha continues. "Picking two instruments that sound exactly the same seems to defeat the purpose of having two instruments."
"We thought having two distinctly different instruments would help enhance the dialogue," Johann finishes.
Based on the music they are playing, they will take turns at each of the pianos on Tuesday evening.
For Eshantha, who has a score of performances (including the Musicmatters Festival!) lined up in the coming months, this show is unique. Collaboration is his staple diet, but collaborating with another piano on a professional stage is in fact new to him.
"So it's a dialogue within a certain type of sound," he explains.
But within that sound, is a variety of styles, ranging from the technical intricacies of J. C. Bach's Duet for Two Pianofortes in G major, and the complex harmonies in Concertino for Two Pianos by Dimitri Shostakovich, to the rhythmic animism of McPhee's Balinese Ceremonial Music and the exuberant fireworks of sound in Bernstein's "Symphonic Dances" from West Side Story. The show will also feature the premiere of Natasha Senanayake's Veena Nadha, which is based on the traditional tale of Guttila and Moosila.
The show begins at 7 p.m. on July 22 and all proceeds will be used for projects by the Rotary Club of Colombo Central. Tickets priced at Rs. 2000, 1500, 1000, 750 and 500 (balcony) are available at the Lionel Wendt Theatre.