Secrets, lies and mystery
By Vinusha Paulraj
Javin Thomas in his directorial debut promises to keep audiences entertained in the rollercoaster thriller – 'Blood Money'
View(s):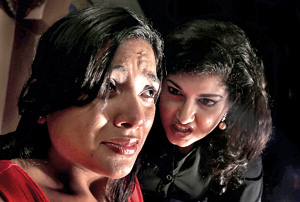 First time director, Javin Thomas is by no means a novice to the theatre scene. Better known as the 'the lights guy' or 'the backstage guy' the familiar face with a stellar cast behind him will be staging comedy-thriller, 'Blood Money'. 
Skeletons in the closet – one that a husband and wife hope to keep firmly shut is all it takes to get the entire play rolling. The meticulously written script and strong female roles caught Javin's attention, and putting together the small but diverse cast of women to tell the story of Liz and Mike Mason was something he was particular about.
It really comes down to the wit and sarcasm for Neidra Williams who plays Liz Mason. An alcoholic who desperately wants to drown her past, Neidra specifically enjoys playing the part because of the sarcastic, witty lines. Being wife to Mike Mason and keeping a dark secret seems to have taken its toll on Liz who according to Neidra has only her sharp tongue and alcohol to hide behind, having lost her youth and beauty.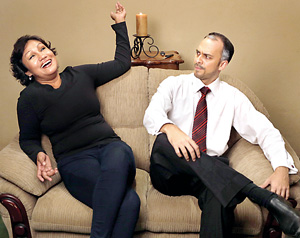 "It is interesting," Neidra notes that Javin chose to stage women very close in age to the characters they are to play. Generally younger actresses would play older parts but it isn't the case here- "Javin sometimes forgets that some of us are a little older" she laughs. It was one of her initial concerns that she may not be able to deliver in terms of physical agility required by the fast-moving script but Javin's resourceful thinking and creativity has been put to good use in terms of preserving the pace of the play.
Explaining that acting and directing are perhaps one of the toughest things to do she feels that given the variety of roles Javin has had behind the scenes, there is no one better suited for the role of director. A first glance at the script Shanuki De Alwis thought she would end-up playing the wife because just like Liz, she admits to being "a bit of a drama queen." Landing the part of Dr. Julie Campbell, Liz's therapist was something new for the seasoned stage personality who is generally involved in comedies or musical theatre. Getting in to the mindset of the more serious, verging on sinister role of Dr. Julie Campbell she feels has nevertheless been very interesting.
Javin's clear vision she feels both challenged and pushed her as an actor to pull off the more composed Dr. Campbell. She also feels people should come and watch Blood Money because "they need to get-out of their comfort zones."  While comedies and musicals are good entertainment, this is the kind of play according to Shanuki that will stimulate both thought and conversation long after the mystery unravels onstage.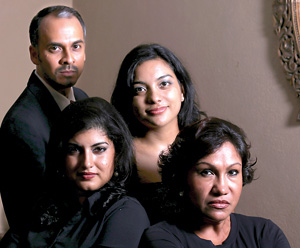 For Andre Perera who has been a part of the Silent Hands Production -The Secret Life of Sherlock Holmes, the character of Mike Mason will be his first lead role. "Basically Mike is a TV presenter," says Andre, who is no stranger to the darker genre of theatre . This time his role of a "larger than life, up-in –your-face, egotistical guy," as he puts it came with its different set of challenges. An introvert by nature Andre feels his biggest issue was getting into Mike's aggressive, womanising personality.
The stress of avoiding ghosts of his past has this character on edge all the time and getting the hang of balancing Mike's moods Andre feels has been an intricate process- "it's all about little triggers that set him off, especially with Liz."
When Javin first told Liza De Jong about the role he had in mind for her he labelled it 'innocent.' "Obviously, he lied!" she laughs, enlightened of the fact that she plays Sue Thompson- the girl next door and everything associated with it. As crafty as she is unassumingly innocent, Sue is the typical nosey neighbour who has an affair with Mike. Lisa feels Sue's role is flirty and daring because part of the fun for Sue, is not getting caught. She feels the encouragement of the seasoned cast and Javin's direction has made it possible for her to grow in her role to now being confident to the point where she enjoys playing the scandalous Sue on stage, "I've always been a bit of a daredevil" she smiles.
Secrets, lies and mystery will keep audience members entertained and on a rollercoaster ride when 'Blood Money' directed by Javin Thomas and produced by Jehan Bastians will go on the boards of the Lionel Wendt from June 20 -22. Tickets priced at Rs. 1500, 1000 and 750 for reserved seats and Rs. 500 for unreserved balcony seats can be purchased at the Wendt.