French Spring brings Srinath home
View(s):

Young Sri Lankan filmmaker Srinath Christopher Samarasinghe who is making French films will be introduced to his home country during the fourthcoming French Spring which features cinema and music.  Srinath's film 'A cloud in a glass of water' will be screened at 6 pm on June 20 at Alliance Française de Kandy, located at 640/2 Peradeniya Road, Kandy and at 3.30 pm on June 26 at the National Film Corporation, Colombo.

Highlighting the Sri Lankan and French co-operation in the field of cinema, Srinath's film is screened as the second part of the French Spring festival organised by the French Embassy.  Shot in entirety in Paris, this is the first time it is being screened in Sri Lanka. Srinath Samarasinghe was born in Teheran and then grew up in Paris. His grandfather had a theatre in Colombo and from a tender age, he was fascinated by the cinema and its diversity. He grew up in a multicultural environment and his film, 'A cloud in a glass of water', is a good example of it. Indeed, in the movie, the three main characters are Egyptian, Romanian and Sri Lankan French and the notions of art, traditions and death of these different cultures are evocated. The way of telling stories and speaking about myths, in order to enrich the spirituality of one is another theme which prevails. The film was selected at Festivals in Rotterdam, Dubai and Montreal.

Born of Sri Lankan parents in 1978 in Teheran but raised in Paris Srinath Christopher Samarasinghe obtained a Master of Art in filmmaking and screen writing. Srinath's passion for cinema is not a coincidence and this movie shows numerous autobiographical elements. His grandfather was indeed the manager of a movie theatre in Sri Lanka and is represented as Mr. Noun in this film.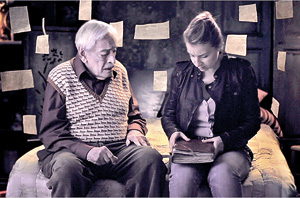 After the screening, Srinath Samarasinghe will introduce the association What's Next! This is an independent forum initiated in February 2012 and consists of both post-graduates and young professionals of Sri Lankan origin residing in France, What's Next! seeks to promote sustainable peace in Sri Lanka through intellectual exchange and multi-cultural dialogue. This forum became officially an association in September 2012.
As part of cinema screening during 'French Spring', 'Camille redouble' (Camille Rewinds) a French drama film directed by Noémie Lvovsky will be screened at 6.30 pm on June 26 at the National Film Corporation theatre. The most successful movie in France in the year 2012: Camille rewinds and tells the story of a woman who wakes up 20 years earlier, when she was still a teenager.
In the film Camille was sixteen years-old when she met Eric. They fell madly in love and had a daughter… 25 years later: Eric is leaving Camille for a younger woman. That's New Year's Eve, and Camille suddenly finds herself back in her past. She is sixteen again and has returned to her parents, her girlfriends, her childhood… and Eric. Will she flee and try to change the course of their lives? Will she fall in love with him again, even though she knows how their story will end?
Starring Jean-Pierre Léaud, Yolande Moreau, Denis Podalydès and Noémie Lvovsky herself, the film was screened in the Directors' Fortnight section at the 2012 Cannes Film Festival and won the Prix SACD and Moreau received a Magritte Award for the Best Supporting Actress for her role.