Can Sri Lanka win the World Cup in 2015?
By Rev. Bro. Nimal Gurusinghe F.S.C.
View(s):
We are still celebrating the World T20 Cricket triumph. It was a plum victory for us. All Sri Lankans are happy and proud of our National cricketers who brought honour and glory to our motherland. The question now is can we do the same thing in the ODI Wrld Cup Tournament next year. It is the proverbial 'six million dollar' question. Nevertheless, it is still worth pondering on this topic.
The T20 World Cup was played in Bangladesh. The pitches there were very similar to the Sri Lankan pitches. As well as this, prior to the competition our lads had the opportunity to play in Bangladesh and get used to the conditions there. These factors, along with our excellent performance, contributed to our great success.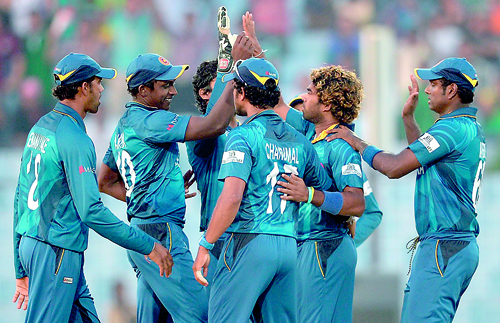 But the same will not hold when we play in the ODI World Cup next year. We have to play our matches in Australia and New Zealand. As we know Kangaroo pitches are very fast and bouncy. In New Zealand the pitches help the swing bowlers. Our batsmen have not yet mastered the ability to face either fast, bouncy bowling or swing bowling. They will definitely have an uphill task when batting in such conditions. If they are to 'face the music' our cricketers must practice and learn how to cope with this type of bowling. If not, then, it will be very difficult to put respectable totals on the scoreboard. I am sure that things will not be rosy for our batting stars. It is the responsibility of our Cricket Board to ensure that our national heroes get the opportunity to practice in those conditions a few weeks before the tournament. Even our bowlers will not have an easy time. There is a special way of bowling on such turfs. If our bowlers go there without any preparation they will be trashed and become demoralized.
We won the World Cup in 1996. In 1999 we went to England to play in the same tournament. Most of our 1996 players were in the team. However, even with their wealth of experience they were still eliminated in the very first round itself! I hope that a similar thing will not happen in 2015.
In our team at present we have veterans, namely, Mahela Jayawardane, Kumar Sangakkara, Thillakaratne Dilshan, Rangana Herath and Lasith Malinga. They are very experienced players and, without a doubt, we need their wealth of experience. Nevertheless, we also need the talent of our young players if we are to become World Cricket Kings. When we look at the team it is a well-balanced and formidable side. But what is required is the ability, courage and determination to deliver the goods. However, players alone cannot perform miracles. The Cricket Board and the selectors must do their part as well. They should plan meticulously if our cricketers are to bring the most prestigious world cricket crown to Sri Lanka in 2015.
I suggest that our team tour Australia and New Zealand one month before the World Cup and play ten OD.Is – five in each country. While playing these matches they could attend to their practices. Also, they will have the opportunity to play a few practice matches with other nations who arrive there before the tournament. One might argue that such a strategy would be very expensive. However, the team has to travel there anyway for the competition and money need only be spent on accommodation and meals. If our Cricket Board appeals to some generous Sri Lankans who live a Australia or New Zealand they will come forward to help in this regard. If the men in authority organize this now then they will surely get enough funds to prepare our lads to win the World Cup in 2015.
There are no short cuts to success. Neither is there any substitute for hard work. Now that our team is in full gear our players should be given all the encouragement to win the World Cup. In 2009 and 2012 we were T20 Runners-up. But this year we became champions. In 2007 and 2011 we were World Cup Runners-up. So I have a feeling that we can be the Kings of World Cricket in 2015. I am sure that our lads can do it if they are given the proper facilities to face the challenge. If we win the World Cup next year it will be a greater achievement than the 1996 triumph because we are going to play on alien soil.
Dear members of the Cricket Board and selectors- A golden opportunity awaits us. Make use of it to bring glory to our country.
If there is a dispute between the players and the Board it must be settled amicably and immediately if not, then the players will be mentally disturbed.
Such a situation will not help them to prepare themselves for the arduous task ahead.